"Max DTR," a free dirt-racing game app on Apple and Android devices, gives people around the globe a taste of the sport across the dirt-track world. Roger Arias and Tim DeVito, co-owners of Screaming Games, LLC, developed the game to expose the dirt-track racing to new people.
"We're trying to promote the sport," said Arias. "The only way we're going to grow the sport is to make sure the next generation gets to know the sport. Video games are good way to do that. [Many people] think it's little kids [who play these games], but you'll find that it's the drivers, teams, and fans who play them."
Arias worked previously on computer games such as "Deer Hunter," "Dirt Track Racing," "World of Outlaws: Sprint Cars 2002," and "John Deere: American Farmer." Those titles provided enough details to satisfy the die-hards who know those subjects well, but also offered gameplay where the general public could enjoy it, too. That's the philosophy "Max DTR" uses.
"When we came out with the 'Deer Hunter' games, you were seeing 70-year-old guys buying the game," said Arias. "Normally, it would be too overwhelming for them to try some strange game they've never heard of. But, they're already a hunter. They know which end of the gun is. They know how to rattle antlers and what deer urine does. So, when you give them a game, they are exercising what they already know.
"But, if you've never been exposed to the sport, the game exposes the sport to you. It puts [dirt-track racing] in more hands. Some of the top racing games, such as 'CSR Racing,' has millions of downloads."
The game uses no fictional tracks — only real dirt ovals. Currently, its track count stands at 51, with many familiar American venues, but also several from Australia, Canada, and New Zealand. Each track shows real-world scheduling information in an effort to entice a gamer who enjoys "Max DTR" to experience dirt-track racing in real life.
You can race in one of the seven most common classes in the sport — four-cylinders, stock cars, big-block modifieds, modifieds, late models, 360 wingless sprint cars, and 410 winged sprint cars. If you've ever dreamed of racing a big block modified at Lucas Oil Speedway or a 410 sprint car at Wythe Raceway or a late model at Autodrome Granby, you can.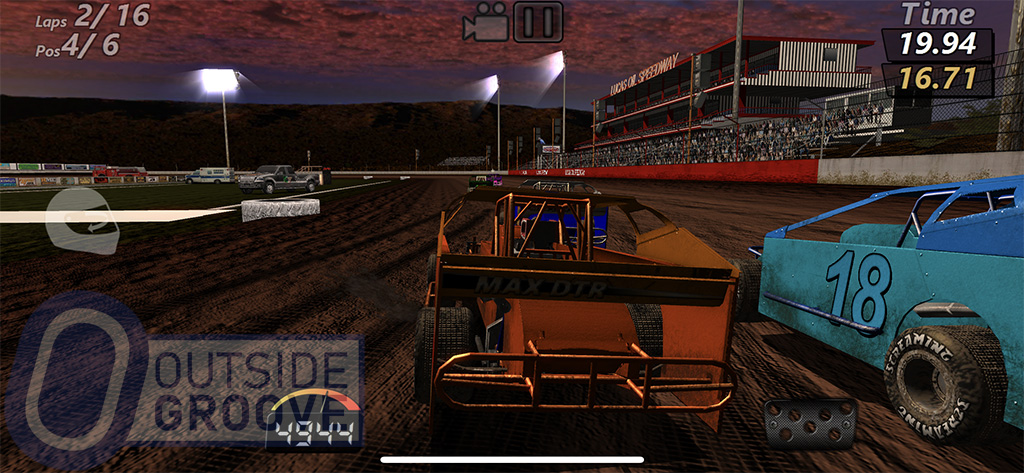 Don't expect iRacing-grade recreations of the facilities. However, the dirt ovals look a lot like they do in real life. Arias said that the tracks stay relatively true to their actual length and shape. The ovals don't mimic the actual banking — something Arias said they are considering changing in a future update. Likewise, when you run against computer-controlled cars, the preferred line at most tracks is the inside groove (we at the Outside Groove might have a thing for pushing the cushion). All of these items on our wish list comes down to the limitations of having a game on a phone, which forces the developers to consider the trade-offs of adding one feature that ultimately comes at the expense of another.
"You're using a phone — there's a limited amount of horsepower." Arias said. "You're getting a pretty robust game in your pocket."
Each class of car comes with their own handling characteristics, and, generally speaking, the faster you go, the more finesse you need with the controls.
As far as the controls, you have three options. "Touch" allows you to tap the left and right sides of the screen to steer. "Button" places two buttons on the screen for steering input. "Tilt" sounds like what it seems, as you physically turn the phone to turn the car. You can also automate how the car brakes and accelerates, and they offer a left-handed mode for the 10% of the world that often gets forgotten. Personally, I preferred the touch option.
When you first start racing, the controls take a bit of getting used to. You will spin out. A lot. The game is pretty forgiving, though, especially at first, with damage not affecting your car's performance that much. After a few races, however, you start getting the hang of the controls and you become a wiz at sliding your car through the turns.
You can race with one of three camera views — cockpit, behind the car view, and further behind the car. This is a personal preference as with the type of controls you use — I liked the view behind the car.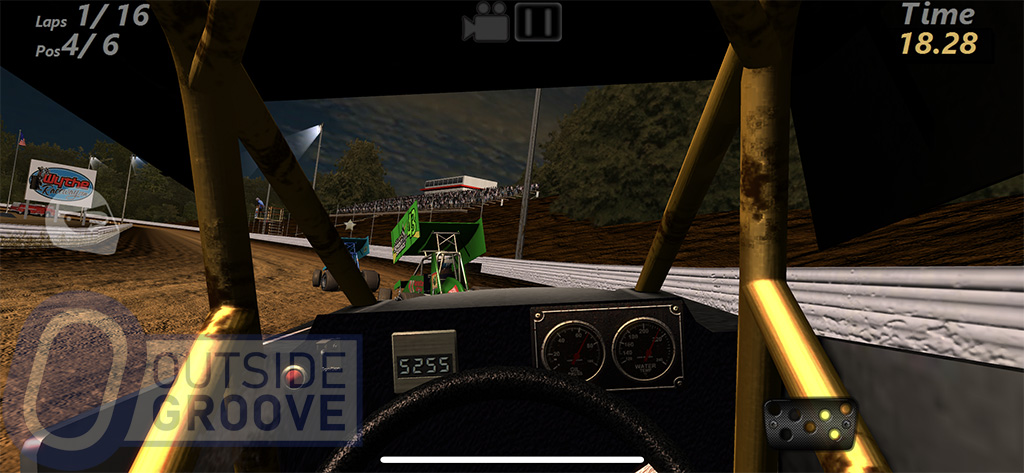 "Max DTR" has three modes of gameplay — Quick Race (single race), World DTR (race against actual people in tournaments), and Career, the latter of which is unique to oval-track racing games for phones.
In Career mode, you start in the four-cylinders and as you accumulate money from your winnings, you can apply it to upgrading your car, repairing it, or purchasing another car in a different class. One criticism among user reviews was that you don't make enough to cover your repairs. While I had not experienced that — I must be a big, hairy, American, winning machine — it seems like that review is a testament to the realism of the game.
"As you get better at it, you can go pretty far in your career without repairing or upgrading the car," said Arias. "Eventually, you'll need to – you can't be a Legend [a level in Career mode] without doing it — but there's some allowance for the learning curve."
Regardless of mode, if you're starting out and want to race anything but a four-cylinder, you can rent a car after watching a 30-second ad. Until you accumulate enough winnings to buy yourself a new car in a different class, this is the only way to race those divisions.
The game also allows you to adjust your setup. The developers designed the standard setup to work well at all tracks, especially early on in your career. Adjustments to that setup affects how your car performs and can equate to additional speed, especially if it better suits your driving style — for example, I tend to prefer loose race cars.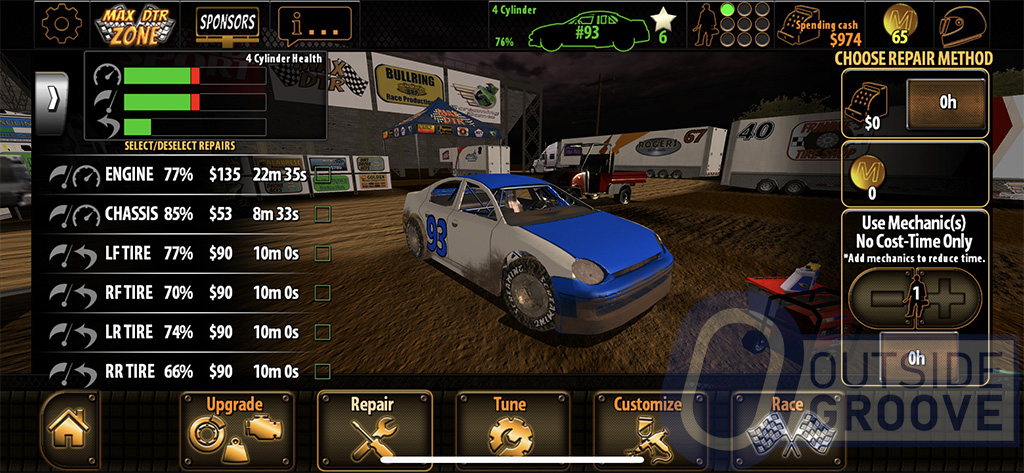 Ultimately, "Max DTR" serves as a fun distraction that makes you yearn for the weekend to go racing, which applies for both seasoned racers and newbies to the sport. Future updates from the developers will only enrich the game further as it strives to become one of the few games where you can experience many classes of dirt-track racing across real tracks that span the world.
Outside Groove Note of Transparency: Ads for Screaming Games, LLC, the producers of Max DTR, appear on Outside Groove. Outside Groove will appear in a future update of Max DTR.