Every week our intrepid Outside Groove contributors capture the most thrilling, poignant, and beautiful stories and photography from Short-Track America. Here are our staff's favorites from the past week.
---
IMCA modified driver Chad Groves encountered something he's never had to deal with back in his native Oregon — tumbleweed.
"The wind stacked them up against the car," said Groves of the tumbleweed he dealt with during his first visit to Winnemucca (Nev.) Regional Raceway in Nevada. "I saw other racers pick them up and put them in front of their haulers, where the wind would blow them away. I was most worried that a hot header would catch them on fire."
The event at Winnemucca drew 41 cars, with features won by California's Ryan McDaniel and Oregon's Collen Winebarger. Groves finished eighth and ninth.
---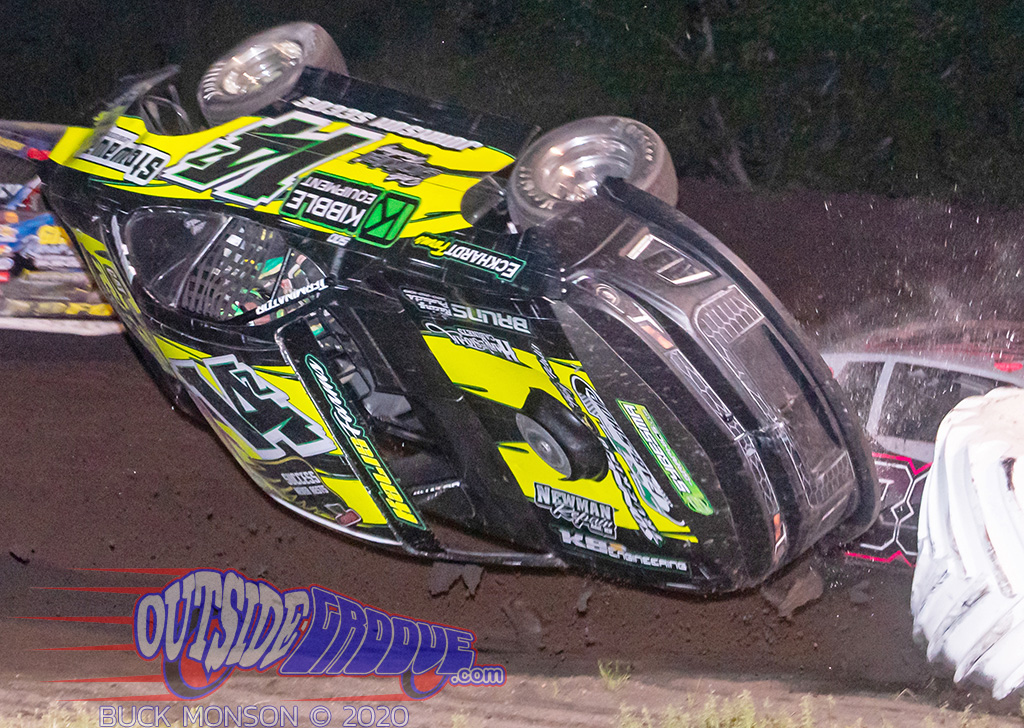 Ned Kalis took the ride of his 15-year IMCA stock car career Friday night at Hancock County Speedway in Britt, Iowa.
"Another car spun out, I went sideways, my car dug in, and I went into three violent barrel rolls," said Kalis, of Wells, Minnesota. "I rolled once before, but this roll was faster and slapped against the ground harder."
Kalis said he emerged from the wreck without injury thanks in part to investing in quality safety equipment, including a Kirkey full-containment seat, a Simpson five-point harness, an Impact helmet, and his Terminator by Harris Auto Racing chassis.
---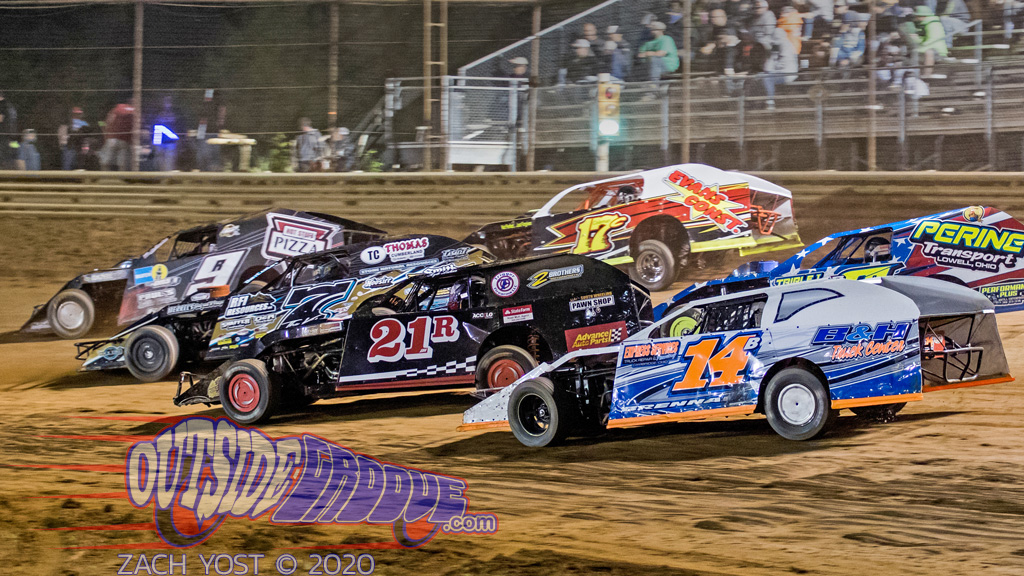 A total of 170 cars filled the pits at Tyler County Speedway in Middlebourne, West Virginia, with 50 of those being modifieds entered for the $3,000-to-win Modified Mega 100. The main featured plenty of action, as seen here with JP Roberts Jr. (9R), Drake Troutman (7), Kyle Lukon (21R), Coleman Evans (17c), Tanner Wilson (14), Cole Perine (c8). Daniel Hill won the event.
---

Dale Welty (123) displayed true grit during the Grit Racing Series event at Penn Can Speedway in Susquehanna, Pennsylvania. You wouldn't expect anything else from a driver with nine track championships and more than 100 wins.
A 10th-place starting spot in the consi did not discourage the Montour Falls, New York, driver. He powered his way to the front, pictured with Tyler Stoddard (23) and Thomas Van Vorst (TV12), to win the consi. Welty then finished 21st among 28 cars in the feature.
---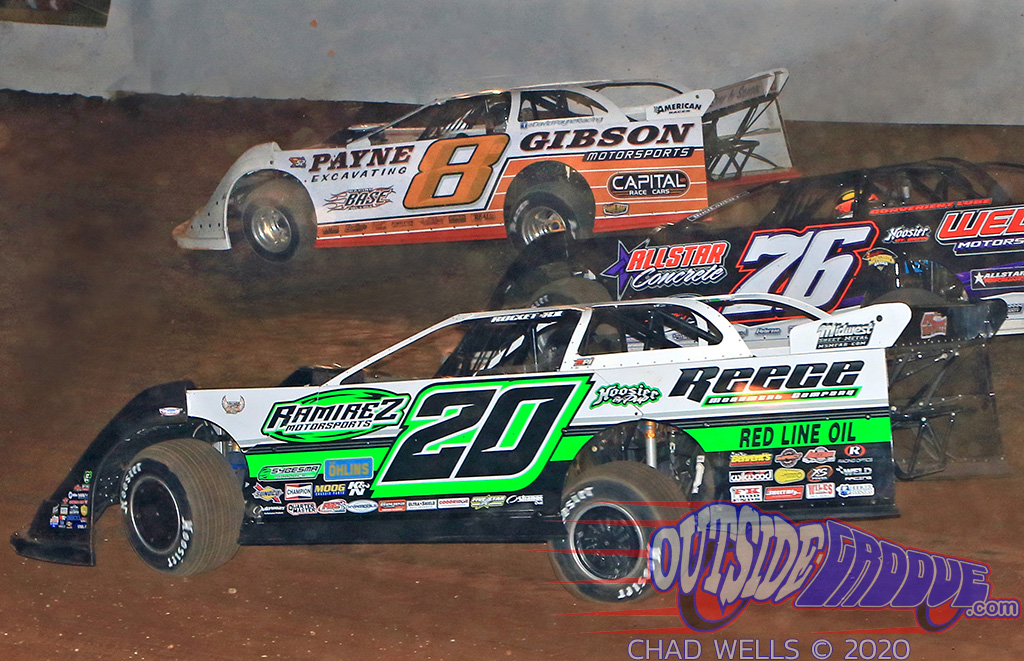 David Payne, a high school athletic director and teacher, scored a big win last Saturday at Tennessee's Tazewell Speedway, by beating professional drivers Jimmy Owens (20) and Brandon Overton (76). The Schaeffer's Oil Iron-Man Late Model Series / Schaeffer's Oil Southern Nationals Series victory netted Payne $10,000.
"What a day — that kind of purse and we beat Jimmy Owens and Brandon Overton, two of the hottest late model drivers in the country," said Payne, of Murphy, North Carolina. "This win means a lot to our race team and everyone involved in our program, from past to present. It took a lot of experience to lead up to this."
---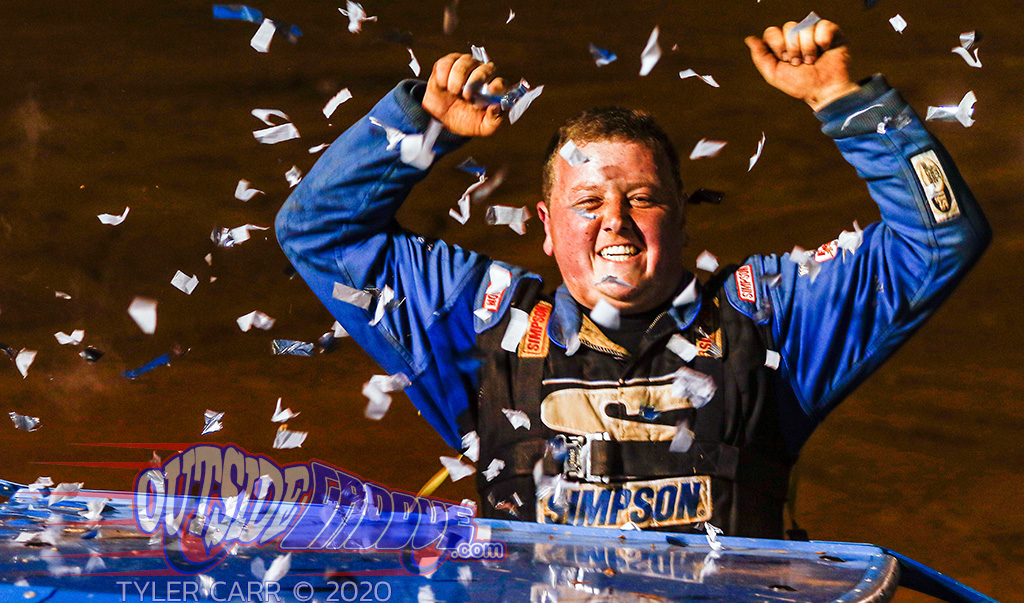 Logan Roberson couldn't contain his emotion after he scored his first super late model win, earning it last Thursday at Tyler County Speedway in Middlebourne, West Virginia. The 22-year-old from Waynesboro, Virginia, has less than two dozen starts in a super. Prior to that, he racked up many accomplishments in crate late models, including track championships at Potomac Speedway in Budd's Creek, Maryland, and Winchester Speedway in Virginia.
Roberson achieved all of this, including the super late model victory, running for his family-owned team, although he was missing a major part of it at Tyler County.
"My one regret is that my dad, Greg, couldn't get off from work," said Roberson. "But, he was home watching the pay-per-view."
---