Fairgrounds Speedway Cortez in Colorado finally held its season opener last weekend after months of preparation.
"We've been working on this since March," Fairgrounds Speedway Cortez promoter Gene Felker said. "If Montezuma County [where Fairgrounds Speedway Cortez is located] had not approved our plan by May 1, we would have closed for the year."
No fans were allowed for the event, but they could watch it streamed live through XR. Staff members took the temperature of every attendee prior to entry and then provided them with hand sanitizer and recorded their home address, email address, and phone number.
Track officials used the spectator parking lots as additional space for the pits. They kept haulers 20 feet apart, with no more than six people allowed per car. Attendees had to wear masks when they left their pit stall.
The three-day event drew 178 cars, from among 10 states, with hauls as far as Arkansas and Oregon. It was one of 15 IMCA-sanctioned events last weekend. Typically, IMCA sanctions 180 to 210 at this time of year.
Fairgrounds Speedway Cortez hosts another three-day event this weekend (May 22–24) — and once again without any fans at a facility that seats up to 3,000 people.
"We need to get fans back in the stands in June," Felker said, "or we will have to shut down for the season."
10 Photos from
Fairgrounds Speedway Cortez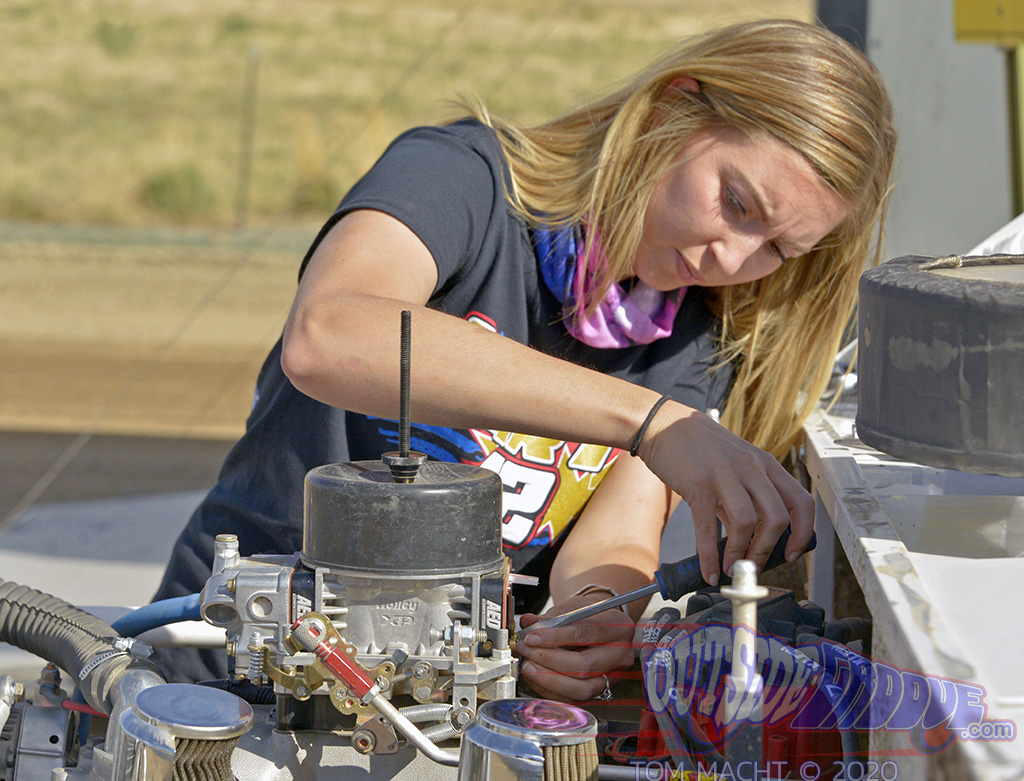 SportMod driver Shelby Frye, of Chandler, Arizona, works in her pit area with her mask down. The track permitted attendees to remove their masks while in their pit. However, once attendees left their pit, they had to wear a mask.
---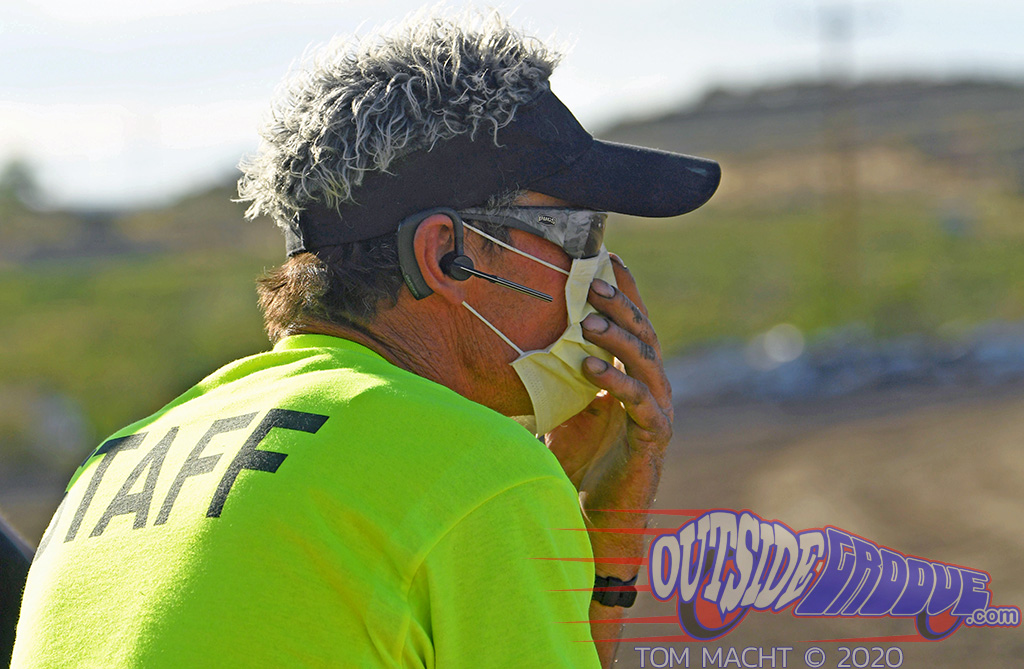 Official Gene Ring watches over the track as cars prepare to take the green.
---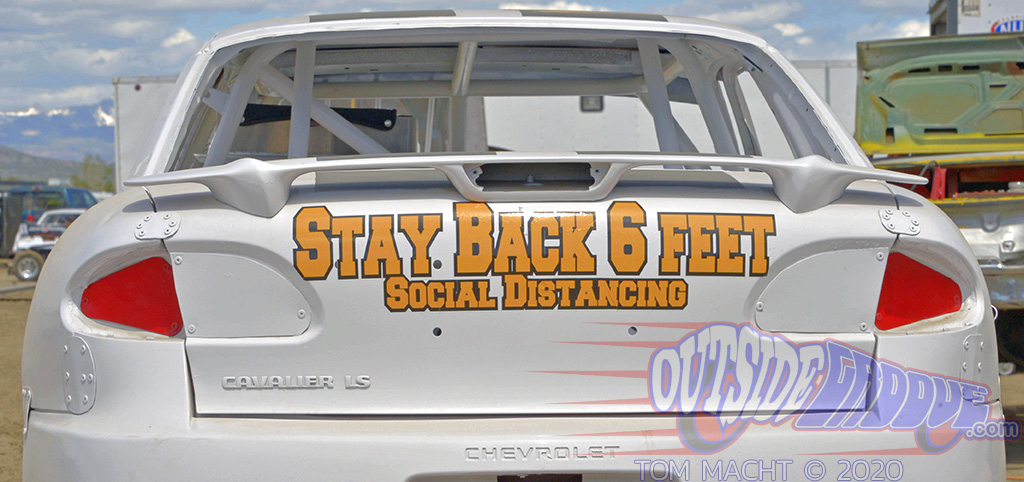 William Millard, of Dolores, Colorado, encouraged his sport compact competitors to maintain social distancing on the track.
---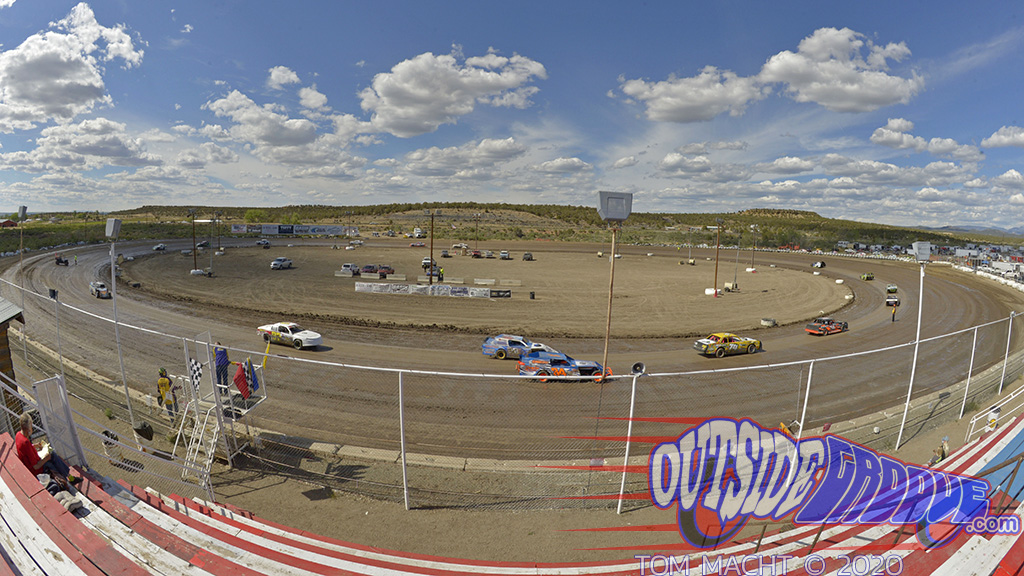 Wide-open spaces abound in the sparsely populated Cortez, Colorado, with 8,721 people calling it home.
---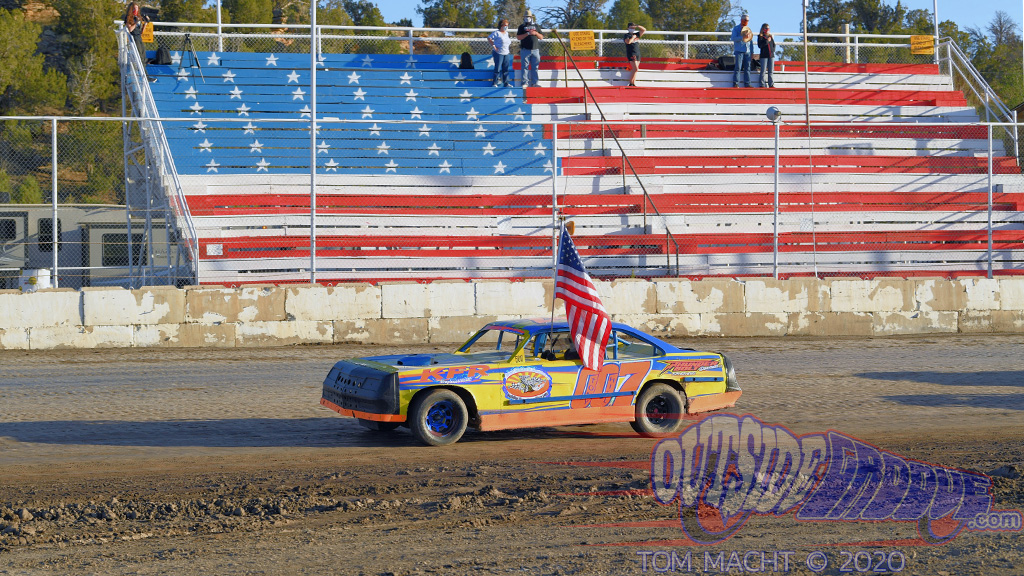 As the national anthem plays, the stock car of Cortez, Colorado, driver Tony Hill parades the American flag during opening ceremonies. Track employees stand on the top row of the grandstands.
---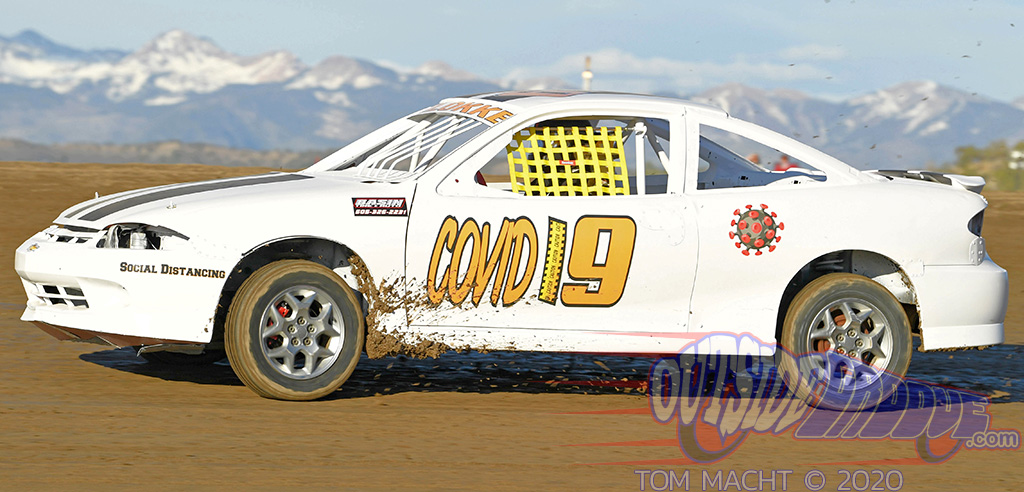 Jim Klokke, of Farmington, New Mexico, "renumbered" his sport compact after the disease behind today's pandemic. Klokke won the night's feature.
---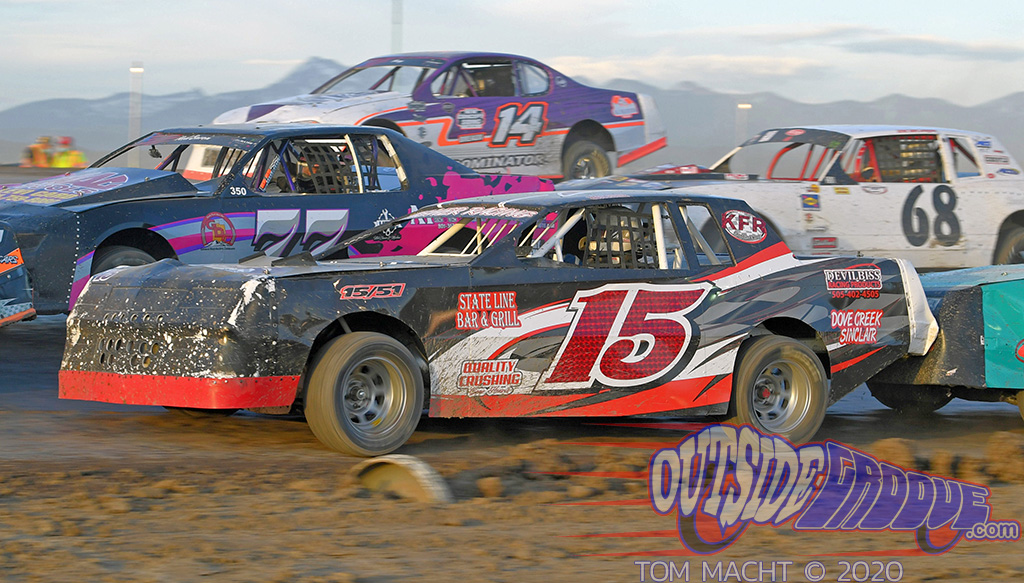 Race Fisher (15), of Dove Creek, Colorado, stays low while Braiden Breaux (14), of Mount Pleasant, Utah, prefers the outside groove as the hobby stocks scramble for position.
---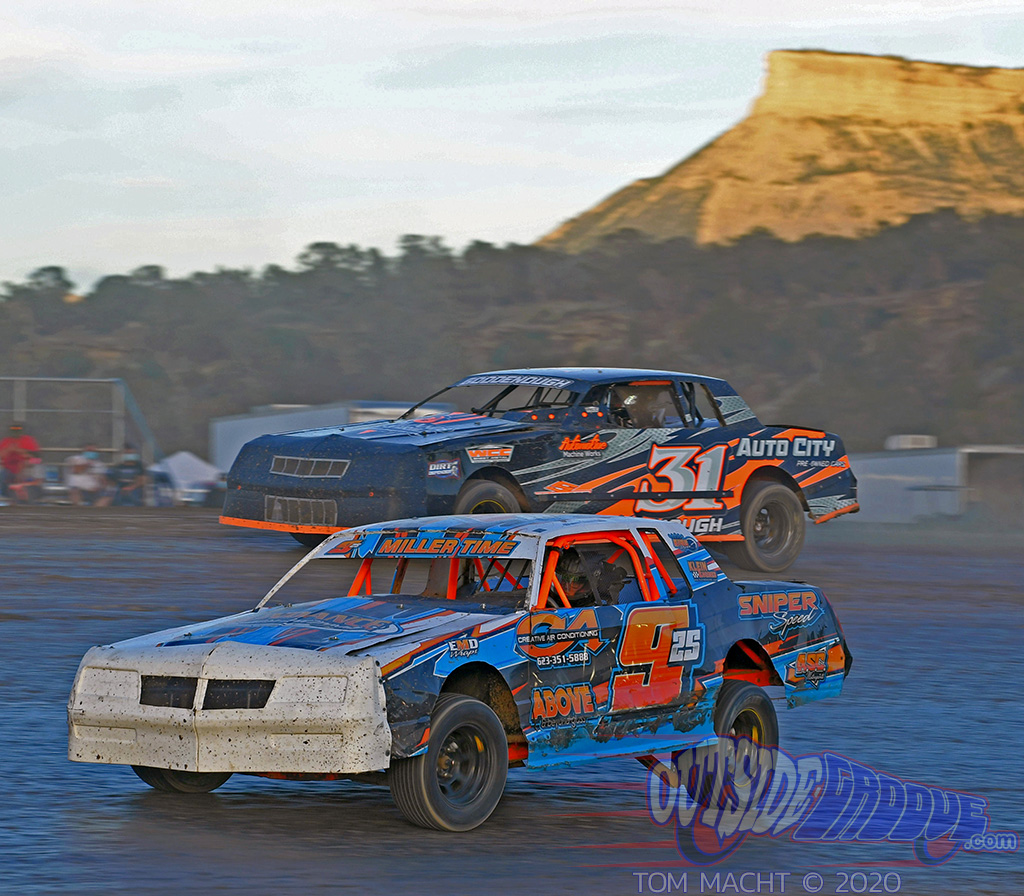 Stock car drivers Hannah Miller (925), of Desert Hills, Arizona, and Doug Goodenough (31), of Gallup, New Mexico, battle in front of Ute Mountain, a landmark in Cortez, Colorado.
---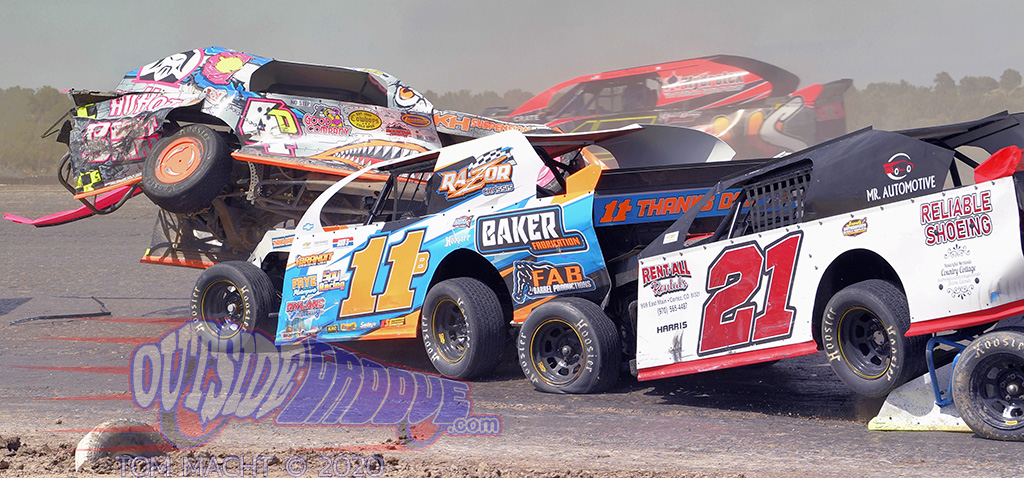 Danny Concelman (4D), of Colorado Springs, Colorado, got airborne and stacked up a whole line of cars in SportMod action, including Brian Baker (11B) of Bakersfield, California, and Chad Green, of Dolores, Colorado.
---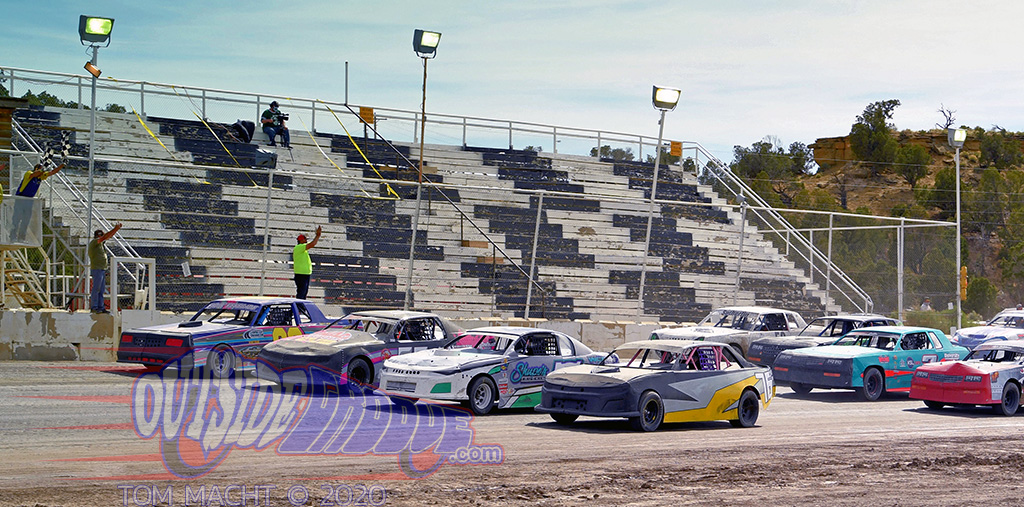 While Fairgrounds Speedway Cortez operated the event without fans present, promoter Gene Felker is skeptical he continue to do it for the rest of the season.
Additional Reporting by Mike Adaskaveg.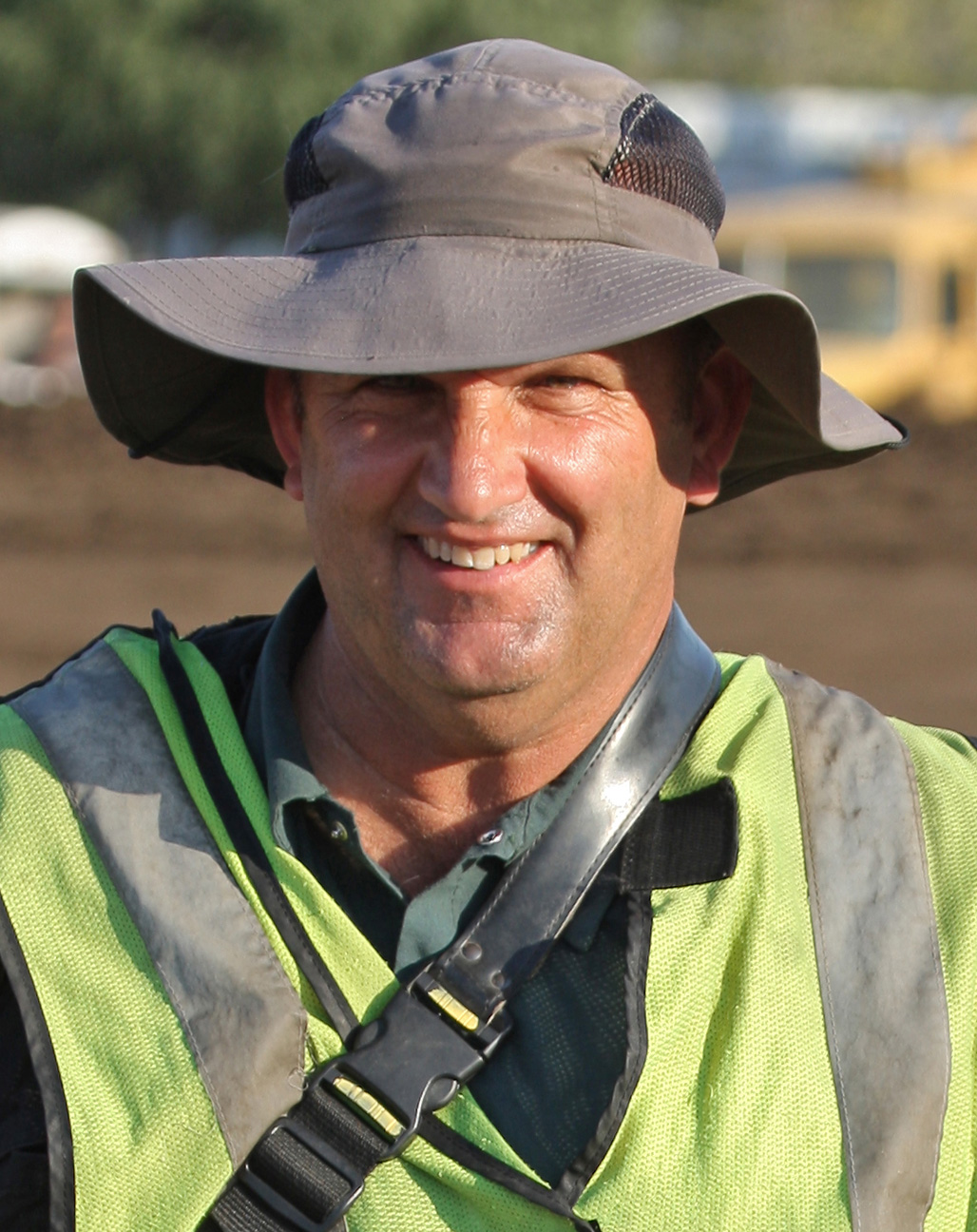 Outside Groove contributor Tom Macht has photographed motorsports — paved and dirt oval-track racing, drag racing, and road racing — for more than 20 years. The Bakersfield, California, photographer's work from Bakersfield Speedway, Kern County Raceway Park, and Auto Club Famoso Raceway regularly appear in The Bakersfield Californian.