Despite many tracks closed where they typically venture, Northeastern dirt modified teams still want to race. To do so, they'll make an unprecedented trek south.
The Short Track Super Series hosts three events from Thursday, May 21, to Saturday, May 23 — starting with two nights at Tri-County Race Track in Brasstown, North Carolina, and then concluding at Cherokee Speedway in Gaffney, South Carolina.
The following weekend, the Southern Super Modified Series, which normally runs in the South with Northeastern-style dirt modifieds, will see an influx of their Northern brethren in Louisiana on Thursday, May 28, at Sabine Motor Speedway and then Friday, May 29, and Saturday, May 30, at Chatham Speedway, with a $10,000-to-win "Corona 75" ending the swing.
With no clear answers on when racing will resume in the Northeast, racers are flocking to these events well south of the Mason-Dixon Line — despite a nearly 3,400-mile round trip for a team based out of Syracuse, New York, competing at all four tracks.
Deyo's Path to a Show
Brett Deyo promotes the Short Track Super Series in addition to Fonda Speedway in New York and Georgetown Speedway in Delaware. Both are unable to host racing.
"At Georgetown, the government says we can rent the track out with no more than five cars and 10 people there at a time," Deyo said. "Fonda is off until further notice."
Deyo found he could put on a show with much less restrictions if he went south. He started with a show at Tri-County Race Track, which limited the car count to 30. The response was overwhelming — more than 70 teams entered. Deyo had to resort to randomly selecting which teams could race at Tri-County.
"Racers are just chomping at the bit to race," Deyo said. "No one even questioned the distance. Then we got the show at Cherokee, which has unlimited pit capacity. We may even have people in the stands — we are waiting for a decision."
With or without fans in the stands, Deyo said he feels the pay-per-view broadcast on Dirt Track Digest TV will be successful.
"Fans have cabin fever," said Deyo. "If they can't be there, they will be watching."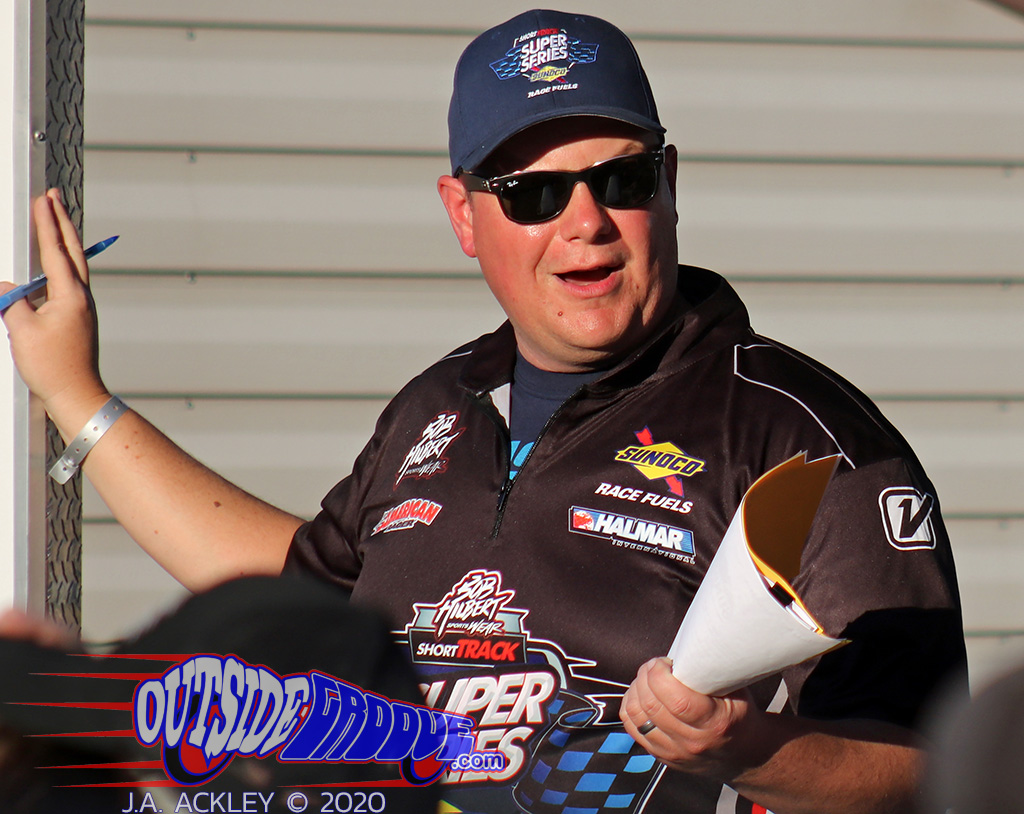 With Covid-19 restrictions in place in the Northeast, Short Track Super Series promoter Brett Deyo found venues for his series in the Carolinas. Photo Credit: J.A. Ackley.
Continuing the Travel Trajectory Further
When he heard of the Short Track Super Series shows in the South, Louisiana racer and Southern Super Modified Series promoter Brandon Hightower made a joke on Facebook, posting about holding a big race at Chatham Speedway in Louisiana. That state has a core of Northeastern-style dirt modifieds that race in the Southern Super Modified Series.
"I was just bored, sitting at home, so I asked how many Northeast guys would dare to race with us in Louisiana," Hightower said. "My phone blew up. The next thing I knew there were sponsors lining up. We never had a $10,000-to-win modified race here, and now we do. Without the Coronavirus, this would never have happened."
Hightower named the 75-lap event after the virus. Louisiana places no restrictions on races, in regards to Covid-19. Hightower said he expects both Sabine and Chatham speedways to fill the pits and grandstands.
"We know racers just want to race," said Hightower. "The cheap price of oil isn't good for us here in Louisiana, but it's good for the guys up North who are traveling down here. It's a win for everyone."
Hightower decided to use Short Track Super Series rules for the Louisiana races. The events will allow both Hoosier and American Racer tires. Hoosiers can be no softer than the 300 compound on back and 200 on the front. American Racers can be no softer than the 38 compound on the rear and 33 on the front.
Hightower said he had such an overwhelming response that he's in the planning stages of an event in November.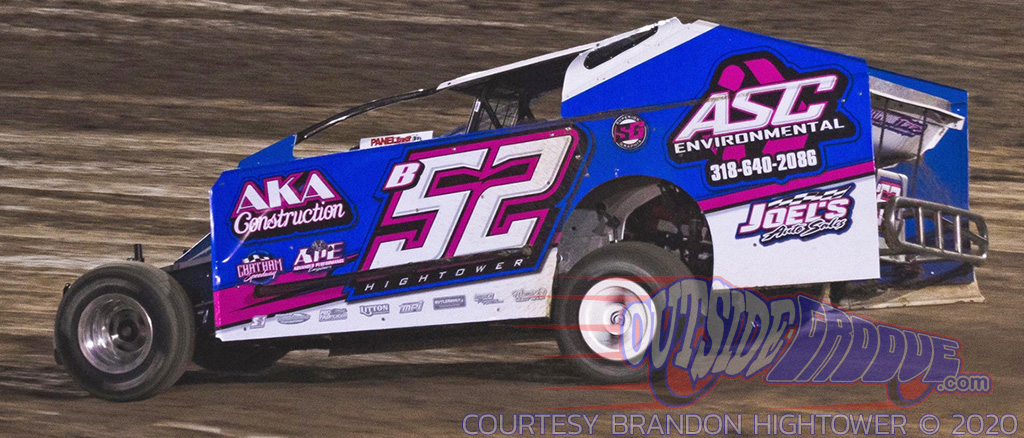 The Corona 75 at Louisiana's Chatham Speedway started out as a joke on Facebook by Southern Super Modified Series promoter Brandon Hightower (pictured). When racers took interest in the event, the race quickly became reality. Credit: Courtesy Brandon Hightower.
Perspective from Racers
Teams packed coolers full of food and a two-week supply of essentials such as toilet paper into their motorhomes, campers, and toterhomes. Some plan to sleep in their vehicles. Others said they will stay in Airbnb offerings.
"When they heard about the North Carolina races, our sponsors wanted us to be there," said the 2019 Short Track Super Series "Grand Champion" Matt Sheppard. "Now, it has snowballed. Louisiana is a feasible trip because we are already in the Carolinas. The more races you can get in, the more worthwhile the trip is."
Sheppard will travel with two crew members, along with his wife and his father. They will stay in Airbnbs because he said they offer more space than a motorhome or hotel.
"The sponsors are excited to see our cars back on the track," Sheppard said. "The pay-per-view will be really big — there will be a lot people watching."
Sheppard can't hide his excitement for the trip.
"This is a once-in-a-lifetime opportunity," said Sheppard. "I never saw Louisiana racing in my entire life. I'm looking forward to it."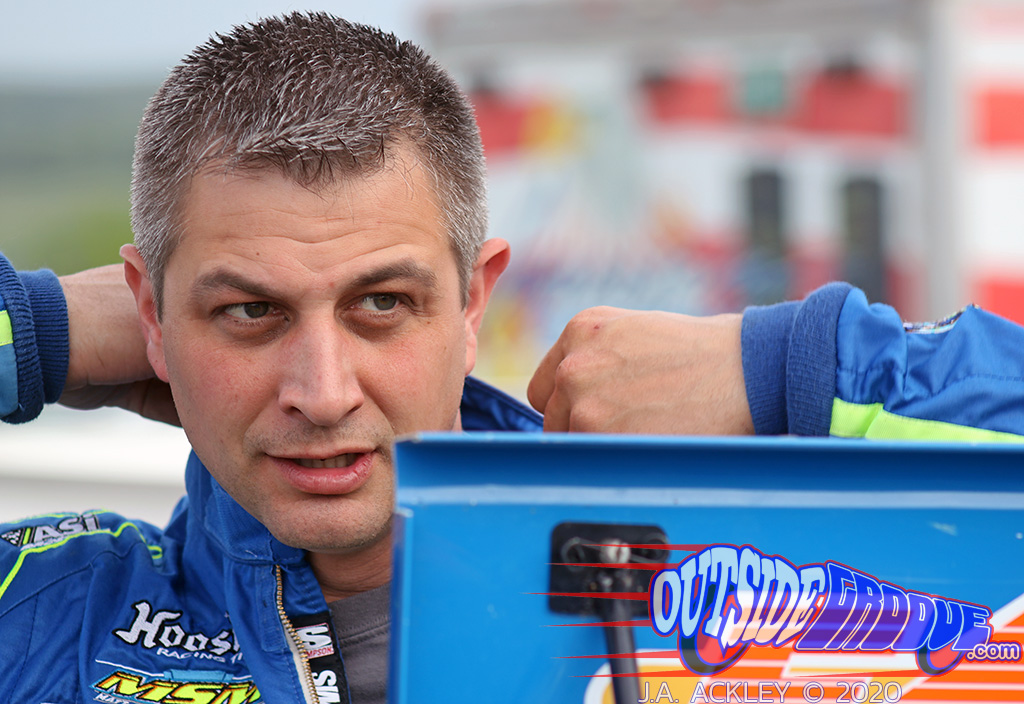 Short Track Super Series driver Matt Sheppard is looking forward to putting on his racing suit again by heading south of the Mason-Dixon Line. Photo Credit: J.A. Ackley.
Short Track Super Series driver Stewart Friesen echoes Sheppard's enthusiasm.
"Ever since I was a kid hanging bodies at Bicknell's, I learned about the Louisiana modifieds," Friesen said. "They had huge sprint car tires, and fender wells had to be cut out to make those tires fit. It's great that they adapted Short Track Super Series rules. Now, we will race with them."
Friesen received the blessing from his race team partner, Chris Larsen, and his company, Halmar International, to make the haul.
"Larsen said, 'Go for it!'" said Friesen. "We believe that these races will be good for the modified division and our sport in general."
Friesen and his wife, Jessica, will both race modifieds. They will stay in a motorhome with their son Parker and two dogs. Two crew members in a pickup with a gooseneck will haul one car, another two crew members will haul two more cars with a toterhome and a 40-foot stacker trailer. After the Short Track Super Series' Carolina swing, they'll swap out two crew members for when they head to Louisiana.
"It may seem weird to a lot of people that we will travel all that distance, but these are weird times," Friesen said. "It's in these times that the creative people we have in racing will find ways to keep us racing."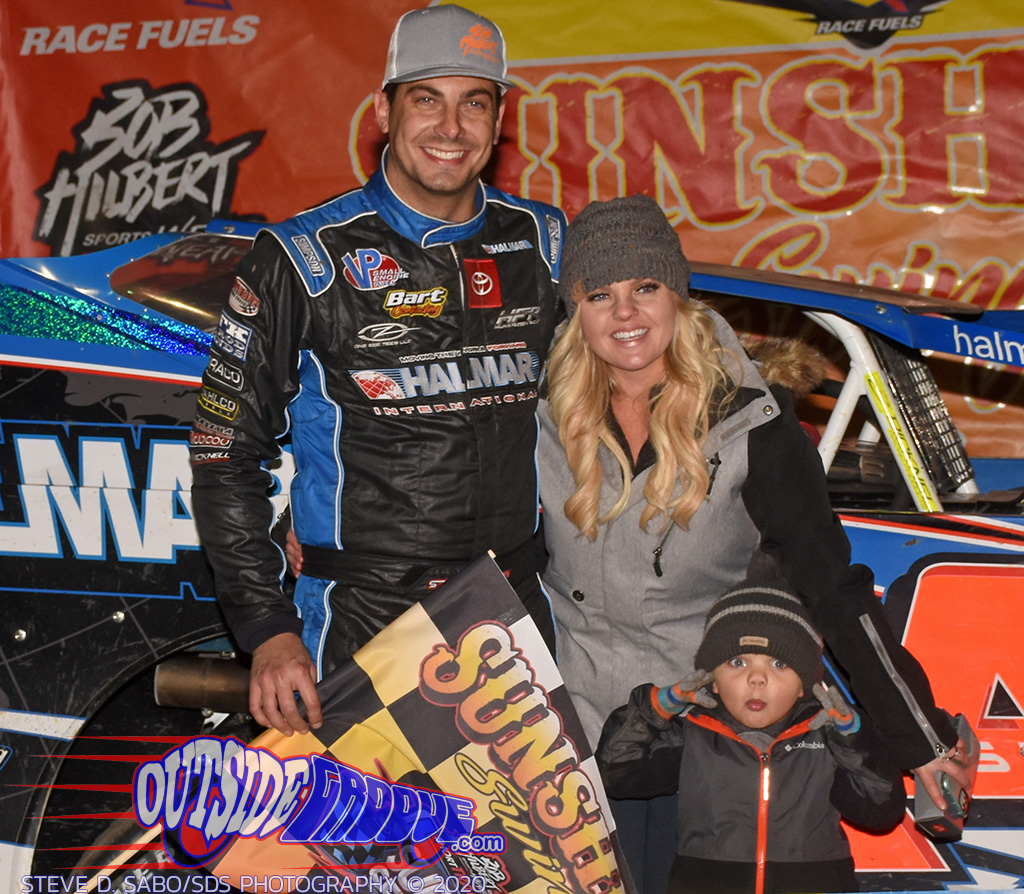 Short Track Super Series driver Stewart Friesen is bringing three modifieds with him to the Carolinas and Louisiana, with his wife, Jessica, racing one of them as well. Son Parker is coming along with them for the trip to eagerly cheer them on.
Photo Credit: Steve D. Sabo/SDS Photography.