As the 2021 racing season drew to a close, California open-wheel dirt racer Colby Copeland doubled down on his commitment to West Coast dirt-track racing. Finding himself with an opportunity he couldn't refuse, Colby Copeland became one of three principals in a fledgling three-driver racetrack promotion team, SLC Promotions, at Silver Dollar Speedway in Chico, California.
As the "C" of SLC — which includes national racing stars Brad Sweet (three-time World of Outlaws Sprint Car Series champion) and Kyle Larson (2021 NASCAR Cup Series champion) — Colby Copeland is the boots-on-the-ground promoter at Silver Dollar Speedway in Chico, California. It's a historic ¼-mile dirt track with roots to the early 1960s and remains hallowed ground for dirt-track racers from across the country.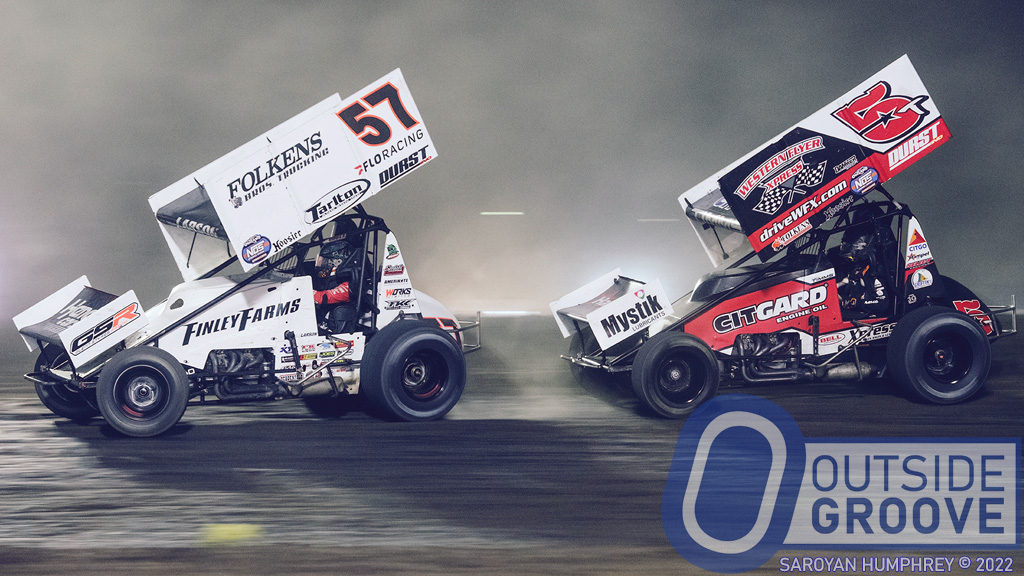 The opportunity presented itself last November, when the previous promoter, Dennis Gage, announced he was moving into semi-retirement. The drivers jumped at the opportunity to take over the reins at the fairgrounds-based track.
"It is a special place," says Larson. "I'm eager to help grow it back into one of the nation's top dirt tracks."
Colby Copeland, who still competes at Silver Dollar Speedway on a regular basis, steadily manages his time doing double duty as driver and promoter. Because Silver Dollar does not operate every week, Copeland continues to consistently compete in winged sprint car, midget and outlaw kart competition throughout California and beyond. He won the NARC [Northern Auto Racing Club] season opener in April at Stockton Dirt Track. But the new role has limited some of his driving opportunities and it would seem the 30-year-old is content with the change.
"It's been okay so far," the Roseville, California, native, says. "I still get to race quite a bit and that makes it nice."
While taking a break from his other day job, working with his dad at the family business, North Star Concrete Pumping, Colby Copeland talked about his first year of combining promoting and driving into his racing schedule.
How did the opportunity come along for the three of you to take over promotion of Silver Dollar Speedway?
Kyle and I were going to try and do something with Cycleland [Speedway in Oroville] because I know Lowell [Moural, track owner] is wanting to retire. It didn't really work out how we wanted. So, we passed on it and then Brad was the one who had the opportunity to do Silver Dollar and he had heard about the Cycleland deal. So, he talked about us coming on and we joined him [with Silver Dollar]. We kinda both jumped in. It was up for grabs and we were like, "Yeah, yeah, yeah!"
It all happened quickly. We set up a meeting with the [Butte County] fair board for the very next week. There were some other promoters that were up for discussion. They ended up choosing us to take it over.
How do you handle racing and promoting on the same night?
There's just a lot going on that a lot of people don't see. Balancing all that and racing at the same time is pretty tough. Making sure things like the fire crew are all set, the tow truck guy gets paid, making sure the support class is in order, track prep is getting done at the right time, and all that kind of stuff. It's tough to be able to work on your car and do the promoter thing.
We have a great team that makes it all go around. Obviously, Brad is a huge part of it. We have about 35 on staff. There's the front concession stand, the beer booth, the beer trailer, the pit concessions, the track officials, fire crew, announcers. Troy [Henning] is a huge help, running around, keeping things rolling.
How much input do you get from Brad and Kyle on the day-to-day workings or plans?
Brad, I would say, is 100% hands-on, and gives a ton of input. Kyle gives his input every once in a while, but he's more busy than Brad.
On race nights, Brad and I text all night about how the show's going, what the track's like and all kinds of things. He'll watch online, on FloRacing, and he'll say something about the track and ways we can improve it and if the show needs to be run faster.
With Kyle, it's the obvious thing, everybody wants to watch Kyle race. Just having him there brings people to the table and wanting to be at the races. He's a big help for sure. He makes appearances and helped get things ready for Gold Cup.
What is your first-year impression of promoting and running a racetrack?
This first year has been really good. With anything, there are kinks to work out, but Brad and [his wife] Rachel and my wife, Candace, have been a great team. If there's something we need to talk about, we get a three-way call going. Or we get Kyle and [and his wife] Katelyn on there and we'll meet up and go to dinner and take care of things. It's been good working together with everyone.
The weather's been a struggle; we had the rain at the beginning of the season and then the high heat during Gold Cup. The weather hasn't been our friend. But as far as the events themselves, they've been really good. Car counts have been great. The sprint cars have been strong but the stock cars have been hit or miss.
Your friendships with Kyle and Brad go way back.
I started racing outlaw karts with Kyle at the pavilion in Chico, and that's where we met. I started when I was 11 or 12 and he started when he was seven.
For myself, just being around for a long time and being good friends with those guys is great. I'm the one with boots on the ground here, and they have bigger jobs. It's worked out pretty well for all of us.
It seems like it's been good for sprint car racing in Northern California.
For sure, and working with those guys especially, given who they are, I feel like we're giving back to Silver Dollar and the sport. It's been huge and it's shown with the car counts that we've had.
Has your perspective changed as a driver, now that you're promoting a racetrack?
You definitely see things a lot differently being a promoter than just as a racer. There are pit passes, tickets, the way the show needs to be run in a timely fashion. When you go as a driver, you're just worried about you and your team. When you go as a promoter, you're worried about everybody. Thinking about everyone else is the biggest difference.
What changes and improvements have you made?
We cleaned everything up. The pits were cleaned up. We fixed some of the fencing. We got more billboards and sponsors, and they look pretty nice. With the camping we added more plugs than in years past. The pavilion bar and vendor area were new.
For next year, we want to get some more new equipment, new sound system, new fencing and walls. We have plans to upgrade the place, for sure. I want to add a couple more races to the schedule next year and see how that goes.
Do you have plans to bring 410 sprint cars back to Silver Dollar?
Slowly, but surely. We want to try to. It's just tough because there are not many of them in California. We need to try to grow that a little bit. It's not going to happen overnight. We might try a couple more 410 shows next year.
Bringing back the original format for Gold Cup seems to have worked really well.
It was cool, yeah. Brad mentioned he wanted to bring it back like the olden days when they had the three nights and split the field. On the format side, Kyle and I just wanted a bigger invert that would give the local guys a better chance to start up front.
There was a lot of positive talk going on about it. I'm already looking forward to next year.