Brennon Marshall already races an unconventional engine — a 5.3L GM LS. He upped that one notch this past weekend when the Elite Non-Wing Sprint Car Series visited Heart O' Texas Speedway in Elm Mott. Marshall added a turbocharger.
"I was at the shop [Wills Point Automotive], at work, and I saw a 7.3L [Ford Powerstroke] turbo laying there," Marshall, 23, of Wills Point, Texas, said. "I was like, 'Man, everybody turbos LSes."
Outside of oval-track racing, that's true — you can find LS engines in all sorts of cars, from Subarus to more conventional GM products. And, yes, people often turbocharge them. However, even the LS engine is a tad foreign to oval-trackers.
"It's a bone-stock 5.3L, and we changed the cam and valve springs," said Marshall. "We called up one of the local wrecking yards. It was about $400 and it's got 180,000 miles on it. Without the turbo, it's about 500 [horsepower]. From top to bottom, I've got probably $1,300 to $1,400 in the engine."
Marshall built the engine himself.
"A couple of guys in the series had run LS engines, but without much luck," Marshall said. "Our intentions were to blow up the motor that night [we put the turbocharger on it]. We want to see what the weak link is, fix it, and build a good motor. But, so far, we can't seem to kill this motor."
The turbo not only didn't kill the power plant, it seemed to perform relatively well.
"We were fighting a bit of an over-boost problem at first," said Marshall. "When we kept the boost numbers down, the car was like a rocket ship. It had no lag or detriment to the response time of the engine."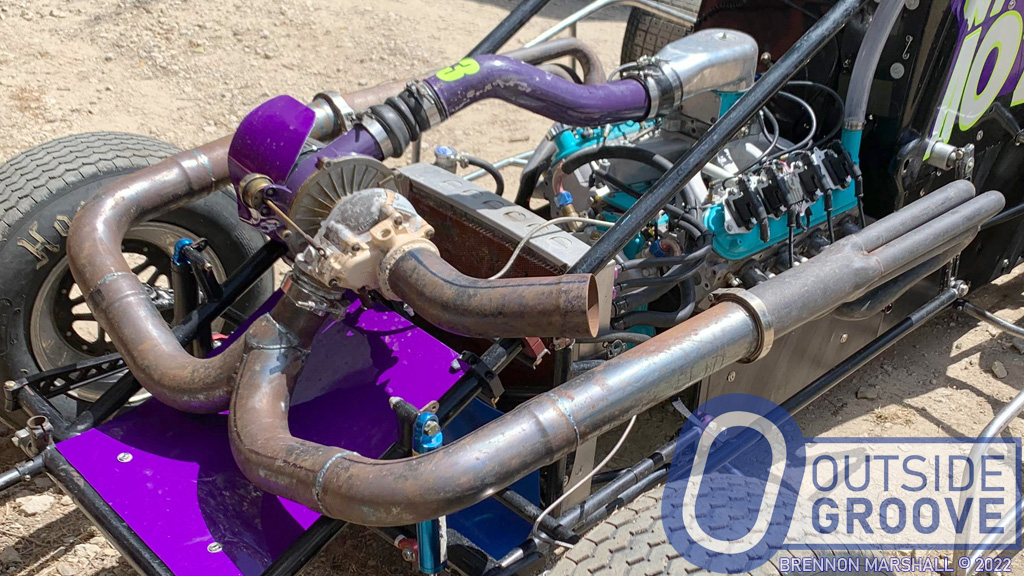 At Heart O' Texas Speedway, Brennon Marshall started 16th among a field of 21 cars, and finished 17th. However, he may have won the hearts of those who saw his creation.
"When we pushed it off, everybody and their dog was looking at it," Marshall said. "When I got back to the pits, there were like 50 people standing there, taking pictures of it. It was a good time to see so many people excited to see something new come to dirt-track racing."
Besides the excitement, Marshall sees a competitive benefit to the engine. Against a field of 305s, 360s, and 410s, his 5.3L turbocharged LS engine can run with their power at a fraction of the cost. He estimates that the whole deal, with a good turbocharger, would cost just $6,500, plus labor.

Hear how the turbocharged GM LS 5.3L engine sounds.