Within the span of a year, Hudson O'Neal went from having a career on the verge of sputtering out to once again being viewed as the face of the sport's future.
In 2020, O'Neal won only one race. This year, he won 11 and currently sits second in the Lucas Oil Late Model Dirt Series point standings. O'Neal connecting with Roger Sellers, owner of Double Down Motorsports, reinvigorated both O'Neal and Sellers' operation.
The Architect Behind the New Deal for the "New Deal"
Roger Sellers knows how to run successful ventures. He grew up poor, but through hard work he built up several businesses, including an RV dealership, which he sold a couple years ago, and Smoky Mountain Speedway in Maryville, Tennessee. Sellers, who has fielded a full-time Lucas Oil Late Model Dirt Series team since 2019, runs his team like a business.
"You got to make sure the numbers work out," said Sellers. "You got to have your sponsors in place to pay a large portion of the bills that come with racing of this caliber. [And, you need to pay attention to] what you bring in through racing [i.e. winnings] to see how it supports the [team]."
Many successful businessmen have failed in racing. The racing world doesn't always follow the conventional rules of the "real world." Sellers, though, understands that. He successfully melded solid business acumen with what it takes to win in dirt late model racing.
The Faces Behind the Success of Hudson O'Neal
As much as Hudson O'Neal and Roger Sellers receive the spotlight, the ones behind the scenes deserve credit, too, according to O'Neal.
"Our year has been amazing," O'Neal, 21, of Martinsville, Indiana, said. "I would have never thought that, with a new team, we'd have done as good as we have done. It ain't got nothing to do with me. It's got everything to do with these guys and Roger Sellers for putting together a great crew. We work together so well."
Sellers did not assemble a team with known all-stars. Instead, he put together a group that not only knows what they need to get done, but they also do it.
"[I look for crew members with] work ethic, and those guys have it — it's unreal," said Sellers.
Tire specialist Eric Webber worked for Double Down Motorsports last season.
Webber's cousin, Trevor Crittenden, serves as the team's crew chief. He turned wrenches on late model driven by John Blankenship, of Williamson, West Virginia, from 2013 to 2015. He then went to work in a factory before joining Double Down Motorsports in 2021.
The "third man," Mason Bevard, came through UNOH, which connected him with the team and its former crew chief Tom Buckingham, who still helps the operation on occasion.
"It's a good experience for a young kid, like myself, working with all these older guys who can teach me everything they've learned," said Bevard, 22, of Kendallville, Indiana, who has raced dirt modifieds.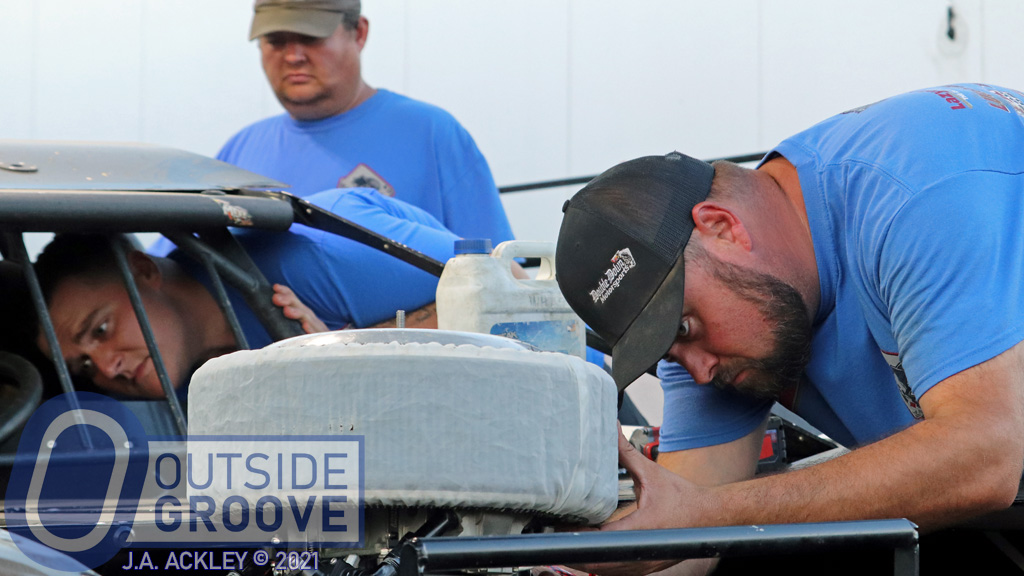 Winning Mentality
The team lives up to the Three Musketeers' mantra — all for one and one for all.
"When I put Trevor to work for me, [Eric] said, 'Hey, pay him the same I make. Even though I've been here longer, I don't mind. If you have to pick a crew chief, pick Trevor,'" Sellers said. "That's just how these guys are."
That caring for each other extends to the driver.
"Hudson asked me what did I want to do with the sheet metal from the car," said Sellers. "I said, 'Hudson, sell it at your souvenir trailer.' So, he started selling his door skins, quarter panels, filler panels, whatever. He splits [the money earned from the sheet metal sold] four ways — between himself and the three boys."
The team has built respect for each other. This enables them to use their strengths to overcome one of their crew member's weaknesses. For example, Crittenden is a rookie crew chief, but O'Neal, despite his age, carries a lot of hands-on experience.
"It's real easy working with Hudson," Crittenden said. "He knows a lot about shocks and springs. He gives us a lot of input. Usually, whatever he wants, we'll do."
The group has grown together over the course of the season to become more than coworkers.
"It's surprising how your team becomes your family," said Bevard. "We're all really close."
Perhaps the reason why everyone takes care of each other so well is because its leader, Roger Sellers, sets the example. Unlike many teams, Sellers provides his team's employees with benefits.
"These guys have got to think about taking care of themselves, as far as health goes," said Sellers. "I've got their health insurance in place, dental, and vision — that's something you don't see most race teams have. I pay them bonuses, too, when we've had the success we've had. It's a good feeling for me [to provide bonuses] and it certainly pleases those guys."
The formula seems to work, if you gauge it merely on the numbers behind their finishes. However, that doesn't always tell the entire story. Success can be fleeting. But, for the teams that experience years of winning races, they often have an intangible element to them. Double Down Motorsports, with Hudson O'Neal as their driver, seems to possess that special factor.
"I got these guys together about a month ago, and I said, 'Are we ready to go again next year?'" Sellers said. "They're all on board. They said, 'We're here as long as you're here.'"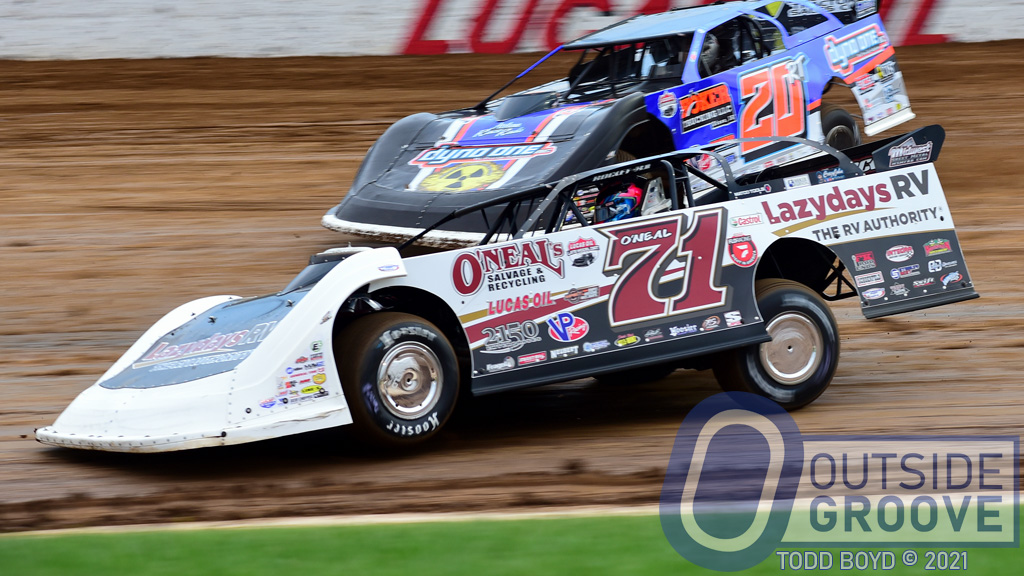 Outside Groove Note of Transparency: We corrected the name of Eric Webber (2022-01-13)