Dalton Cook loves a challenge. Well, this weekend provided that in spades for him. The racing adventure reached its climax during the Southern All Star Racing Series' King of the Mountain Fall Classic at Smoky Mountain Speedway in Maryville, Tennessee. Despite the damage from nailing the wall at Smoky Mountain Speedway, he raced the next day, five hours away, in the Alabama State Championships at East Alabama Motor Speedway in Phenix City.
Round One of Obstacles
Cook's racing weekend started with testing Thursday and Friday at East Alabama Motor Speedway, 20 minutes away from his shop in Salem, Alabama. The sessions proved helpful, but not for so much as finding speed. Cook discovered a bad distributor. Dirt late model racer Jeff Mathews had the parts Cook needed and local Bobby Thomas helped him install the distributor.
"Mathews had all the parts I needed — and I had never met him before," Cook, 29, said. "Bobby helped me get my distributor swapped out until two o'clock — [that was] real generous of him."
Saturday's Crash Ending
Dalton Cook didn't stick around East Alabama Motor Speedway for Saturday's qualifying for the Alabama State Championships.
"I have a lot of laps [at East Alabama Motor Speedway] — it's my home track," said Cook. "Wherever I was going to finish at East Alabama, it wasn't going to matter where I started."
Instead, he left at eight o'clock and trekked five hours to Smoky Mountain Speedway.
"[Smoky Mountain Speedway is] a challenging track, because it's hard to get comfortable," Cook said. "The straightaways are a little longer than normal, and then we get into a tighter [than typical] corner. With tracks more like a circle, the car's in a posture that's more comfortable when you transition across the apex."
While Cook has historically struggled at Smoky Mountain Speedway, he would start the feature fifth. Cook appeared destined for a top-five finish until calamity struck on lap 46 of 50.
"[Fellow competitor Eli Beets] did a lane change at the end of the straightaway [going into turn one], and he was clear," said Cook. "The way I charged on his outside … and he moved up, I lost air on the car, you might as well put airplane wings on it — you lose everything [related to grip].
"[My goal was] a top five. When we got into that situation before the crash. I got really aggressive, because we were close to a top three. I lost track of my top-five vision goal, and went for a little bit more, and that's what cost me."
Onward to Alabama
Surprisingly, Cook finished ninth at Smoky Mountain Speedway, four laps down, out of 20 cars that had started the feature. Cook was also not hurt. He sat in a ButlerBuilt SFI 39.2-spec full-containment seat, with a Hooker Harness five-point restraint system. Cook also wore a Stilo helmet. After the car returned to his pit at Smoky Mountain Speedway, Cook and his Marshill Mafia team, owned by Tracy Harris, stripped the car down and assessed the damage to the 2016 Rocket Chassis XR-1. With a spindle from the Blount Motorsports team of Donald McIntosh, Cook loaded the car up. (For more on McIntosh, see "Donald McIntosh: Perseverance Wins Championship".)
"I decided my best move would be to get to the hotel [45 minutes away], get a good night's rest, and get up early," Cook said. "If I don't have what I need to repair [the car where I was], I need to get to the next point [where I can]. We got [the hotel's continental] breakfast at around seven o'clock [and then] hopped in the truck and rolled in [the shop] about noon."
At his shop, Cook fixed the extensive right-front damage to the car, thanks in part again to parts from Jeff Mathews. Cook then proceeded to East Alabama Motor Speedway.
"It was about four o'clock when we headed to the track," Cook said. "[East Alabama Motor Speedway] said seven o'clock was going to be the target [start time] for the feature. I had to get some tires at the track."
Cook started at the tail of the 23-car field. He said he worked his way to fifth, before succumbing to a fuel pump issue and finishing 16th.
Looking Forward
Dalton Cook strolled into his business, WrapTech, at roughly 10 a.m. Eastern on Monday morning after an exhausting weekend. He already has his sights set for Saturday's World of Outlaws Late Models event at Senoia Raceway in Georgia.
"I look for races where if you run good, your hard work is noticed," said Cook. "And, if you're not doing good, you know you're not doing it right. That's why I like to run supers — I can line up with guys I've admired since I was a kid, and see if I can do it, too."
Some of those guys whom Cook admired since childhood certainly can appreciate the efforts he took to race this past weekend. With that experience, Cook can take with him the confidence of knowing that he can certainly find a path around an obstacle.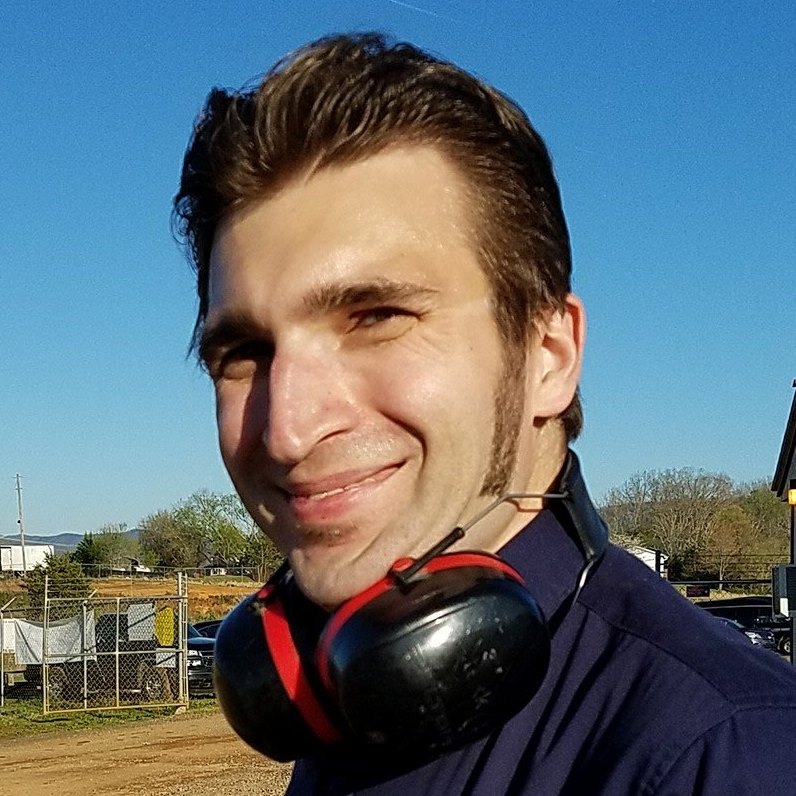 The Outside Groove Executive Editor has covered motorsports since 2000. His many awards include the 2019 Eastern Motorsport Press Association (EMPA) Jim Hunter Writer of the Year and the 2013 Russ Catlin Award for Excellence in Motorsports Journalism.