Since a young age, Donald McIntosh knew he would have a few rough days in racing. However, little did he know that a sticker he saw in his father David's toolbox as a kid would prophesize his 2021 Schaeffer's Oil Southern Nationals Series experience. Fortunately, McIntosh endured his trials and tribulations to earn his first series championship.
"[The sticker] goes something like this, 'We've been through two fistfights, three engines, two cars, and we expect to be better the next race,'" said McIntosh, 28, of Dawsonville, Georgia. "The only reason I thought of [the sticker] was [because of] the series we've had."
McIntosh and his Blount Motorsports team used two cars, two engines, and endured one fistfight, all with the hopes of running a better race the next event.
Tough Start
Donald McIntosh started off the series at Beckley Motorsports Park in West Virginia with a respectable fourth-place finish — but after barely making it to the feature through his heat race. The team looked for speed. They put their efforts to the test at the following race at I-75 Raceway outside of Sweetwater, Tennessee.
"We went out and hot-lapped, and I was like, 'This feels all right,'" McIntosh said. "[Crew chief] David [Bryant] said, 'It looked okay. It got through the center good.' We looked at Race Monitor and we were like 16th quick and three-quarters of a second off the pace. [I told David,] 'I don't know, put a driver in it at this point. I'm lost.'"
The team rallied back to finish 10th at I-75 Raceway outside of Sweetwater, Tennessee. They placed eighth the following event at West Georgia Speedway in Whitesburg.
Rock Bottom
The team's all-time low came the next race, at Screven Motorsports Complex in Sylvania, Georgia, where Donald McIntosh struggled to a 11th-place finish.
"We were mired in the back, and [the angry driver] crashed 10 times in front of me and gathered it back up ," said McIntosh. "Well, for the 11th time, I said, 'Buddy, it's you or me.' So, I spun him around and kept going. We were points racing, and I didn't want to take both of us out. He came down [after the race] running his mouth, and Dave told him to leave."
McIntosh said the other driver threatened them. They scuffled and settled the issue.
"Why he was so upset over a 15th– to 16th-place run? I have no idea," McIntosh said. "When I'm in the way, and somebody takes me out of my misery, I'm like, 'I'm sorry that I was holding you up.' It's not like he turned over. I got him in the door and he went around. I [damaged] some door braces and sheet metal, but I didn't tear up his race car."
The team knew they reached a point where they could salvage a championship — they sat third-place in points, 12 markers away from first — but something needed to change.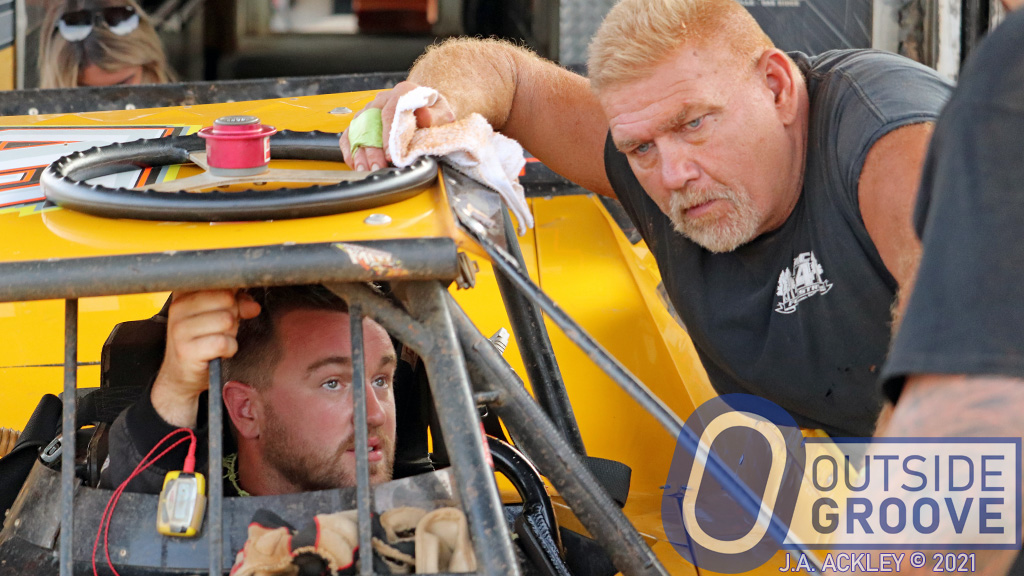 Back to Ole Reliable
For their next race, at Rome Speedway in Georgia, the team elected to use their backup car. This season, Donald McIntosh used a new Rocket XR-1 chassis. Their teammate, Tommy Kerr, typically runs the backup, a 2017 Rocket XR-1 chassis numbered 4T, sporadically, mostly at races nearby their Maryville, Tennessee, shop. Prior to Kerr running the car, McIntosh raced it.
"Earlier in the year, I had finished second in [the new] car," said McIntosh. "You should feel pretty good about a second-place [finish]. I still felt horrible. The reason being is I didn't know what we could have done to be better. We changed everything in the world on the car and it didn't respond to any changes. At this point, it's time to put another driver in it, because I don't know what to do to it."
On the surface, a driver change might make more sense considering the two cars.
"The two cars are identical," McIntosh said. "But, they don't act the same."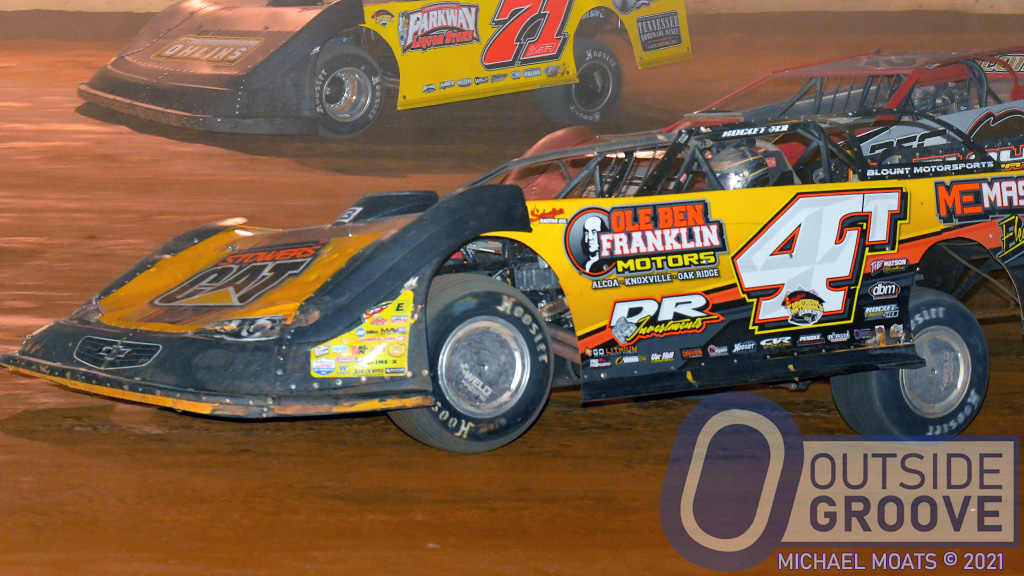 Turning Point
At Rome, now racing the older No. 4T, Donald McIntosh finished second, which catapulted him to first in points. He never left the top spot again.
McIntosh finished second again at Tri-County Race Track in Brasstown, North Carolina. Second once more at Boyd's Speedway in Ringgold, Georgia. Then racked up a fourth at 411 Motor Speedway in Seymour, Tennessee.
Prior to points finale at Tazewell Speedway in Tennessee, the team swapped engines and held a healthy 18-point lead over second-place Cody Overton. After starting deep in the field at Tazewell (16th), McIntosh finished fifth, winning his first-ever Schaeffer's Oil Southern Nationals Series championship in five years of trying with the Blount Motorsports team.
Respect from the Competition
His efforts earned him kudos from his nearest championship contenders. Dale McDowell, of Chickamauga, Georgia, took the series race by race, but finished runner-up to McIntosh.
"Points racing is all about consistency, and Donald was consistent," said McDowell, 2019 Schaeffer's Oil Spring Nationals Series champion. "At [Tri-County Race Track], we were leading and got into a lapped car, so that knocked us from having a winning car there to sixth. A few of those hiccups, especially when you're doing a [nine-points-paying]-race deal, it really throws a wrench into it. But, you just keep digging."
Overton finished third in points, his first foray into super late model racing. McIntosh and McDowell provided the young racer with good models to follow.
"I watched how smooth they are," Overton said. "When I get [on the track], all I think of is holding it wide-open and turning it. There's a whole lot more to it than that. I learned a lot these last two weeks than I did in a whole year of crate racing."
When asked about his performance, Donald McIntosh gave himself the following marks.
"In hard work, I'll give us an A, and in performance I'll give us a B," McIntosh said. "We never won a race, but we never gave up."