When compared with many racers of today, Cameron Weaver first stepped behind the wheel of a race car at a late age. To make up for the lack of seat time, Weaver raced as much as he could and at as many different tracks as possible. That paved the way for his breakout season this year, with seven wins, including the last American All-Star Series Presented by PPM Racing Products event at his hometown's Crossville Speedway in Tennessee.
In late 2018, Weaver started racing at age 19, beginning in the crate late model class. He had never raced anything before, not even go-karts. However, don't mistake this as Weaver sitting on the sidelines of racing. Far from it. Weaver grew up helping his father, Randy Weaver, and other racers with their cars during his childhood.
"Through not racing [as a kid], I got to learn a lot by going with [my father to the races]," Weaver, 23, said. "Not only did I get to work with [my father], I got to work with Jonathan Davenport, Brandon Overton, Tanner English, because all three drove for us. That's helped me, because my dad doesn't drive the same as Jonathan. Jonathan doesn't drive the same as Brandon. Brandon doesn't the same as Tanner. I don't drive like any of them. It's helped me to [find] multiple ways to success."
When Weaver started racing, his father didn't hover over him like a helicopter parent. Instead, the elder Weaver provided his son with the space to figure out his own path to success. The road to victory lane was a relatively long one. Weaver earned his first win just last year. But, he feels it made him a better racer.
"[My father] handed me a car, a set of shocks and springs, and said, 'Go race — figure it out,'" said Weaver of his first ride. "He never let me do anything that would hurt myself. Whatever I wanted to try, I tried. It helped me build a notebook of stuff to do. He wants me to do good, but he also knows if he just gives me information and sets my car up, it ain't going to help me later on."
Now, Weaver helps run Rayce Technologies by Weaver, which supplies parts and provides setup service for its customers. This year, Weaver won seven races, but only raced 17 times among 12 different tracks. It's not from a lack of trying to make shows. Case in point, one weekend in July.
Weaver left on a Thursday to venture nearly 350 miles to practice at Magnolia Motor Speedway in Columbus, Mississippi. The practice rained out when they were within an hour of the track. They stayed over, with hopes of the Friday show occurring, but weather cancelled that.
Saturday, they drove four-and-a-half hours to Senoia Raceway in Georgia, where it rained out after hot laps. That night, they hauled nearly five hours to The Dirt Track at Charlotte Motor Speedway. There, he finished second in the Topless Outlaws race, and as he made it to tech, it rained. However, at Charlotte, catastrophe hit Weaver. Like a brick. In the head.
"A piece of lead fell off a car and came through the cockpit [while taking the checkered flag]," Weaver said. "I seen it [come at me], and dodged it, but it still caught me at the top of my helmet."
Weaver incurred a concussion from the impact with the ballast. He had to sit out for six weeks, returning in late August. Now he has his eyes set for this coming weekend's American All-Star Series doubleheader.
The American All-Star Series Presented by PPM Racing Products visits Boyd's Speedway in Ringgold, Georgia, on Friday, September 17. The following day, Saturday, September 18, the series heads to Crossville Speedway in Tennessee, where Cameron Weaver hopes to once again win at home.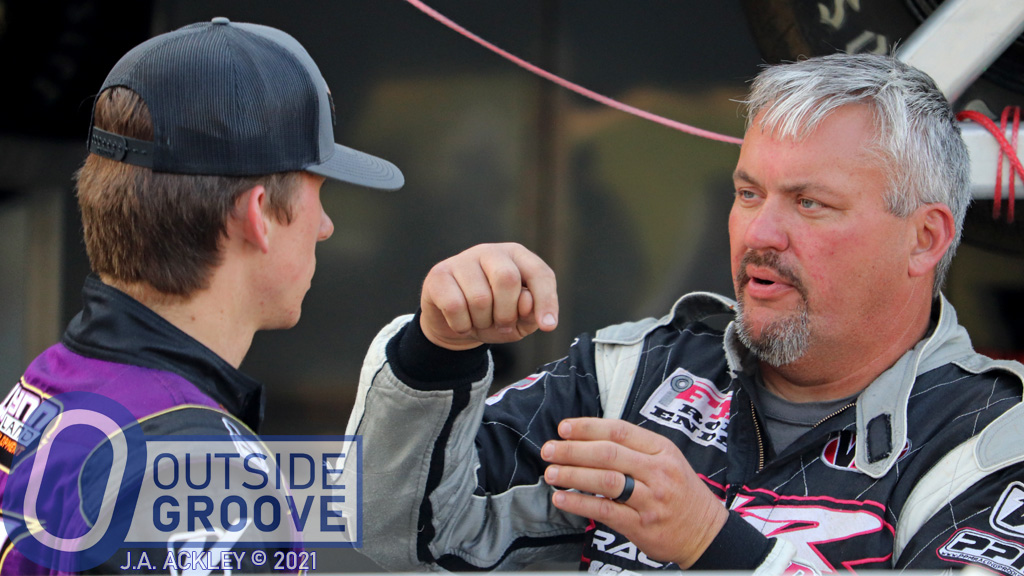 Outside Groove Note of Transparency: Outside Groove is a sponsor of the American All-Star Series. The American All-Star Series paid for the production of this article. The content was not subject to the approval of the American All-Star Series.