After the Schaeffer's Oil Southern Nationals Series two-week circuit ended, Cody Overton added his first super late model accolade to his résumé. He scored a podium points finish (a third) and ranked as the miniseries' top rookie. Despite being a super late model rookie, Cody isn't new to the racing scene. And, despite being younger brother to one of the winningest racers this season, Brandon Overton, Cody seeks to make a name for himself, too.
Bringing Up the Overtons
Cody is six years the junior to his old brother Brandon.
"[Brandon has] more years on me [in race cars]," said Cody, 23, of Evans, Georgia. "I didn't get to race go-karts [or] crates [late models] as a kid. I didn't start racing until about four years ago."
Instead of racing cars, Cody worked on them. He was one of Brandon's trusted wrenches early in Brandon's career. Cody also helped other drivers, such as Don Shaw, of Ham Lake, Minnesota, and Brian Ligon, of Augusta, Georgia.
"We had a little money when Brandon raced, and then it hit the fan when the economy dropped," Cody said. "My dad was in construction, and when it dropped in '07, it went downhill. I'm glad my parents did what they did for Brandon to get him where he's at, so he can help me get up there with him."
While Brandon supports his young brother, Cody doesn't have the means to race on his own.
"If it wasn't for Joey [Coulter and Rum Runner Racing], I couldn't be running [super late models]," said Cody. "I could try to attempt it, and [I would] be broke in two weeks."
Cody wants to follow his brother's path to the top.
"Brandon didn't really become 'Brandon Overton' until he was 28 [years old]," Cody said. "It was when he got with [Randy] Weaver, in 2017 — that's when he became who he is now. I feel like I have a little bit of time."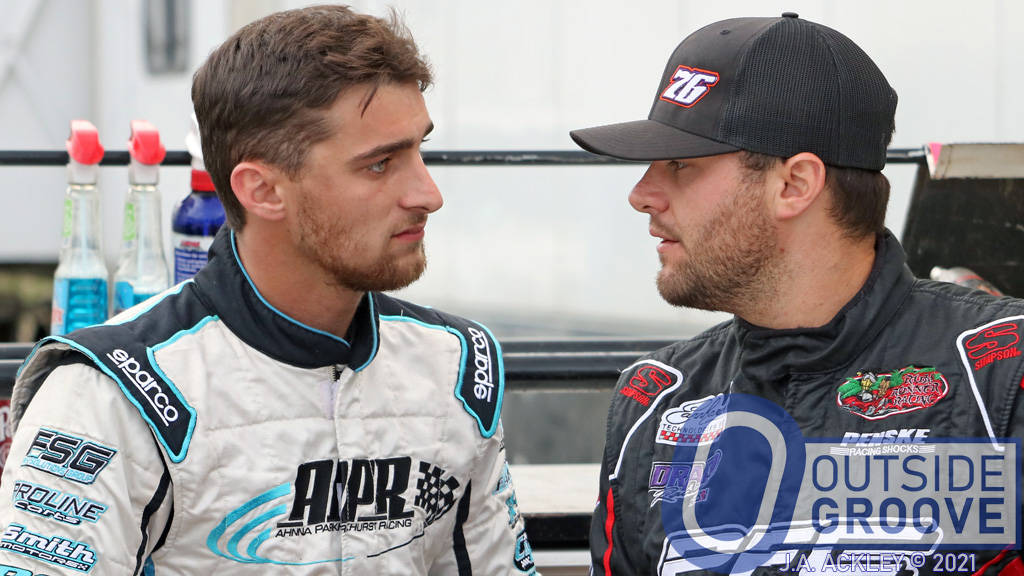 Cody Overton vs. Brandon Overton: Two Different People
Besides sharing a genetic link, the Overton brothers differ in personalities.
"They're about as opposite as you can get," said Cody's girlfriend and super late model competitor, Ahnna Parkhurst, 20, of Evans, Georgia. "As far as racing goes, they both are obsessed with it. But, they go about it differently. Cody's friendly as can be, wanting to hear from everybody, get everybody's opinion on what he needs to do. Brandon will do it on his own, figure it out on his own. As far as when we hang out, they're similar then, but racing is where they're different."
Brandon drove for Rum Runner Racing before, and worked with crew chief Harold Holly. Holly said he enjoyed working with Brandon, although some might have perceived it differently.
"When Brandon and I … needed to dig out of a hole, I got my snarled-up face and he got his snarled-up face," Holly said. "From the outside looking in, you probably thought the roof of the truck was getting ready to blow off. It wasn't really. My intensity level [makes] people think I'm angry."
Although Brandon's personality shares many similarities with Holly's, Cody's counters Holly's.
"Cody is a great balance," said Holly. "Cody has as much passion as anybody I had ever worked with. But, he carries it in a way where he's happy about it all the time. He's as hard on himself as anyone I've ever seen. But, he doesn't let it eat him. I've been guilty of that and I'm sure Brandon has, too."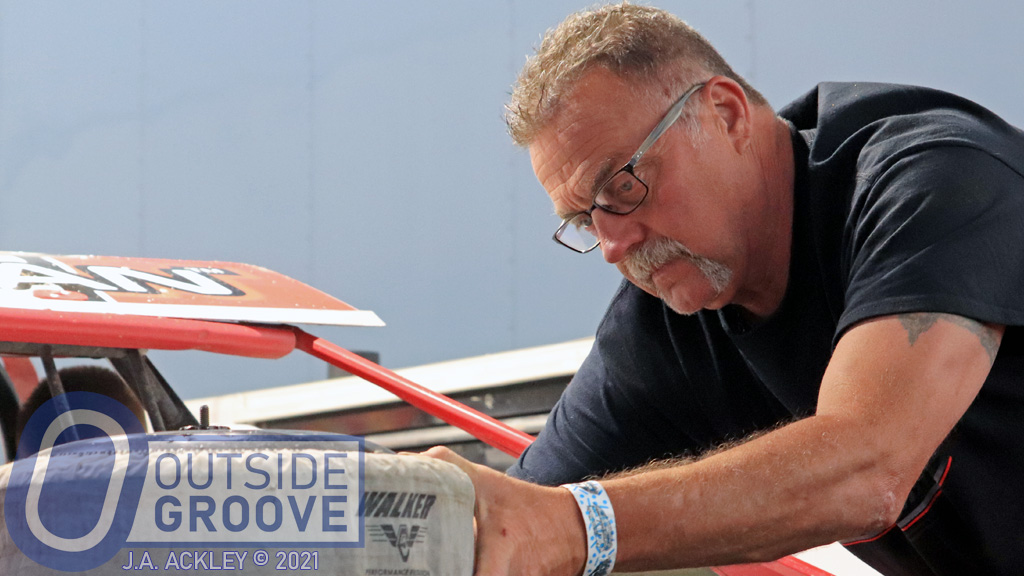 Cody said he feels people misread Brandon.
"He's quiet," Cody said of his brother, Brandon. "He's really to himself, but he's not an ass. Brandon's a down-to-earth, caring person. He would do anything for anybody.
"He's sociable when he wants to be, but most of the time, he's not. I like playing with everybody. A lot of times, I get myself in trouble playing too much."
People also have misconceptions about Cody.
"He's so wide-open, energetic, and all over the place that I don't think people realize how focused he is," said Parkhurst. "Everyone sees him as playful and funny, which he is, but he works as hard as anybody out here."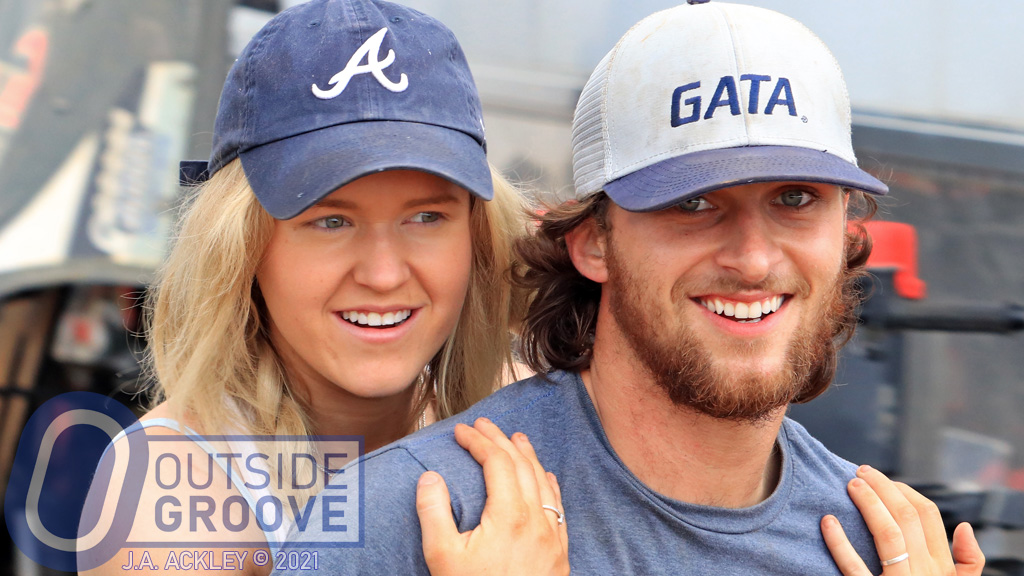 Behind the Wheel
Prior to super late models, Cody Overton raced 604 and 602 crate late models. The first race in the Schaeffer's Oil Southern Nationals Series marked his first in a super.
"It's a lot different," Cody said of supers compared with crates. "Everything I've done or tried [with a crate late model] won't work on [a super]. I'm used to no power, always stuck. Now you're unstuck, and you're searching for traction."
Cody may appear carefree at the track, but he does carry some doubts.
"I don't have much confidence in myself," said Cody. " I feel like I can't do it, but I know I can. My body tells me I can't do this, you're way out of your league, but I end up doing what I should be [doing]."
One thing that puts some spring into his step is his upbringing in the sport.
"If a kid is going to get into racing, they should learn [by working on cars] before they do it — it'll take them a long way," Cody said. "If you understand it and know what's going on, then when you get behind the wheel it's going to be easier. That's what Brandon taught me."
At the end of the 10-race (9 points-paying races) Schaeffer's Oil Southern Nationals Series, Overton scored four top-fives, eight top-10s. His best finish, a third, came at Tri-County Race Track in Brasstown, North Carolina. His effort impressed Holly.
"Cody gets an A+, as far as driving, working, everything," said Holly. "We [were] in the hunt for the championship, and it's because of [Cody's] abilities."