Joseph Pontin Jr. gave up a dream career working for A.J. Foyt Enterprises' IndyCar team to pursue another dream — racing a dirt modified. He said he has no regrets about his decision.
Deep Racing Roots
The third-generation racer started racing go-karts at Hawaii Raceway Park in Oahu. When it closed, his nearest tracks were on the other Hawaiian islands of Maui and Hawaii.
"We decided as a family that there would be more racing opportunities on the main island — North America," Pontin, 26, of Hockley, Texas, said. "I was on my way again, driving a hobby stock when I was 13 at Prescott Valley Raceway [in Arizona]."
He made his IMCA modified debut at age 15. Halfway through the season, Prescott Valley Raceway shut down.
"We regrouped, focused on education, and then I went to work for A.J. Foyt," said Pontin. "I could see myself as a crew chief. I was told by [A.J. Foyt Enterprises President] Larry Foyt that I had potential. But, I wished I was in the driver's seat every time I was at the racetrack."
Education and Learning
Joseph Pontin Jr. attended WyoTech in Blairsville, Pennsylvania, where he learned the basics of auto mechanics. When he found an entry-level mechanic job opening at A.J. Foyt Enterprises, he thought it was a perfect fit. Pontin's family had just moved to Texas, where the team was located.
A.J. Foyt Enterprises hired him in 2018. They assigned Pontin as a mechanic to the cars driven by Matheus Leist and, most currently, Sebastien Bourdais. He also worked the air jack during the races.
"I learned a ton about racing at A.J. Foyt's — not just mechanical skills, but organizational skills and work ethic," Pontin said. "What is not taught in school is how important it is to be on-topic, work hard, and to be on top of everything about the car. You can't skip any steps in preparing a race car. If you do, you will go backwards."
Pontin enjoyed his time at A.J. Foyt Enterprises, but he still yearned for the spot behind the wheel of a race car.
"When I told Foyt I wanted to be a driver, he was very understanding about me chasing my dreams," Pontin said. "He said I was welcome back anytime."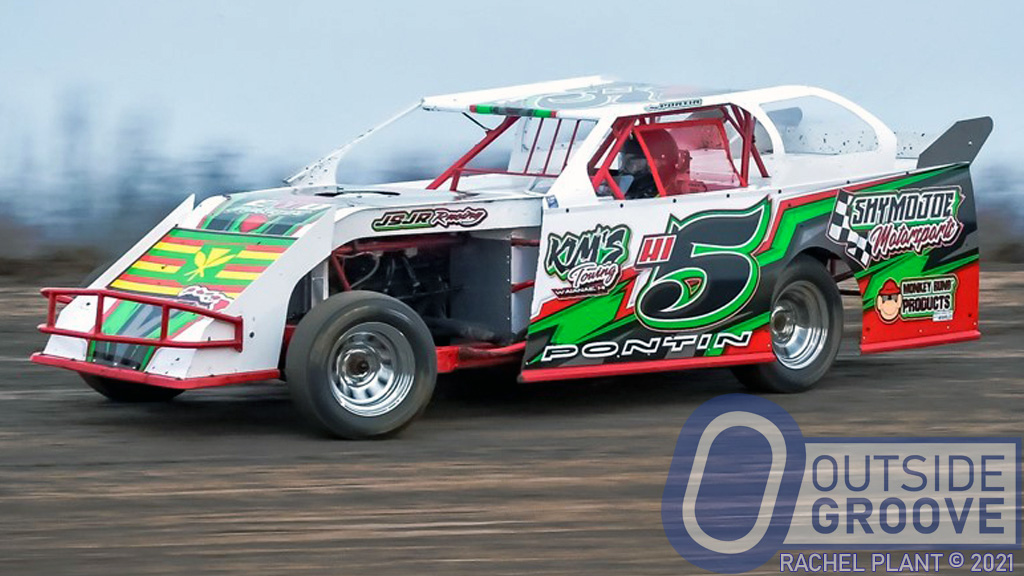 Return to Racing
This season Pontin got back into steering race cars, racing in the IMCA Southern sport mod class.
"I had to learn driving technique all over again," Pontin said. "The tracks in Arizona are different than the tracks in Texas. Learning Texas dry-slick is a big challenge."
Pontin races at a variety of Lone Star ovals, including 105 Speedway in Cleveland, Cotton Bowl Speedway in Paige, Heart O' Texas Speedway in Elm Mott, I-37 Speedway in Pleasanton, and the Texas Motor Speedway Dirt Track in Fort Worth.
"Gaining experience, getting as much seat time as possible, and getting back into the rhythm of racing are my goals," Pontin said. "My rookie season is a learning season."
Earlier this year, on March 13, Hockley won his first sport mod feature at Cotton Bowl Speedway.
"There are a lot of good cars and great drivers in the sport mod division," Pontin said. "Even though I won a feature, my goals are not met."
Joseph Pontin Jr. looks to build on his win to further his standing in the sport as a driver.
"My biggest challenge is being consistent with top finishes," said Pontin. "I have to put myself out there. People are getting to know me, and I'm getting to know people. All of these things will hopefully lead to more sponsorship. I'm sticking with sport mods for now — there is so much more to accomplish."