In an age when big haulers dominate the pits, the trailer used by dirt late model racer Carson Ferguson may seem modest. Some feel the size of a hauler correlates with a racer's on-track performance. Surprisingly, Ferguson agrees — but not for the reasons you may think.
"[A large hauler can] distract you from preparing your car through week," said Ferguson, 21, of Lincolnton, North Carolina. "Adding a stacker trailer into the mix is like adding a whole another car that needs to be maintained. I feel like I have one of the best prepared race cars out there. People may think big trailers win races, but for me, it's the opposite."
Racing with an Open Trailer
In 12 races this year, Carson Ferguson has four wins. Among those victories include an American All-Star Series Presented by PPM Racing Products feature that netted him $10,000, occurring on July 3 at Mountain Motorsports Park in Isom, Kentucky. Ferguson said his hauler's advantages outweigh its disadvantages.
"We can get [to the races] faster," Ferguson said. "It makes it easier to load and unload. The only thing we got to do is if it's starts raining, we got to pull over. I'll pull the seat cushion out [of the full-containment seat], so it doesn't get wet, and then we'll put a cap on the carburetor."
With many of his races hours away from the shop, the trailer has another disadvantage that may actually be an advantage in the hard-nosed world of crate late model racing.
"It's difficult to take spare parts," said Ferguson. "[Some] people have a whole another car in their trailer or spare parts. I have to race smarter. I don't have a nose with me at the track, so I'm not going to run somebody over. I've just put one right side on my car this year. It's still the same left side [on the car as in the beginning of the year]. I've gone through two noses. Other than that, we do decent at taking care of our stuff."
Exposure by the Mile
The road time with the race car on the open trailer excites those who see Ferguson's late model.
"We get people pulling up besides us, giving us a thumbs up," Ferguson said. "It's definitely a great talking point [with sponsors]."
A smaller hauler also makes it more maneuverable, which becomes helpful when a GPS takes you the wrong way. Ferguson found that out first-hand en route to Mountain Motorsports Park.
"We get down to this one lane road and [the GPS] is telling us the track's down this long gravel road," said Ferguson. "I said, 'This ain't right.' We backed up and found a guy who lived near [where we were] outside in his yard. We asked him [how to get to the track] and he pointed us in the right direction. He later found us after the race. He said, 'I saw your car on the trailer, and I knew which one to look out for.'"
From Big Haulers to Small
When Ferguson started racing dirt late models in 2014, he would borrow a big trailer from his cousin, racer Chris Ferguson, when he wasn't using it. However, with his cousin racing nearly every weekend, that left Ferguson with not many opportunities to race. Ferguson looked for a new hauler and found this one at the end of 2014. He and his team refurbished it after the 2019 season.
"We stripped it, rewired it, put running lights on it, replaced rusted parts, repainted it," said Ferguson. "We didn't spend much money on it — we did everything ourselves."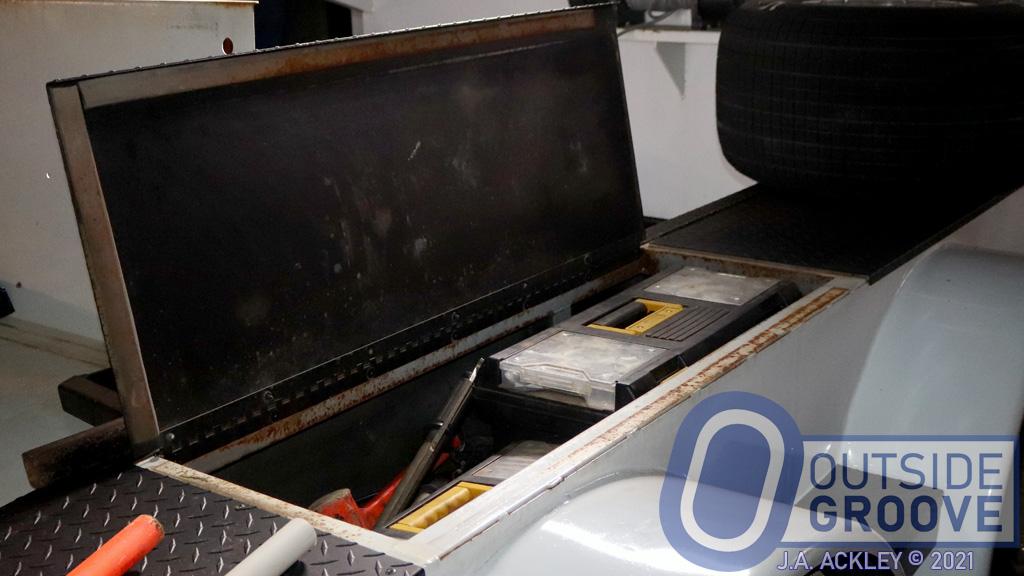 Great Setup for the Weekend Warrior
Ferguson works full-time at Tiger Precision Products, which makes custom composite products for a variety of industries. The back-to-basics approach for his hauler works for Ferguson, who considers himself a racer who enjoys the sport as a hobby.
"We like to keep our stuff nice," said Ferguson. "We felt it would be easier for us to do that, with an open trailer than with an enclosed trailer."
This weekend, Carson Ferguson races close to home. He plans to take his trailer, with his race car aboard, to the Carolina Sizzler at The Dirt Track at Charlotte Motor Speedway. While the route may be shorter, expect to see him making fans along the way, as he had done at Mountain Motorsports Park and other tracks this season.
Outside Groove Note of Transparency: Outside Groove is a sponsor of the American All-Star Series. The American All-Star Series paid for the production of this article. The content was not subject to the approval of the American All-Star Series.