The Lanphear sisters, Reilly, 21, and Peyton, 20, compete in the American Canadian Tour (ACT). When they first started racing, their father Mark Lanphear, laid out one rule for them: "If you wreck each other, you're done."
Thankfully, the sisters came close to testing that rule only once.
"[Reilly] was racing in a family car, but I was racing for someone else," Peyton said. "I was passing her and I accidentally spun her into the infield. Luckily, I was racing for a different team so I didn't get parked by my Dad."
Typically, the Lanphear sisters, of Duxbury, Vermont, remain on good terms with each other.
"Reilly and I have always had a strong bond," said Peyton. "We are a family team, so we stay close together."
Roots
Mark, a former winning racer and NASCAR crew member, retired from the cockpit of a race car as he built a family and a business, Duxbury Auto-Tech in Waterbury, Vermont.
"At the time the girls were born, we were busy building my automotive business and dabbling in real estate development," said Mark. "The first half of the 2001 racing season, I drove a late model and had some success, but it just fell apart. I finished the season crew-chiefing."
It wasn't too long before Reilly and Peyton wanted to race something. They started with motocross when they were nine and eight years old, respectively.
"After a while [in motocross,] I said, 'I don't know a damn thing about dirt bikes,'" Mark said. "[I also felt] I couldn't keep them safe [in motocross]. However, I could keep them safe in a race car."
Stock Car Beginnings
Mark purchased a street stock for his daughters.
"I don't think there was ever a conversation about getting behind the wheel of a race car," said Peyton. "Out of the blue one day he came home with a race car."
At ages 13 and 12, respectively, he had Reilly and Peyton try the car at Riverside Speedway and Adventure Park in Groveton, New Hampshire.
"The plan was [for them] to share the car and switch off each week," said Mark. "However, that lasted about two races. Then, we purchased a truck. Peyton raced the truck at White Mountain Motorsports Park in North Woodstock, New Hampshire, and Reilly raced the street stock class at Riverside. From there, the interest just grew."
Ascending the Ranks
Reilly and Peyton moved up classes, eventually racing together in street stocks. At the the time, Peyton became the youngest driver to win at the storied track at age 15. After dabbling a bit in the flying tiger class, the Lanphear sisters moved into ACT late models in 2018. Then, they both struggled.
"Jumping to late models was obviously a huge challenge, especially being a premier touring series like ACT," Reilly said. "It was jumping head-first into a new kind of car, different tracks and different drivers."
They also faced other challenges.
"There have been many times where I am having a good run and I get taken out from a driver who has no respect for me," said Peyton. "That is the most frustrating thing. I deserve to be there just as much as everyone else. Being a girl in a male-dominated sport is always hard to begin with. If you even slightly give it back to them, they want to whine about it."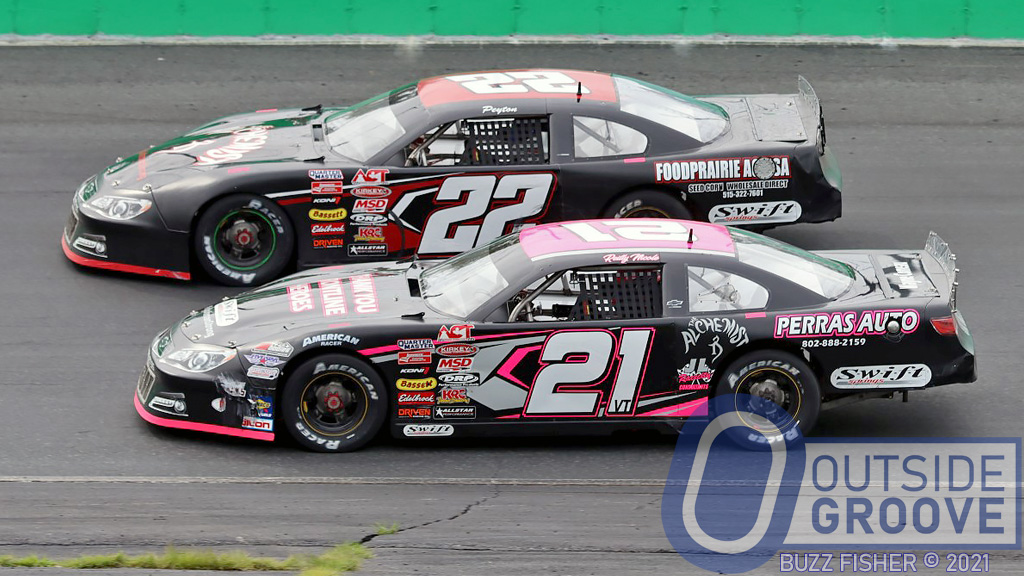 Support in the Shop
Both Reilly and Peyton take active roles in the preparation of their cars, although attending out-of-state colleges limits their involvement these days. Reilly attends the University of North Carolina at Charlotte, double majoring in mass media communications and health systems management. Peyton attends Grand View University in Des Moines, Iowa, pursuing a Bachelor of Science degree in nursing.
"It's hard to help during August through May," Peyton said. "During the summer I try my best to go down to the shop and help out."
In 2020, Reilly's college went virtual, which allowed her to stay in Vermont. She spent time working on the cars for both her and her sister.
"My dad and I are down at the shop every day working on the cars," said Reilly. "There's a couple other people who usually stop down [at the shop] on the weekend. It gets hard sometimes — Peyton lives out of state so we're usually missing her pair of hands. I do all the decal work for both cars and make sure the trailer, track box, and tires are ready. My dad does the big stuff by himself, but I can help with replacing panels, springs, and setup and whatever else he tells me or shows me what to do."
Both Lanphear sisters acknowledge the contributions of their father, Mark, but also their mother, Stephanie.
"My mom has always been our biggest supporter," said Peyton. "She's always there for us when we need her. In fact, many people at the track call her 'Mom,' because she's that type of person who is there for everyone. I am grateful to have parents who are so awesome and are willing to do anything for their children."
Last Year and This Year
Last season, Peyton faced an unfortunate obstacle to her racing — postural orthostatic tachycardia syndrome (POTS).
"I was unable to race the majority of the season as I would pass out unexpectedly," Peyton said. "[It] was recently diagnosed as POTS. POTS usually affects women and is treated by adding extra salt to the diet, increasing fluids, and with medication."
While they searched for a diagnosis for Peyton in 2020, Reilly raced and helped improve the program.
"We gained a lot of knowledge and I'm excited to work off of that," said Reilly. "I was able to see improvements and progress. It felt good to be way more competitive by the end of the season and being able to run consistently with the better half of the field."
Now with a diagnosis and a treatment plan, Peyton feels optimistic for this season.
"I am hoping 2021 will be a breakout year," Peyton said. "The last few years we have struggled. Our results have not shown how hard we have been working to be successful. If we are able to stay out of wrecks and qualify up front, we can have good, strong, successful runs this season."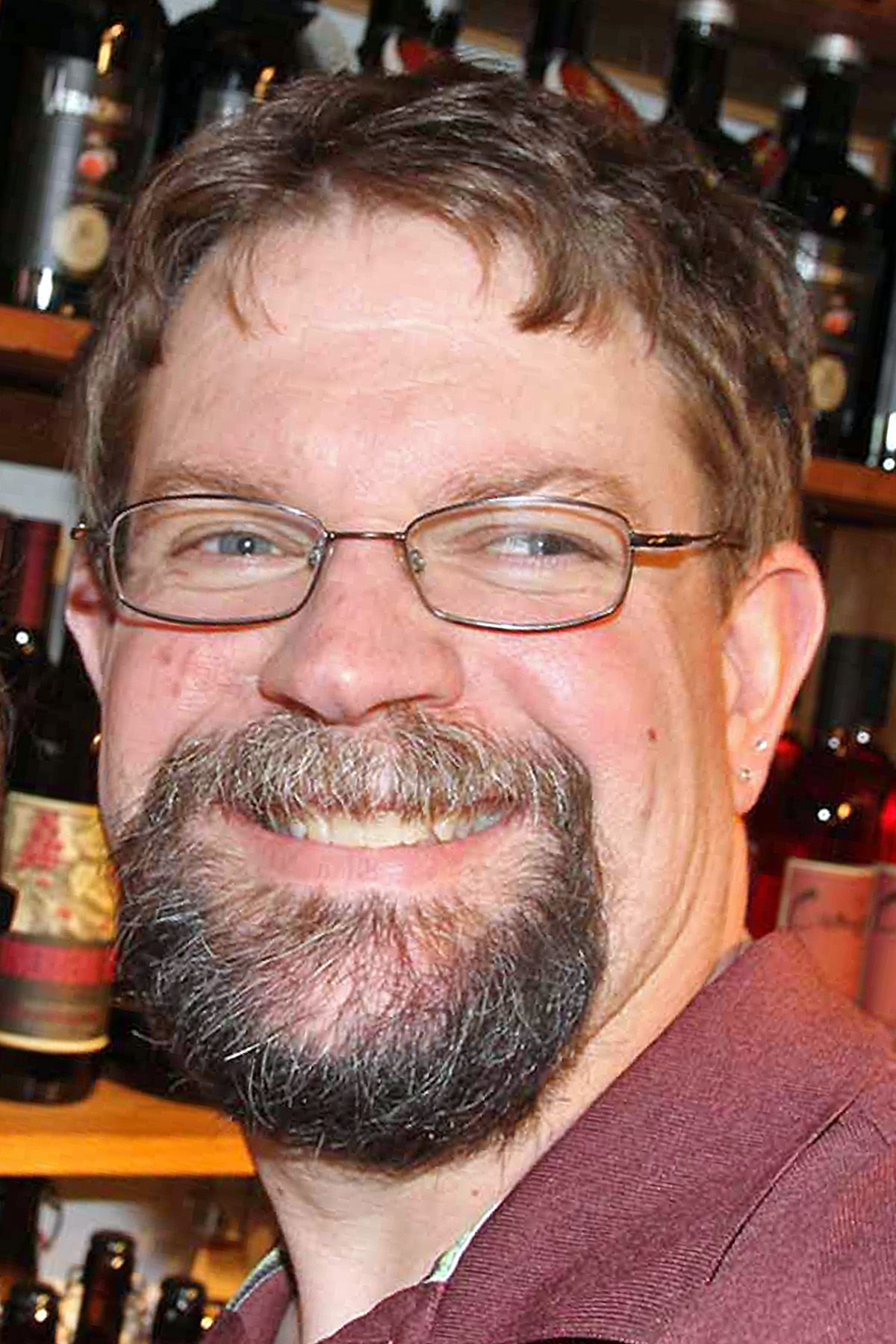 The Outside Groove contributor first started photographing auto racing in 1997, with some of his work appearing on the original Outside Groove. The award-winning writer and photographer from Vermont has covered the sport throughout New England, New York, and Canada.