Marty Clark (8B), Lyle Sathoff (not pictured), and Brandon Taipalus (41) found themselves on ambulances after this wreck during the Bristol Dirt Nationals at Bristol Motor Speedway. Over a week later, many are still talking about the incident.
What Happened — The Restart
The incident started on a lap 17 restart of the A-feature on Wednesday, March 17. Prior to the green flag waving, Dale Kaake III (18K) and Taipalus tangled to a stop on the backstretch toward turn three.
"[The field] checked up, like they had done on every restart," Kaake (pronounced like "cake"), 18, of Cass City, Michigan, said. "When I hit my brakes, my car slid down the track, and the guy behind me [Taipalus] drove over my right-rear tire. When he did that, it locked up my rear end, because his left-front [wheel] was stuck between my right-rear [wheel] and the frame. It stalled out my car. I started it back up and I tried to move, but I couldn't. So, I shut everything off. I sat there and waited."
Earlier in the day, Taipalus questioned if he wanted to race Bristol.
"I had a good friend, Mike Epplett, wreck his car, in a heat race," said Taipalus, 37, of Montague, Michigan. "His heat race was just before mine. He hit the wall on the backstretch and another guy got into him. Going into [turn] three, he got up the racetrack, hit the wall, and rolled all the way down the track. He was knocked out. It scared me a bit.
"I told my wife that I did not want to race. She said, 'I did not fly down here to not watch you race.' So, I said, 'We'll go out and just make some laps.' She was fine with that. I finished last in the heat. I didn't think we were going to make the feature."
After riding around for most of the A-feature, Taipalus had a change of heart — he wanted to make a few passes.
"The track officials told us on the RACEceiver, 'Bunch it up … we're going green,'" Taipalus said. "As I was catching up to everybody, people were brake-checking. I tried to turn right to go around [Kaake], and I was hard on my brakes. We were too close, so there was no time for me to react. [We were] stopped before turn three. It was still yellow. We were locked up. I still didn't see the caution out. Then, the light turned green."
What Happened — After the Green Flag
With the green flag out, cars came off turn two at full speed.
"I saw [race leader] Ricky Thornton go by me on the inside and I was hoping everyone else was going to follow him on the inside," said Kaake. "Then, I saw a couple of cars go on the high side. That's when I knew that this wasn't going to be fun. I sat there with my arms across my chest, away from the steering wheel, and braced for impact."
Taipalus took a similar course of action.
"Ricky Thornton was the first [car] that went by us," Taipalus said. "I clenched up, because I knew what was coming and they hadn't started screaming yellow [on the radio]. I pulled my arms in, off the steering wheel. The only thing I remember is getting hit … flying around … and I don't remember them yelling caution."
Clark said he had little time to react.
"Coming off of [turn] two, full bore, when the cars started parting, I got on the binders," said Clark, 55, of Russell, Kansas. "It's from my understanding, I got hit in the rear, and turned. And, then my door, got into [Taipalus'] car."
As the caution came out, Sathoff found himself involved, too.
"I didn't know the two cars were stopped until I saw the video replay," Sathoff, 27, of Armstrong, Iowa, said. "[Officials on the radio] didn't say 'Yellow, yellow, yellow,' until I was on the backstretch. With the dust … you couldn't see anything until you were right there. By the time I saw them all, all I could do is the safest thing, [which was to] try to put the car into a slide. So, I hit with my driver's side first and about the same time I got hit in the passenger's side."
When the dust settled, eight cars came to rest together.
Aftermath — Drivers
Clark, Sathoff, and Taipalus took ambulance rides to Bristol Regional Medical Center.
"It knocked the wind out of me — I couldn't breathe," said Taipalus. "The seat had hit me in the spine — that's why I went to the hospital.
The impact of the accident pushed the rear of the car into Taipalus' seat, bending the seat in the center two inches forward, according to Taipalus. Fortunately, Taipalus suffered only soft tissue damage.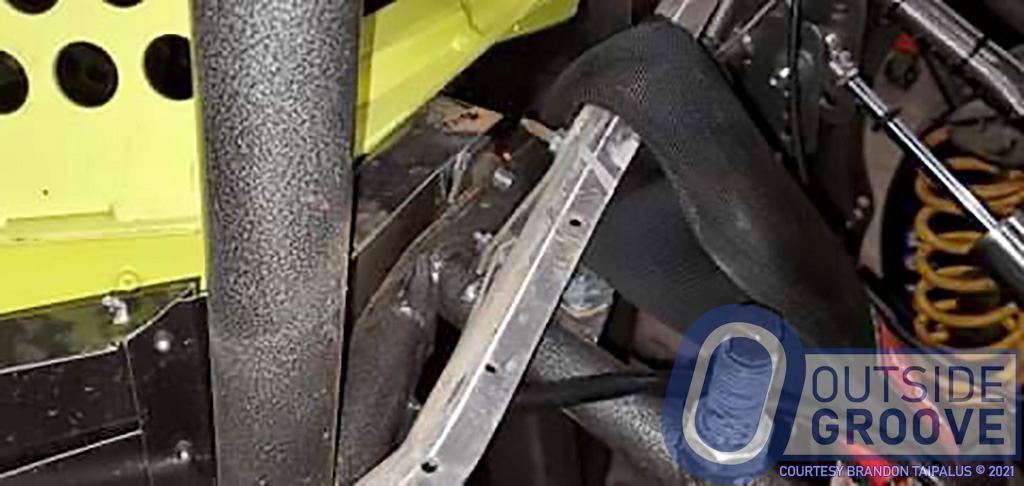 Sathoff received medical attention for different reasons.
"The [first responders] told me when they came to the car that I was out of it," Sathoff said. "My right eye wasn't reacting as it should — it was sluggish."
They diagnosed Sathoff with a concussion.
"I spent the night at the hospital," said Sathoff. "By the morning, [my right eye] was reacting as it should."
Clark said he got out the car and was transported to the infield care center before being taken to the hospital. However, he received the worst of the injuries.
"I lost my breath, because I learned later that I had six broken ribs and a punctured lung," Clark said. "Two veneers on my teeth, [the impact] knocked both of them off. I spent two days in the hospital and begged them to let me out of there, because I was ready to get out."
Kaake did not receive any serious injuries.
"It didn't hurt that bad," Kaake said. "I was sore the next day, but I was glad that my car wasn't totaled."
Aftermath — The Cars of Kaake, Taipalus, and Sathoff
Kaake raced a 2019 Diamond Race Cars by CTR chassis. He sat in a Kirkey full-containment seat, with a RaceQuip five-point harness. He wore a Zamp Racing helmet and Zamp Racing head-and-neck restraint system. His fuel cell, from Superior Fuel Cells, held up, despite a direct hit. Kaake almost returned back into action at Bristol, until he discovered a bent left-rear axle tube, ending his event early.
Taipalus raced a 2012 chassis from Xtreme Chassis & Performance Parts in Mount Pleasant, Michigan. He sat in a Kirkey full-containment seat, with a Pyrotect five-point harness. Taipalus wore a Zamp Racing carbon-fiber helmet and Zamp Racing head-and-neck restraint system. As with Kaake, his Jaz Products Man-O-War fuel cell took a hit, but it did not leak, either.
"That car is 100% done," said Taipalus. "It's getting cut up and it's going to the scrapyard."
Sathoff raced a 2016 Skyrocket Chassis. He sat in a Kirkey full-containment seat, with an Impact Racing five-point harness. He wore an Impact Racing helmet and Simpson Hybrid Pro head-and-neck restraint system.
"The rear end is bent," Sathoff said. "It bent the under-slung, passenger-side frame rail, and a lot of support bars. It seemed like the rear end took the brunt of it, so it missed the frame horns and the main chassis components. It's fixable, but it's going to take a lot of work."
Aftermath — Clark's Car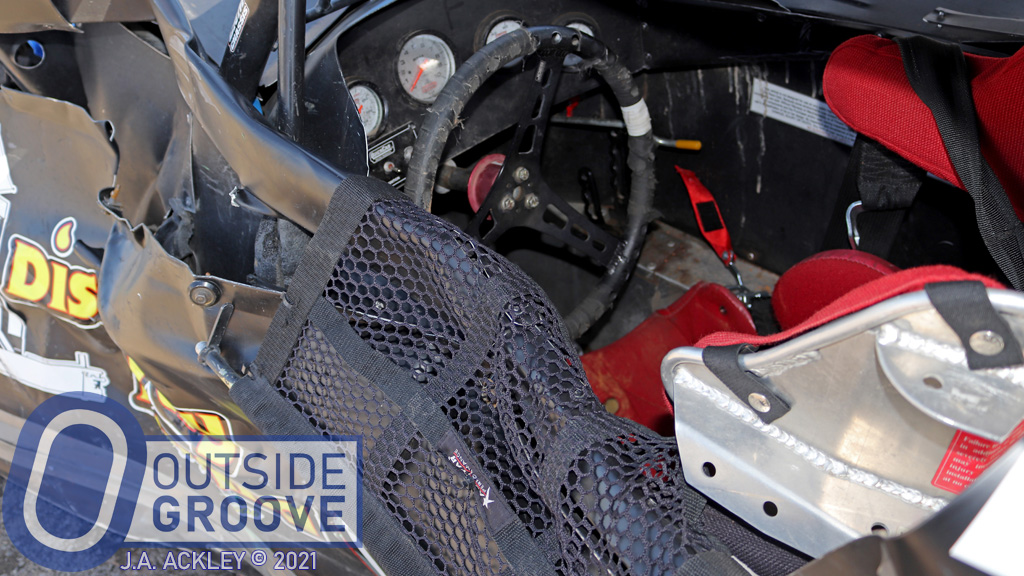 Clark raced a 2018 CAM chassis. He sat in a Kirkey seat, which had head and shoulder supports added, with a Crow Safety Gear five-point harness. He wore a Zamp Racing helmet and HANS device. We photographed Clark's car at Bristol. We showed the photos to Kevin Derochie of Kirkey Racing Fabrication and Fred Crow of Crow Safety Gear.
"The seat shown in Marty's car is an older circle-track seat, with an add-on head-and-shoulder restraint kit," said Derochie. "We would not consider it a full-containment seat and it is not adequate for a track like Bristol. This type of setup would have been common 10 to 15 years ago, but compared to the protection that today's containment seats offer, it is quite dated."
Derochie said for a seat to be considered "full-containment," it must have two things.
"Firstly, it should have built-in head restraints and shoulder restraints," Derochie said. "Secondly, it is critical that the seat has been engineered to be paired with a head-and-neck restraint. On our full-containment seats, the head restraint is stepped back from the shoulder restraints to allow clearance for the HANS. On these older seats, the head restraint is not stepped back, so it pushes the driver head forward approximately an inch."
Without a certification, not all full-containment seats are created equal. In fact, the dirt late model world encountered this issue a few years ago. They solved this by mandating SFI 39.2 seats, which meant all seats met a minimum standard. However, with that comes cost. The seats retail for nearly double that of non-certified full-containment seats.
Crow said Clark's belts did not appear to have slipped in the accident. However, Crow Safety Gear recommends folding the edges of the belts through the mounting bracket, which strengthens them at the anchor point. They also recommend locking the belts by threading the belt again through the bottom portion of the tightening buckle to prevent slippage.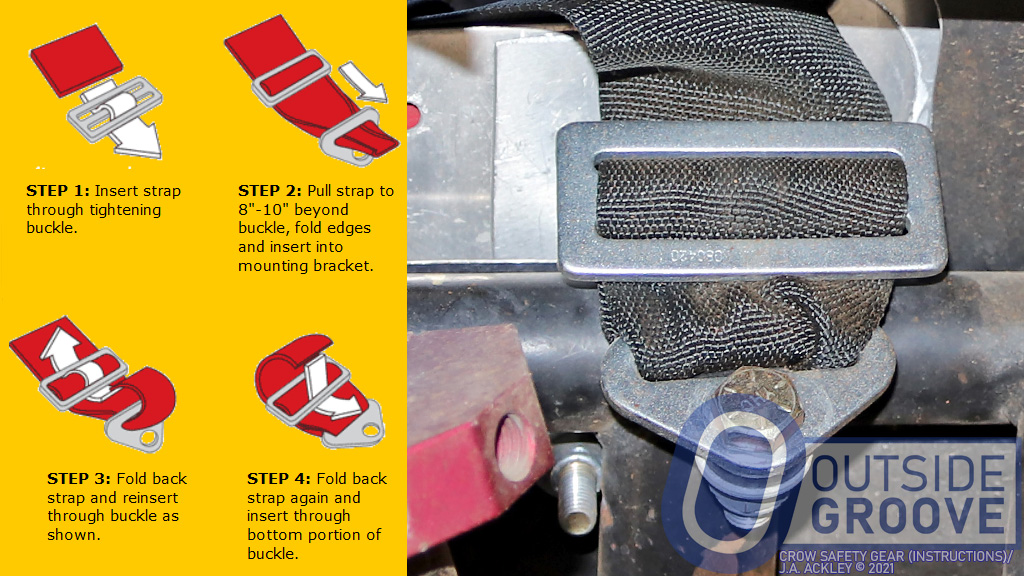 Going Forward
The future for the four drivers interviewed and their thoughts on racing at Bristol differ.
Kaake, a successful street stock racer whose Bristol event marked his third-ever modified race, plans to make a run for the IMCA national modified rookie of the year title this season. He would welcome another opportunity to race Bristol.
"It was a fun time," Kaake said of his Bristol experience. "We were fast at the beginning of the event. We were looking forward to the week, but we just had bad luck. I would like to do it again because I'd like to see a better result."
Taipalus intends to put together a pro late model he has, racing primarily at a pair of Michigan tracks — Thunderbird Raceway in Muskegon and Winston Speedway in Rothbury. His friends are trying to find another modified for him. Admittedly, he's questioning whether he wants to continue racing as a driver or solely as a car owner. Taipalus doesn't see Bristol in his future.
"Bristol isn't really made for our race cars," said Taipalus. "It was cool to go down there, but our cars are not built well enough for the speeds at Bristol."
As a regular at the ½-mile, banked Fairmont Raceway in Minnesota, Sathoff feels differently than Taipalus.
"Modifieds are fast, but they are built to withstand the speed Bristol has," Sathoff said. "They are safe and make for great racing for the fans at Bristol."
Clark's luck took a turn for the worse after Bristol. The trailer hauling his car back to Kansas from Tennessee caught on fire. His 2021 season is very much in doubt. He's trying to find the funding to race at Kansas tracks he typically frequents, such as Osborne County Speedway, Rooks County Speedway in Stockton, RPM Speedway in Hays, Thomas County Speedway in Colby, and WaKeeney Speedway. Clark felt today's modifeds can safely handle the demands of Bristol.
"Honestly, my wreck and other wrecks proved that the cars are safe enough [for Bristol], for the most part," said Clark. "Having said that, the track officials need to be better prepared for those speeds and the consequences that comes with cars going those speeds."
Note: We reached out to Barry Braun, of X.CELERATED, of Silver Bay, Minnesota, the company that promoted the Bristol Dirt Nationals, but he declined the opportunity to comment, citing company policy.
Outside Groove Note of Transparency: Corrected that Marty Clark was transported to the infield care center (2021-03-29)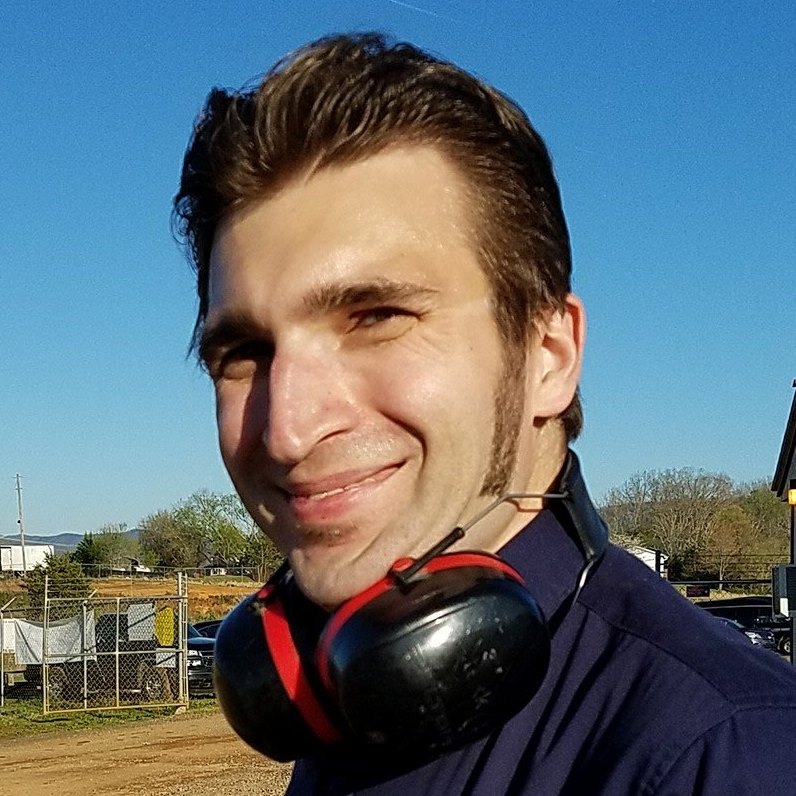 The Outside Groove Executive Editor has covered motorsports since 2000. His many awards include the 2019 Eastern Motorsport Press Association (EMPA) Jim Hunter Writer of the Year and the 2013 Russ Catlin Award for Excellence in Motorsports Journalism.