Ida Fields enters her 50th year of owning Mobile International Speedway in 2021. This season, Gina Schild Knowles takes over the reins in promoting the historic Alabama oval. Both share a love for the sport, but for Fields, Mobile holds a special place in her heart.
A Labor of Love
When professional wrestler Lee Fields fell for Ida, he did so in a big way. Ida attended a wrestling event where Fields participated. Fields was tossed over the ropes during his match and landed where Ida sat.
"I was in beauty school and my hair was bleach blonde," Ida said of that fateful day 64 years ago. "His leg was lying across me and I was frozen stiff. He thought I was older than I was — and I didn't tell him any different."
The two were 18 years apart, but they fell in love and married. Lee's wrestling career took him to Mobile, Alabama, where he came upon a deal he couldn't pass up.
"Lee was a wrestling promoter in 1972, when a man named Skippy Wetjen approached him about a racetrack he had built and needed to sell," said Ida. "He talked Lee into buying it."
A promoter at heart, Lee applied what he learned in wrestling to racing.
"He had absolutely no experience in racing," Ida said. "But, he was good at promoting, and got crowds to the racetrack."
Many of the top drivers in NASCAR made their way through Mobile.
"Cale Yarborough; the Alabama gang, with the Allisons and Red Farmer; David Pearson — I met them all," said Ida. "More recently, Chase Elliott got his start here."
At the end of the 1990s, Lee battled leukemia, eventually succumbing to the disease in 2000. The Fields family sold the track.
"Three years into the deal, in the middle of the 2004 season, the buyer dumped the track back into my lap," Ida said. "I knew what I had to do."
Ida took over the track. She ran it herself some years, and other seasons she leased it.
Mobile International Speedway last ran in 2019. It sat dormant in 2020 due to Covid-19, said Ida.
Déjà Vu — Rebirth of a Speedway Part Deux
Gina Schild Knowles understands the challenges of the promoting a pavement oval along the Gulf Coast. In July 2019, she took over Houston Motorsports Park as it approached the brink of closing. As someone who grew up in a family of racers, Gina knew the importance of keeping the only paved oval in Texas open.
"I know the impact [that a track closing] makes," Gina said. "[It results in] a shop full of stuff and nowhere to race — and a huge decrease in value of [the racing equipment]."
Gina had her challenges.
"Car counts were all under 10," Gina said. "Fans — non-existent."
She started by rebuilding the trust with the racers of the track.
"We all knew it was sink or swim," said Gina. "It was all of us working together to get the fans back and the racing good. When [racers] contribute to the growth of the sport, beautiful things happen."
Under the banner of the Texas Short Track Racing Series, Gina slowly grew car counts and crowds amidst the Covid-19 pandemic. She looks to carry over her success to Mobile and work together with Houston, even though the tracks reside 451 miles apart. Both will run under the NASCAR Advance Auto Parts Weekly Series umbrella. Pro trucks will be the division I class at both ovals. A separate traveling series for the tailgate brigade will run between the two tracks, too.
"My expectations are high," Ida said. "Gina is knowledgeable and she cares. When you run a racetrack, you have to get along with racers and understand them. Gina is good at that."
Gina has a one-year lease on Mobile, with an option to buy. She plans to make several improvements to the facility before opening in May. Ida intends to retire to Louisiana.
"Mobile International Speedway has a lot of soul," said Gina. "All of the kudos goes to Ida. She did not have to hold on to the speedway, but she did. She loves racing, and she has made it through different promoters, hard times, and hurricanes."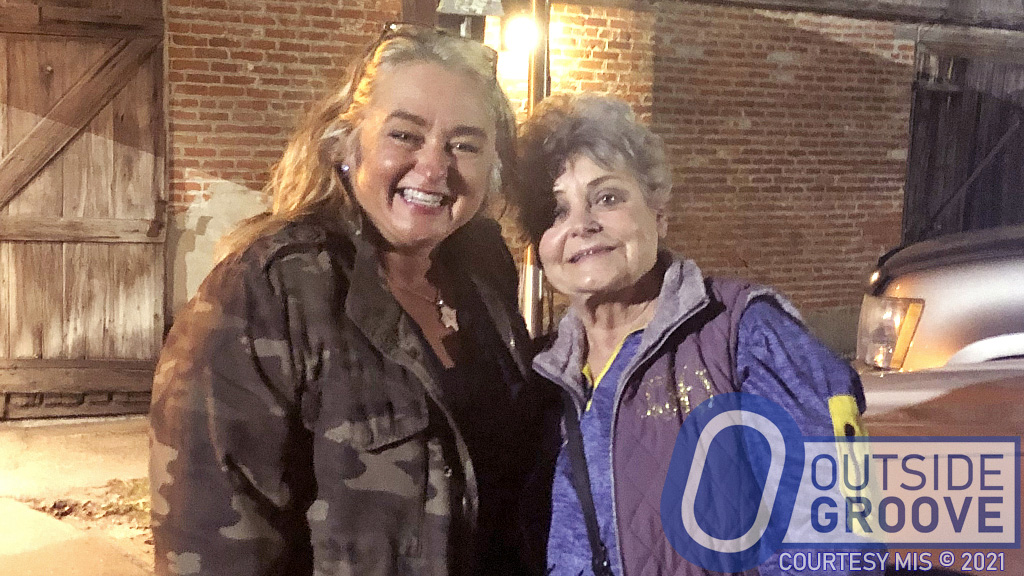 Outside Groove Note of Transparency: Advertisements for the Texas Short Track Racing Series appear on Outside Groove. A banner for Outside Groove appears at Houston Motorsports Park.