Mike Nichols shattered longstanding IMCA records this season. He's set to earn a ninth national IMCA stock car championship — the most in one division during the IMCA Modern Era (1979–present). Earlier this year Nichols scored a record-breaking 558th IMCA feature win, and then extended that mark to 561. Add to that an astounding 42 IMCA track championships in 19 years of racing IMCA stock cars and you can see why some consider Nichols among IMCA's best drivers ever.
Advertisement

"I don't know if I am on the same page as the other greats in racing," Nichols, of Harlan, Iowa, said. "I honestly don't know how many wins I have. I never thought I'd be that guy. Wins are a career accomplishment that makes you old. I don't want to be old."
At age 43, Nichols remains in the prime of his career. He still seeks more races and championships to win. For example, Nichols's feat of nine national IMCA championships comes with a caveat as an IMCA Modern Era record. Ernie Derr won 12 titles during the 1950s to 1970s.
"It would be cool to have that asterisk removed, but I realize a lot of things will have to go right in the future," said Nichols.
Key to Success
Behind the scenes at Nichols's humble shop at his home, Nichols's crew works as a well-oiled machine. They have to. Nichols races four to five nights a week at tracks in Iowa and Nebraska.
Advertisement

"We have as much as possible done to the car to prepare it before we unload it at the track," Nichols said. "We have our daily routine for racing four nights a week."
Crew chief Justin Gessert oversees completion of the maintenance checklist performed on a car from B&B Racing Chassis. Paul Zimmerman maintains the engine from KS Engineering. "Tuffy" Zimmerman, 83, Paul's father, does both bodywork and tires. Nichols's wife, Anita, jumps in to help, too.
"She's been around so long, she knows what needs to be done," said Nichols. "She makes sure we are pointed in the right direction."
When Nichols arrives at the track, he comes ready to race.
"We set tire pressure and torque the wheels — pretty much everything else is done," Nichols said. "The notes on each track are in my head. I try to simplify things — only minor changes are made at the track, and those play out as the night goes on."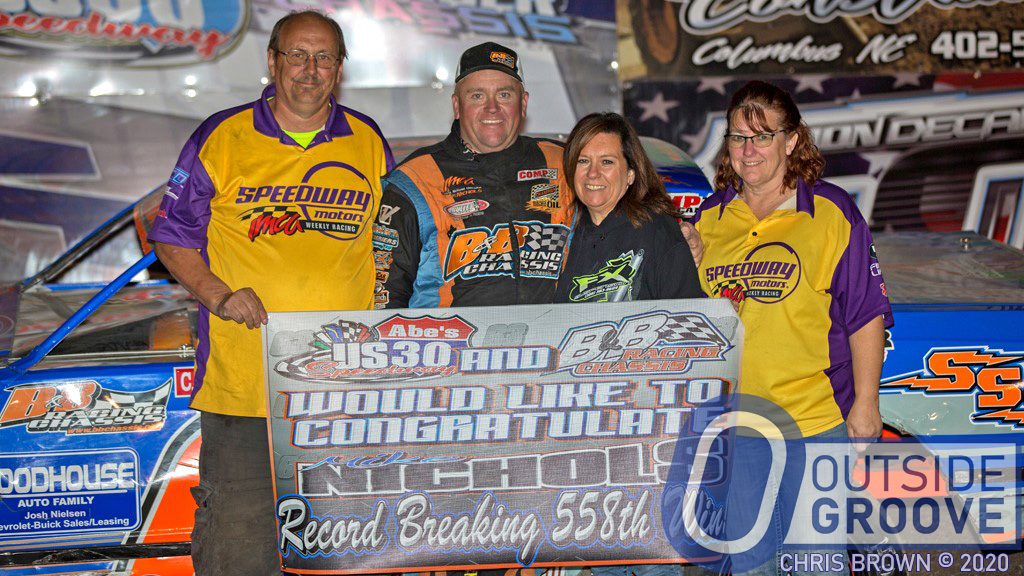 On the Horizon
This year Mike Nichols made his debut in a sport mod at US 30 Speedway in Columbus, Nebraska.
"The sport mod required a whole different driving style," said Nichols. "It is a new challenge for me. The sport mod is a lot lighter than the stock car. That huge spoiler makes the car different than a stock car to maneuver."
In 2021, Nichols intends to race sport mods in addition to stock cars. He'll steer a sport mod owned by Kenny Swanson. Swanson's résumé includes two Daytona 500 wins — one as an engine builder for driver Ward Burton (2002) and one as part of the engine research and development team for Richard Childress Racing, with driver Kevin Harvick (2007).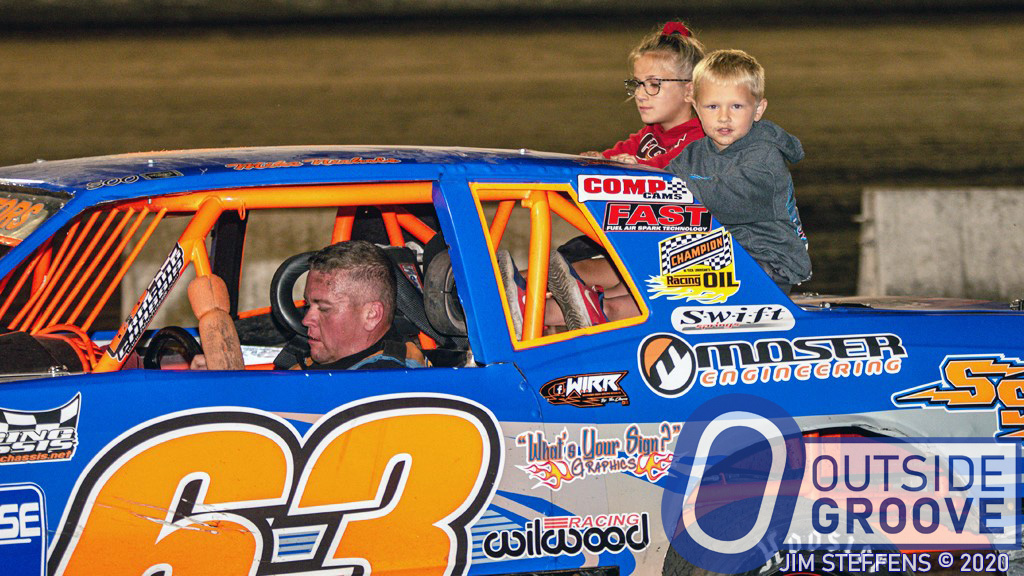 Reflecting on an Incredible Year
Nichols won four track championships in 2020 — US 30 Speedway; Crawford County Speedway in Denison, Iowa; Shelby County Speedway in Harlan, Iowa; and Dawson County Raceway in Lexington, Nebraska.
"None of this has totally sunk in," Nichols said of his season. "The odds of what happened appeared as minuscule to me back in the beginning."
Nichols began steering race cars for the same reasons as most do.
"Racers get into racing to have fun," said Nichols. "Being with the big racing family we have and the people involved in racing — that makes it fun. That's what makes you race every week."
If you think Nichols had a magic bullet to earn all his achievements, think again.
"You have to be willing to work at it — to learn about your car, to drive better — and to keep on racing even if you don't win at first," said Nichols.
Mike Nichols first started racing in 1994, in hobby stocks. It took him until his second season to earn his first win. He kept racing since then and put himself in the record books. He plans to continue to race for the foreseeable future.
"When I started racing 25 years ago, I had no idea where I would be today," Nichols said. "In the next 25 years, I hope to have more fun racing. We'll see where that path takes me."
Outside Groove Note of Transparency: Clarified the role of Kenny Swanson with the teams he won the Daytona 500 with (2020-10-13).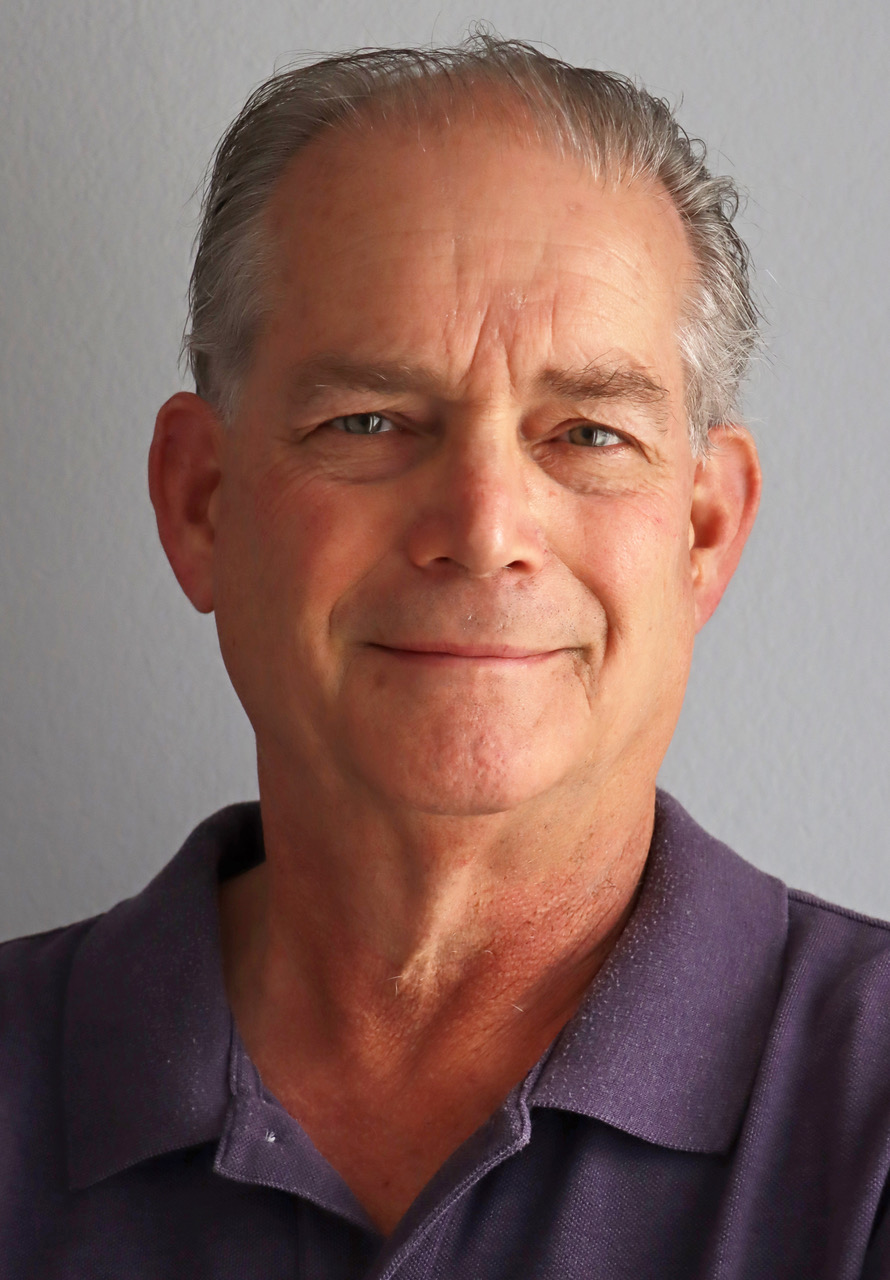 This year marks the Outside Groove Director of Photography's 50th year of covering auto racing. Adaskaveg got his start working for track photographer Lloyd Burnham at Connecticut's Stafford Motor Speedway in 1970. Since then, he's been a columnist, writer, and photographer, in racing and in mainstream media, for several outlets, including the Journal Inquirer, Boston Herald, Stock Car Racing, and Speedway Illustrated. Among Adaskaveg's many awards are the 1992 Eastern Motorsport Press Association (EMPA) Ace Lane Photographer of the Year and the 2019 National Motorsports Press Association (NMPA) George Cunningham Writer of the Year.