Jim Hargraves, proprietor of Jim's Outlaws, recreates 1/24-scale outlaw figure 8s and 1/32-scale Legend cars with precision. His craftsmanship earned him a spot in the Model Car Hall of Fame in Indianapolis, Indiana.
"My fascination with race cars began with my family racing during the 1970s at the Speedrome in Indianapolis," Hargraves, of Fishers, Indiana, said. "Since then, modeling has changed. It's become high-tech, making personal touches of the builder even more important."
Hargraves starts the process of recreating a car by mapping them to be reproduced on a 3-D printer. He purchases tires, wheels, and fuel cells from Ron Coon Resins. Hargraves makes the interiors from scratch.
"The upper and lower A-frames are also 3-D-printed, but I hand-make the shocks from styrene tubing," said Hargraves. "The body panels are cut from 0.015-inch styrene sheeting. I draw each panel, make a pattern, and trace it on the styrene. Many cars have slightly different shaped panels, so I have more than 150 patterns for the body panels I have made."
Hargraves takes 60 to 100 iPhone photos of the real-life car he intends to recreate.
"I finish my cars exactly as the [real-life] cars look," Hargraves said. "If there is a scratch on the car, the scratch is on the model, unless the customer tells me to fix it. There are decals on the gauge faces, and I hand-make the metal rings around them. Every switch, shifter, tube, hose, or wire in the interior is handmade. If the cupholder says 'Joes' on the real car, it says 'Joes' on the model."
Hargraves airbrushes the cars with lacquer. His cousin, Stevie St. John, owns St. John Signs & Designs in Indianapolis. St. John creates the wraps and decals for the models from the original computer files.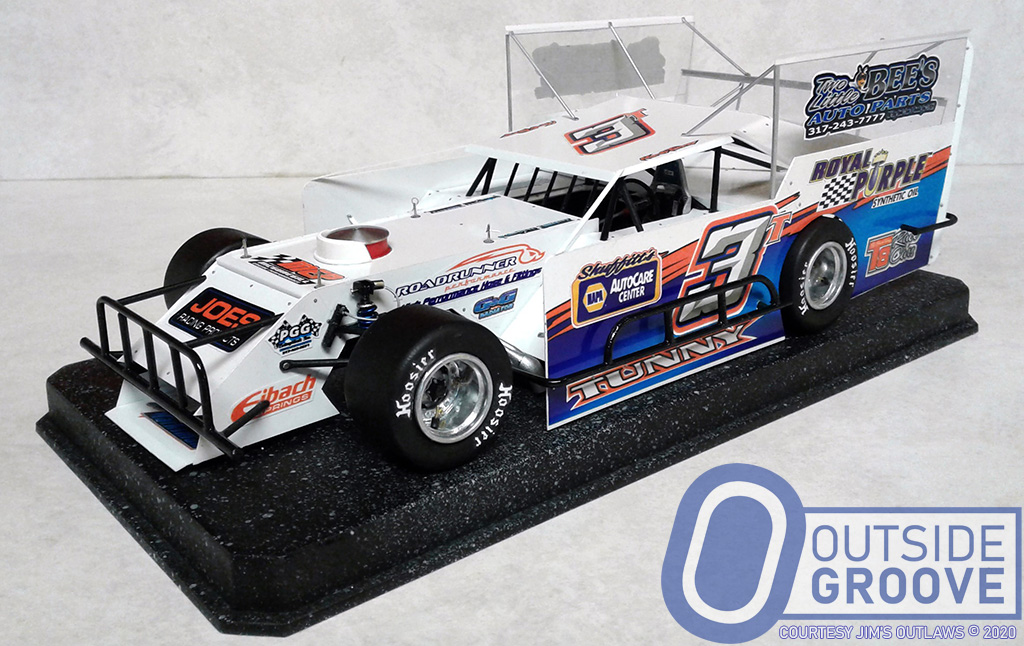 Hargraves said the raw materials invested in each car costs around $215. It takes many hours, usually spread over a couple months of time, to finish a model. He sells the 1/24-scale cars at the base price of $450. If a customer wants a hood that opens or an engine with handmade aluminum pulleys and belts, that price can approach $1,000.
"I've built 40 cars so far," said Hargraves of his business. "I've gotten 300 requests from across the U.S., Canada, and Australia."
The Indianapolis Speedrome called on Jim Hargraves to build models for their champions.
"The cool part is the reaction someone has when they get a model of their car as a gift," Hargraves said. "I've watched some incredible reactions in-person, on Facebook, and on video. Heck, if somebody gave me one of my models of a car I owned as a gift, I would cherish it, and thankfully a lot of racers do."