After the 2018 season, Dustin Smith, of the famed Smith clan in Lake City, Iowa, hung up the helmet to start K Chassis, building stock cars and hobby stocks. From the shop on his brother David's farm, he has built four stock cars and 10 hobby stocks. More important than their output from the shop is their output on the track.
Winners in K Chassis this year include brother David (three in stock cars), nephew Mike (nine in hobby stocks), brother Devin (seven in stock cars), Eric Stanton (15 in hobby stocks), and Cody Nielson (15 in hobby stocks).
"We set up our chassis to the preference of the driver," Smith said. "Some [drivers] like soft springs, others like heavy springs. Some like short springs, others like long springs. There is no right or wrong — we just give them options and sound advice."
However, Smith won't compromise on one area.
"We never skimp on safety," said Smith. "A driver that gets hurt isn't going to be racing. We have bars in the right spots to protect the driver in a rollover or a side hit. We can be weight conscious and safe at the same time. The balance of the chassis just has to work correctly."
Smith provided Outside Groove photographer Jim Steffens with exclusive access to photograph some of the highlights of what Smith felt makes K Chassis unique.
---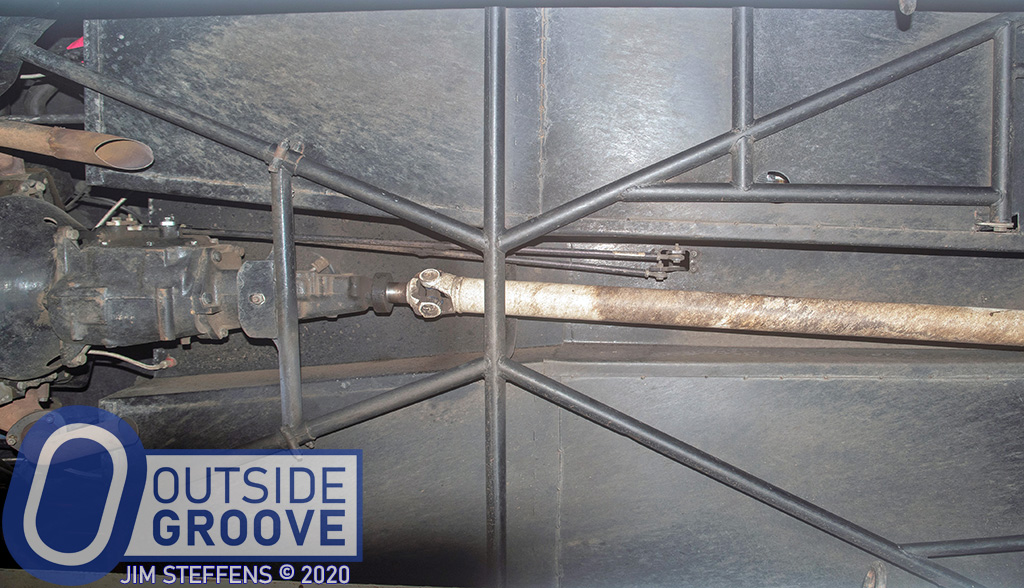 X Factor
Smith said the X between the frame rails affects chassis flex.
"The positioning of the X between the chassis rails can provide more flex in the chassis, which helps drivers feel the car better," Smith said. "Based on tubing and the position and angling of the X, that flex can be changed. For example, square tubing would result in a stiffer chassis than round tubing would. Tubing size changes flexibility. Spring rates can change flex. My nephew Mike [Smith] likes his car pretty flexible, and it is made to be that way. Another driver may want a different feel."
---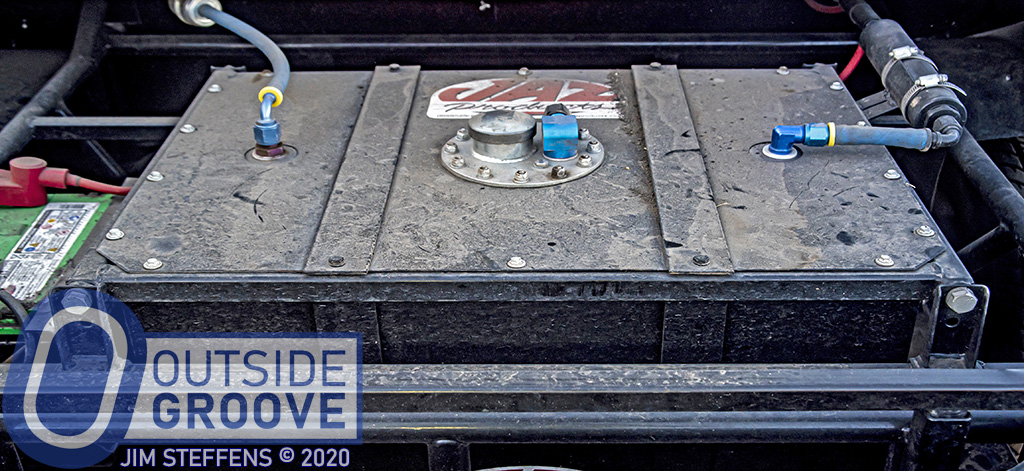 On Rails
Rails allow Smith to easily position the fuel cell for weight placement.
"Mike [Smith] is a 100-lb. kid and his dad, Dave, is over 200 lb.," said Smith. "The whole idea of the fuel cell being on a rail system is to be able to move [the cell] in any direction while you are scaling the car. When you find the position you want, you weld the tabs in place because the cell cannot be movable by IMCA rules."
---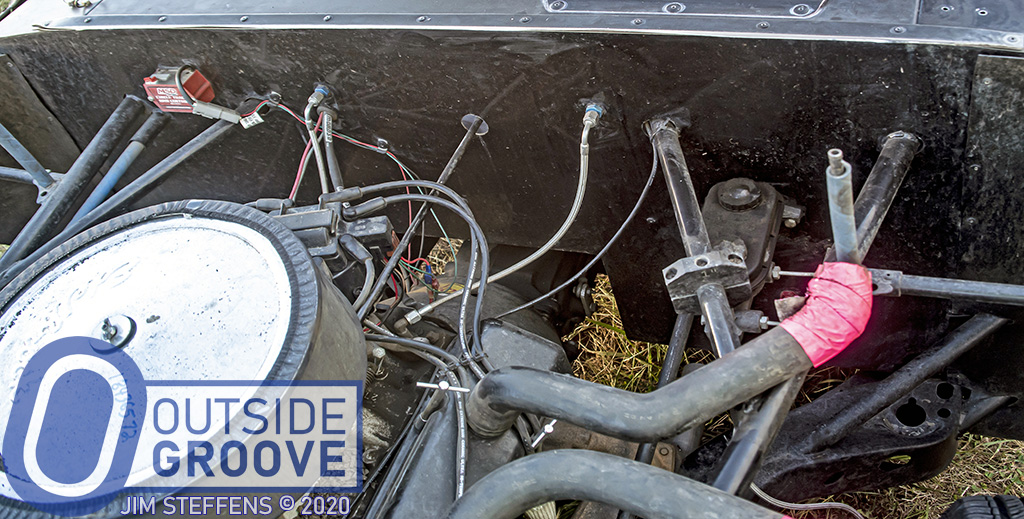 Doesn't Rub Your Shaft the Wrong Way
Smith said stock firewalls often rub against the driveshaft due to their smaller tunnel. The fabricated firewall provides more clearance for driveshafts and for engine changes. Plus, with a fabricated firewall, Smith can reduce the size and number of holes in the firewall.
"There are only three holes in the firewall, and we make them as tight as we can," Smith said. "The throttle linkage hole and the roll cage holes need clearance."
---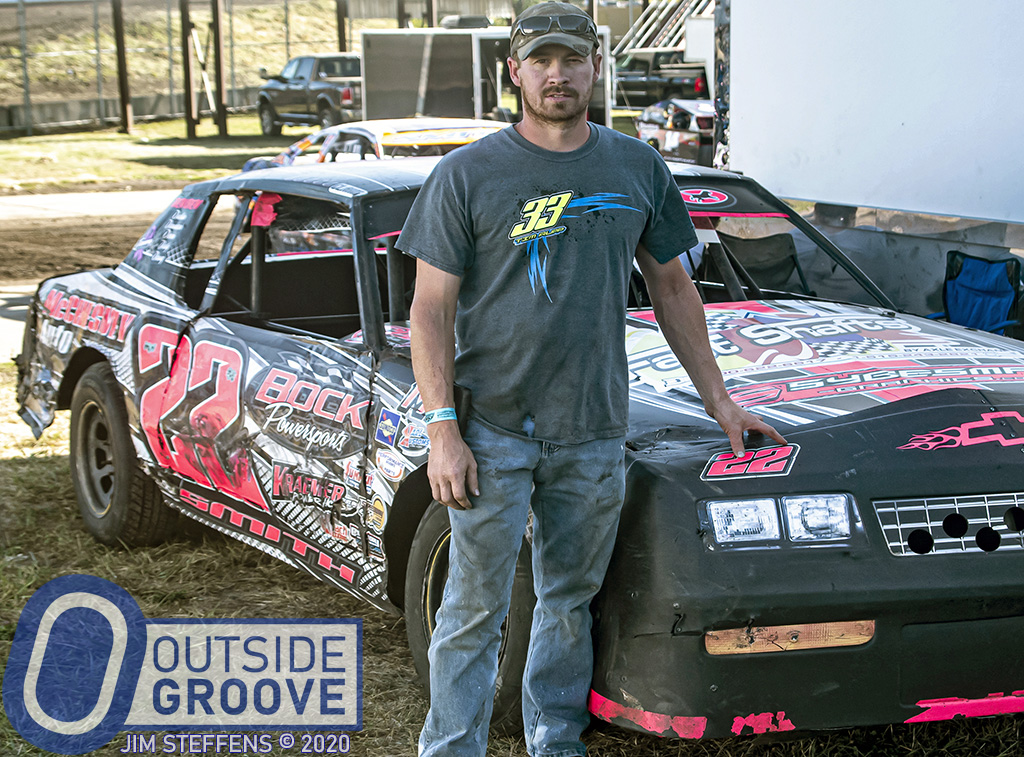 The Smith Behind the Fabrication
Smith stands next to the ride he built for his nephew Mike Smith at Iowa's Boone Speedway. Smith provides the namesake for K Chassis.
"Dustin's nickname is 'Krusty,'" said Smith's brother, David. "'Krusty Chassis' just didn't sound good. So, 'K Chassis' became the name because he's 'Krusty' Smith."
---
Source
K Chassis
Lake City, Iowa
Facebook: https://www.facebook.com/Smith-Racing-500424836691393/
Outside Groove Note of Transparency: Corrected Devin Smith's name and Mike Smith's relationship to Dustin Smith (2022-06-19).