Bubba Wallace used his status as a race car driver at the highest level of the sport, the NASCAR Cup Series, to draw attention to his perspective as an African American in a predominantly white sport. However, far more people race short tracks across America than in the NASCAR Cup Series, presenting a more representative segment of the country.
We asked three African American racers — Christian Porter, Dave Smoot, and Shun Thomas — to share their thoughts on what it's like being an African American in the sport.
Porter owns and operates a trucking firm that specializes in the logging industry. The 32-year-old from Evergreen, Alabama, steers one of three cars — a factory stock, a street stock, or a 602 late model — primarily at Tri-County Speedway in Pollard, Alabama.
Smoot owns and operates an automotive repair shop. Originally from Gardena, California, he now lives in Pensacola, Florida. The 61-year-old races sport compacts, most in the Sport Compact Dirt Racing Association (SCDRA).
Thomas, who goes by the nickname "Oreo," owns and operates an automotive detailing company. The South Carolina native now lives outside of Atlanta, Georgia, and races 602 late models at various tracks in Alabama and Georgia. Brad "Urkel" Carver, another African American and a winning crew chief and shock specialist, helps Thomas's efforts.
Please note that these three drivers do not speak on behalf of all African Americans. Each driver speaks from their own perspective.
One warning — the language and events are disturbing. Reader discretion is advised.
The Challenges of Being Black
"We go through a lot of obstacles," Thomas said of being Black in racing. "The name-calling — calling me 'n—–r,' 'watermelon,' or 'Uncle Tom' — I heard it all. When I touch the racetrack, I hear that I'm cheating — it's never because of what I do or my hard work. Sometimes you're forced to sit back and say nothing. The sad part is a Black man is in more trouble if something goes wrong."
When Porter started racing bombers in 2004 at Alabama's Flomaton Speedway, he struggled — but not necessarily because of his own doing.
"I could hardly ever finish a race," said Porter. "If I wasn't getting taken out for the heck of it, I could never make it out of the tech shed without getting kicked out for something."
Some who helped Porter, often helped him fail rather than succeed.
"I had a distributor problem one night," Porter said. "I had a guy say, 'If you take these two springs out, it will run better.' [I didn't know] that if you take them two springs out, your distributor won't work at all, and your timing is going to go haywire.
"I've lost a lot through the years over information trying to get me not to race or mess up. There are only a few people I deal with in racing. It took me a long time and a lot of money to figure out what was going on."
Finding help proved difficult for Thomas as well.
"I [bought] a set of shocks," said Thomas. "They weren't what we wanted. I had another [white] man call them and order the same shocks for me. We put them on a spring smasher and they were better. The car picked up three tenths."
Smoot grew up racing motocross at the legendary Ascot Park in Gardena, California. He migrated from two wheels to four when moved into the bomber class in 1984. He, too, encountered racism when he went through tech.
"This one particular tech inspector said, 'You think you can come out here and n—-r-rig your car and race, don't you boy?'" Smoot said.
"I said, 'What did you say?'
"He said, 'You think you can come out here and n—-r-rig your car and come race, don't you boy?'
"I was hurt more than pissed off. I was hurt because this was a track where my grandfather used to take me. It was my dream to become a race car driver. The sprint cars used to put me to sleep [because] that's how close we lived to Ascot.
"I said, 'I just want to let you know my mother's white.'
"I knew that would infuriate him more.
"He said, 'All that means is you're just a half-assed n—-r and a half-assed white boy.'
"Going through tech inspection in one of my first events was a heart-wrenching kind of deal. I'm thinking about racing. I'm not thinking about color. My mom's white. My dad's black. My grandparents, who were taking care of me, were Hispanic.
"It hurt me more than anything. It really, really hurt me."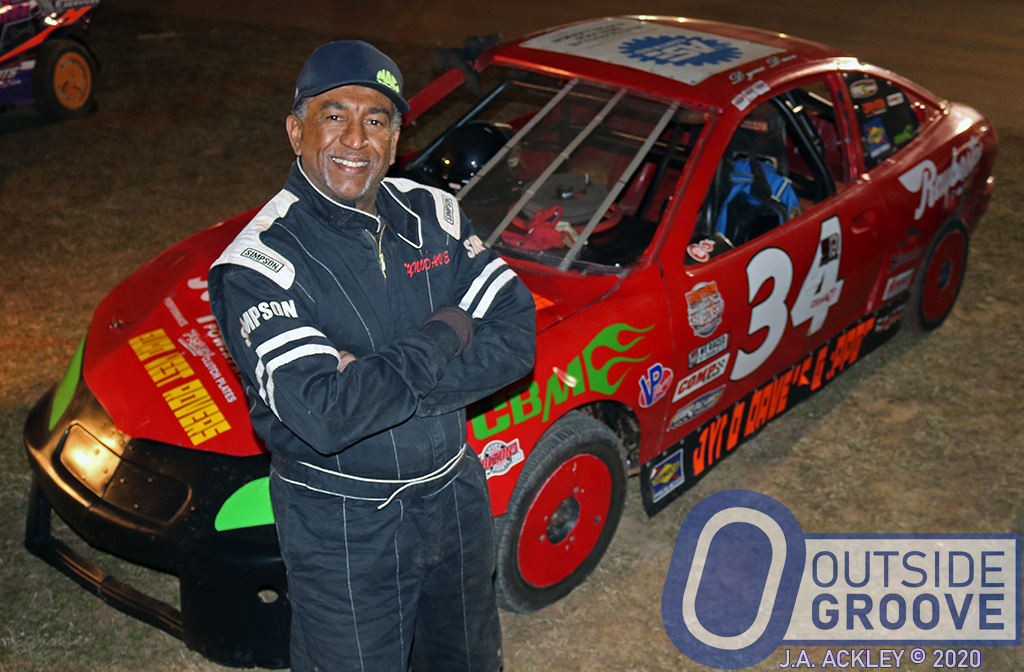 Thomas felt racism's wrath after he scored a feature victory in the four-cylinder class at Toccoa Raceway in Georgia.
"In 2010, I got thrown out for winning a race," said Thomas. "We didn't know we got DQ-ed until we went to get our [prize] money. [The promoter] said, 'Ain't no black man is going to win here.' He told me to leave. He tried to give me two armbands for next week.
"[The promoter] took my pride. It took me months to overcome that.
"That was a turning point in my life in racing. If they're not going to respect me, I'm going to make them respect me."
[Editor's note: The promoter has since changed at Toccoa Raceway.]
When Justice Prevails
While Smoot endured the verbal barrage in tech, a man behind him carried a microcassette recorder.
"He happened to have it on as he was behind me in line," Smoot said. "He went up to the tech guy and said, 'Why did you call Dave that?'
"He didn't have an answer.
"Word had traveled through the pits that this guy called me the N-word. He's at the podium [during] the drivers' meeting, at the side of the guy who's running [it].
"One guy yells out, 'Why did he call Dave a n—-r?'
"Then all the other drivers started asking, 'Yeah, why did he call Dave that?'
"He lost his job. I didn't know what to do. I didn't want to start a fuss."
Porter often felt like an outsider until he raced the factory stock portion of the Southern Street Stock Nationals in 2018 at Whynot Motorsports Park outside of Meridian, Mississippi.
"My car, it's got two or three different colors," said Porter, "I don't have the best equipment, but I make do with what I got. The first time I was [at the Southern Street Stock Nationals], I locked in, out of 90-plus cars.
"Then, I got into a wreck. My car got messed up. I had folks who I didn't know put their tires and body panels on the car, just to get me back on the track.
"From Texas, Florida, Louisiana, Mississippi, they started a PayPal [account for me]. [They said,] 'Hey, Christian, we want to help get your car back going.'
"We weren't mad that our car got tore up. We were just happy to be there and be accepted."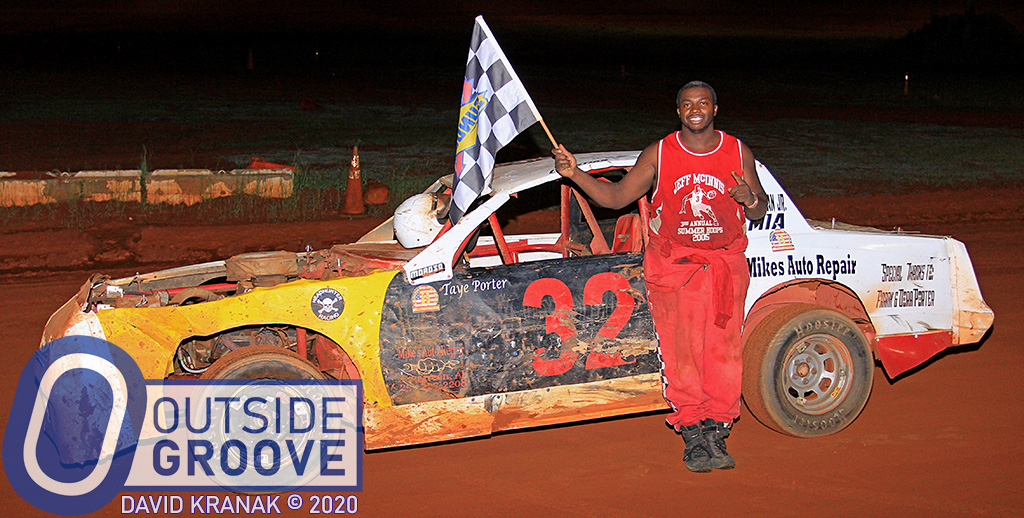 Reignition of Racial Tensions
With the death of George Floyd, an African American who died during a police arrest in Minnesota, the Black Lives Matter movement gained much more mainstream attention. Wallace promoted Black Lives Matter on his car during a NASCAR Cup Series event at Martinsville Speedway.
"I respect Bubba," Thomas said. "I think the world of him and what he's doing. But, I do not support the [Black Lives Matter] movement and what it's done, because it reflects on me.
"It doesn't sit well with me at all. All lives matter."
At Wallace's urging, NASCAR banned the Confederate flag at its events.
"I get questioned about [banning Confederate flag] at every racetrack I go to," said Thomas. "That's not fair to me. Don't compare me to Bubba Wallace. We are two different animals."
Thomas doesn't see the ban curbing the use of the flag.
"You took one [Confederate flag] down and more came up — and the racism picked up from there," Thomas said. "I'd rather look at one [flag] than 100."
Thomas said he personally doesn't have a problem with the Confederate flag.
"I had the opportunity to drive a race car that had a Rebel flag on it," Thomas said. "I didn't have a race car. I wanted to race. [The car owner] wasn't racist. I drove that race car. The flag didn't mean anything to me. I don't read into it. It doesn't bother me."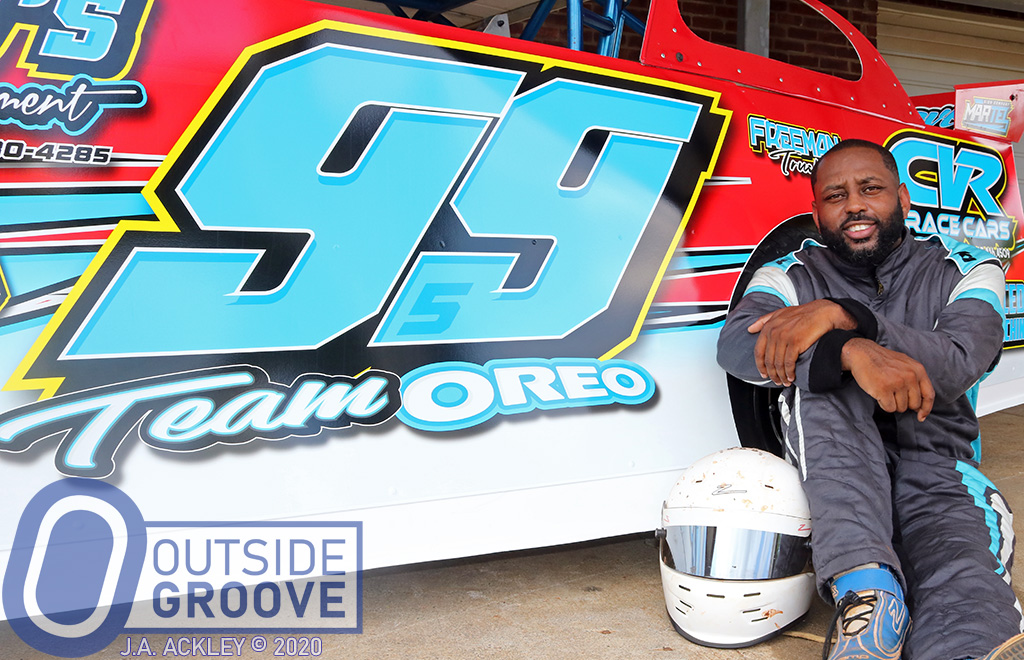 Porter also raced a car with a Confederate flag on it.
"I don't have any issue with [the flag]," said Porter. "I used to run the Confederate flag on the roof of my car. I don't see it as a racial flag. It's more of an identity flag."
Smoot who didn't grow up in the South, but now lives there, concurred that the flag doesn't bother him.
"I don't know much about the Confederate flag, but I know a lot of guys who are racist tote that flag," Smoot said. "For me, it really doesn't matter. One guy offered me to race his car said, 'You can race this car, but the flag ain't going anywhere.'
"I said, 'I don't give a s–t about the flag. I'll race it anyways.'
"I see a person by their actions. I can't go by the symbol they have. They might have grown up with those flags everywhere around their house. You got to know people by what's in their hearts."
Where are the Black People in Short-Track Racing?
Short-track racing has a perception problem among African Americans, according to Porter.
"Dirt-track racing is a white person's sport," said Porter. "They watch that Richard Pryor movie, 'Greased Lightning.' Racing is not for black people. They're not supposed to do that."
Thomas concurs that the sport has a reputation among those in the African American community.
"It's a redneck-dominated sport," Thomas said. "Most black people don't go to the dirt track because of the Rebel flag, the racism, and the name-calling."
NASCAR management has long struggled with attracting African Americans to the sport. Smoot said he remembers when NASCAR executive Les Richter was asked on national television by Bryant Gumbel on why the sport lacks Black people during the late 1980s.
"[The executive's response was,] 'Well, you got to understand that the average Black person can barely afford to buy their kid a basketball, let alone a race car,'" said Smoot. "For me, I was born middle-class. When I was 18 years old, I was able to have my own truck to pull myself [to the races]. That statement had no validity. The guy who made that statement was a bigot. I was under the impression [that NASCAR] wanted the sport to always be blonde-haired, blue-eyed. I don't believe they wanted us in the sport — not until the [Drive for] Diversity program."
The NASCAR Drive for Diversity program debuted in 2004. It helped propel drivers such as Bubba Wallace, Kyle Larson, and Daniel Suarez to the NASCAR Cup Series. However, the program has faced its fair share of criticisms. While it offers free rides to its drivers — a rarity at levels just below the NASCAR Cup Series — some have said it has lacked the funding to provide top-tier equipment. The program races in the ARCA Menards Series East and West and in late model stock cars in the Southeast. It picks existing race car drivers who are minorities or female. Some feel the program fails to address attracting more diversity to the grassroots level.
"[African Americans] have not been exposed to the sport as much [as white people]," Smoot said. "It's not even 1% [of Black people]."
Smoot offered an idea to increase awareness of racing to the African American community.
"At schools predominantly black, we would have these events to educate them [about racing]," Smoot said. "A lot of kids, it doesn't matter what color you are, love cars. I want to catch them at a young age to get it into their blood."
Smoot called on Wallace to do some of that education.
"Send a couple of Black drivers out [to these events]," said Smoot. "Send Wallace out there. Educate the kids about what it takes to become a driver or a mechanic."
Thomas also felt Wallace had an opportunity to step up to develop African Americans' interest in racing.
"If I were in Bubba Wallace's position, I'd reach out to all the [short-track] drivers and build them up," Thomas said. "[To] get more African American spectators and investors, instead of [Wallace] just standing out there on his own."
Where are we Now?
Porter felt race issues have improved since he first started.
"It's a lot better now," said Porter of the racism he has experienced. "I have a bunch of help and supporters. I still have one or two who try to make a scene at the track."
Smoot agreed that some still look for trouble.
"It's just a few," Smoot said. "Then they start the fire and some of the others want to jump in."
And, it still gets ugly once in a while.
"My girlfriend's white," said Smoot. "She had another girl come to her and said, 'Why are you hanging out there with that old-ass n—-r?' Racism is still there."
The stands are getting more diverse, according to Porter.
"When we first went to the races it was only my family," Porter said. "Now, we got a lot more African Americans coming to the track now because they're noticing [us]."
At Talladega Superspeedway, the NASCAR Cup Series event made national news due to a parade of vehicles carrying Confederate flags outside the track, a plane flying the "Stars and Bars" above, and a crew member finding a garage pull fashioned like a noose in the stall of Bubba Wallace's.
Less than a week from that race and a mile down the road, Shun Thomas made history.
Thomas became the first African American to win at the Talladega Short Track. The feat barely made a blip on the radar of mainstream media.
Local racing circles marveled at the "Black guy who won a dirt late model race."
"I wish they wouldn't make it as the 'Black guy' won," said Thomas. "Everybody knows Shun Thomas, 'Oreo,' is Black. I would like to be called by my name."
As far as America and the sport has come with race relations, we still have a long way to go.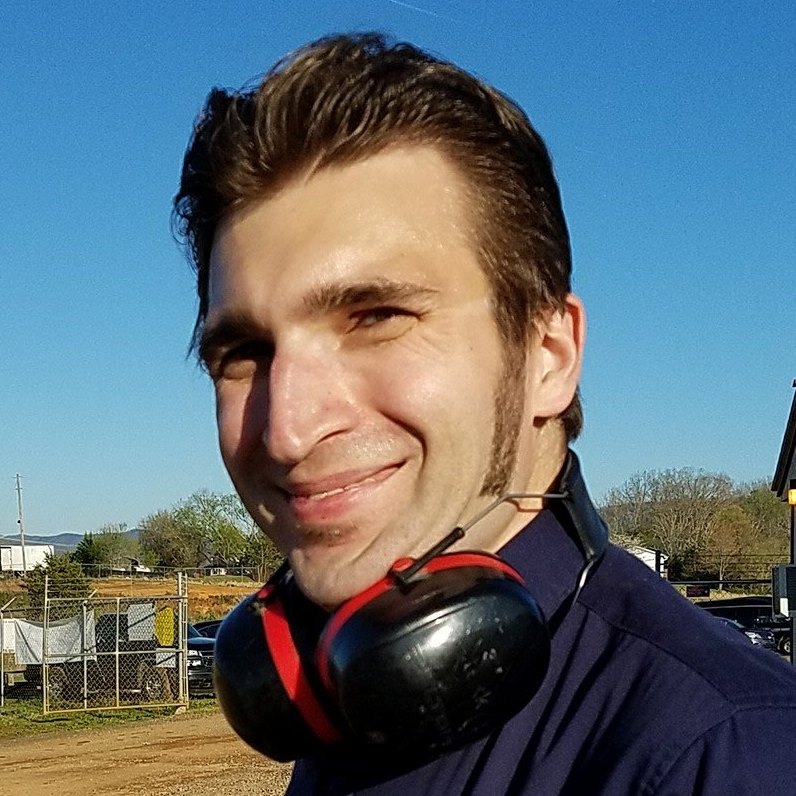 The Outside Groove Executive Editor has covered motorsports since 2000. His many awards include the 2019 Eastern Motorsport Press Association (EMPA) Jim Hunter Writer of the Year and the 2013 Russ Catlin Award for Excellence in Motorsports Journalism.