Thomas Hunziker jumped onto the DIRTcar Summer Nationals scene with limited experience at that level of competition. However, like with so many other things over the course of his life, he knew that if he just jumped in, he'd find a way to compete on the grueling circuit. While he understood that it wouldn't be easy, Hunziker felt the experience would make him a better driver at the end of the schedule.
"I didn't start racing until I was 38, and it's harder to learn things when you're older," Hunziker, now 53, of Bend, Oregon, said. "I need the repetitive seat time — not like every other week [like back home in Oregon] or like last year, [when] we raced twice. I've done other sports, and the best training is to go out and do it."
A Thirst for Adventure
Thomas Hunziker grew up in Switzerland. As a teenager, his prospective future did not particularly excite him.
"Back then, folks still did what their dad had done [for work], and their grandpa had done," said Hunziker, whose father worked as a machinist. "That scared me a bit. When I was 12 years old, I remember praying to never have a boring day. So far, so good. I don't think I've had one."
A devout Christian, one story in the Bible stood out to Hunziker.
"There's a story about [the apostle] Peter walking on the water," said Hunziker. "When he looks at the waves, he starts sinking. When he looks at Jesus, he can walk. The rest of the apostles are in the boat. I took the approach that if I want to live my life right, I got to be in tune with God and I need to be out of the boat. I'm not the guy who can look at Jesus, if I'm in the boat."
Thomas Hunziker Ventures on a Quest
At age 20, unhappy with his current path in life, Thomas Hunziker decided he needed a change.
"I did an apprenticeship as a blacksmith/fabricator," Hunziker said. "I wanted to be a physical ed and history teacher, and I needed to learn another language. It's always been one of the hardest things for me to do in school, learning a language. I figured if I go [to the U.S.], and had a little pressure, that would be the easiest way to do it."
Hunziker became proficient in English. As he stayed in the U.S., his love for America grew. Hunziker also became a professional rock climber, competing in tournaments. He then settled in Oregon and built a roofing business.
"I learned how to roof by reading the bundles of shingles," said Hunziker. "That's how we do everything, we just go do it [to learn it]."
Introduction to Dirt Racing
Thomas Hunziker never entertained the idea of visiting a dirt track until one fateful day.
"We heard advertising on the radio about a dirt-track race at Madras [Speedway in Oregon]," Hunziker said. "We went and I was surprised by the quality of the racing. I've never been to a dirt track — there's no such thing in Switzerland."
David Grigsby, a friend that went with Hunziker to the races, loved it, too.
"[David] bought a mini truck for me, without even asking me," said Hunziker. "I knew nothing about racing, and neither did he. I told him to bring it back, because I thought my life was busy enough. But, my wife [Jennifer] talked me into it. The first time out, I got a fourth — not because I was any good, but because they all pretty much wrecked on the last lap."
Hunziker was hooked. He started winning races the following year, his first full season racing. Hunziker soon bought a late model. He eventually became a top-five contender, but with late model competition waning recently, Hunziker sought a new challenge.
A Summer to Remember for Thomas Hunziker
Hunziker started his journey to the DIRTcar Summer Nationals by flying to Laredo, Texas to pick up a new International semi truck. He drove it to Naples, Florida, to get a trailer he had bought earlier in the year, and then took the rig back to Bend, Oregon to load up his pair of Rocket Chassis XR-1 cars, including a brand-new one. From there, he took his rig, equipment, and team to the first DIRTcar Summer Nationals race at Brownstown Speedway in Indiana.
"We had like two weeks to get ready," Hunziker said. "We loaded [the trailer] up with a [race] car we just put together and didn't even test, and took everything out of the old trailer into the new one."
Hunziker admitted he was ill-prepared to start the DIRTcar Summer Nationals. Luckily, some of his competitors helped him get up to speed.
"If I had questions, I got the best people around me," said Hunziker. "[Shock guru] Gary Winger and Ashton [Winger, Gary's son and six-time DIRTcar Summer Nationals winner this year], we were traveling around with them the whole time and they're great people. [Four-time DIRTcar Summer Nationals champion] Brian Shirley became a good friend and [2018 World of Outlaws Late Models champion] Mike Marlar has always been a good friend."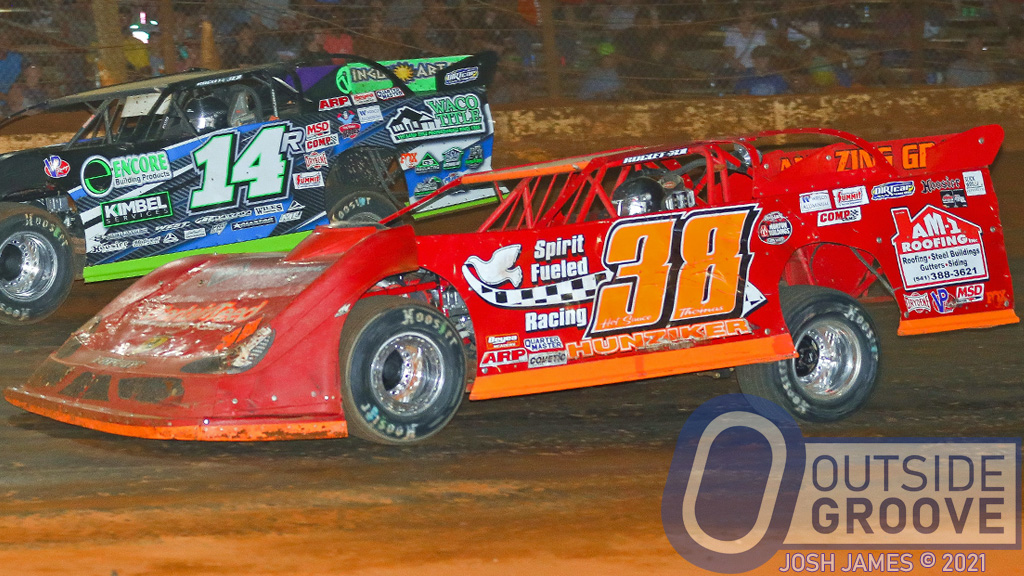 One of Hunziker's proudest moments didn't occur during the DIRTcar Summer Nationals. Instead, it came when he decided to pick up a World of Outlaws Late Models race while in the area.
"We made the show at Seymour [Wisconsin, at Outagamie Speedway]," Hunziker said. "We raced our way in and got 18th [in the feature], so that was a feather in our cap."
That sums up the philosophy of Thomas Hunziker. You got to do it, whatever that may be, to have the kind of adventure Hunziker so desperately craved as a teenager. With the DIRTcar Summer Nationals concluding last Saturday, Hunziker headed back to Oregon. He'll bring with him a trip full of memories that he and his team — his wife, Jennifer, and Derrick Gaston — will treasure for a lifetime.
"You just got to do it," said Hunziker. "If you never done it, how are you going to prepare for it? You don't know what to prepare for. You got to do it how we did, just load up and go."