Brayton Laster, the "Master of Disaster," steers the "Golddigger" dirt late model while wearing a helmet adorned with a pepperoni pizza motif. Don't worry — there's a logical explanation behind all of this. We promise.
The Coining of "Master of Disaster"
Despite turning 19 this Saturday, Laster has plenty of laps under his belt. He started racing go-karts at age eight. He moved into a street stock at age 12, with a 1977 Ford Thunderbird. Since then he has raced various types of stock cars, both on dirt and pavement, as well as figure 8s. His nickname, the "Master of Disaster," came while racing hornets, aka front-wheel-drives or sport compacts, and a Ford class that uses Crown Victorias.
"The track announcer [at the Indianapolis Speedrome], Torry Stiles, is known for giving drivers unique nicknames," said Laster, of Greenwood, Indiana. "It seemed like I wrecked every week. Sometimes it was my fault, sometimes it wasn't my fault. He ended up giving me the nickname, 'Brayton Laster — The Master of Disaster.'"
Laster embraced the moniker.
"It had a nice ring to it … I loved it," Laster, an incoming mechanical engineering freshman at the University of Indianapolis, said. "A lot of drivers have a badass nickname, like 'Terbo' or 'Rocket Man.' 'The Master of Disaster,' when you hear that, [you think either] he either tears up a lot of stuff or he's not to be reckoned with."
Golddigger
His dirt late model carries "Golddigger" on it. It doesn't necessarily mean what you think it means.
"If I could find a hot sugar momma in her 40s or 50s to fund the operation, that would be sweet," said Laster. "But, no, that's not the initial reference."
Instead, the car's paint scheme pays homage to his maternal grandfather, Dave Davis.
"My [maternal] grandfather, Dave Davis, used to race at Macon Speedway in Illinois in the late 1960s, early '70s," said Laster. "He had a 1948 Plymouth coupe that they hand-painted gold and it had 'Golddigger' written on the side. He's always been my number one fan. He's 74 [years old], and he was diagnosed with cancer this past Christmas eve. We really wanted to make sure he could see us run the car.
"So, we surprised him [with the paint scheme] during the [DIRTcar Summer Nationals] race at Macon. He broke down in tears. It was awesome. Moments like those are pretty special."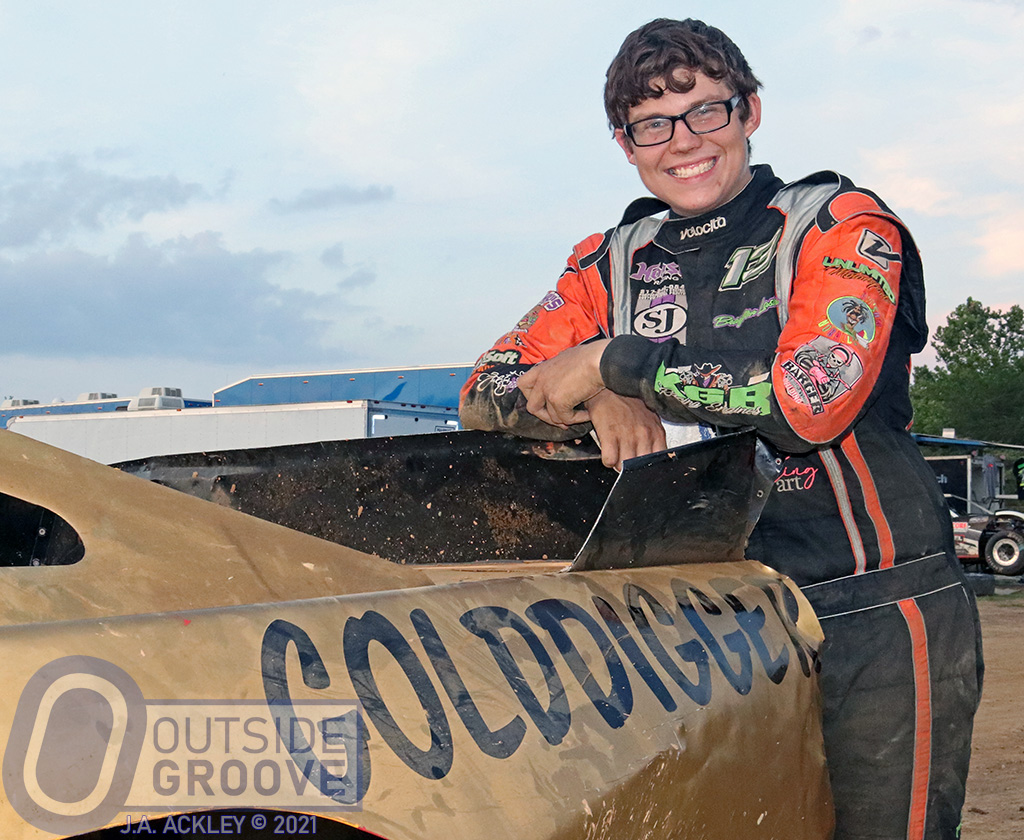 Brayton Laster and Pizza
Lastly, Brayton Laster, races with a helmet adorned with the graphics representing a pepperoni pizza. That's because he loves pizza. Pepperoni pizza. Pepperoni pizza from Papa's Johns, specifically.
"At [the Indianapolis] Speedrome, the concession stand sold only Papa John's pizza," Laster said. "I'd go up throughout the race night and get pizza. Early on in my racing career, I got the nickname, 'Pizza Man.' It almost became my identity. Throughout middle school, I had a jacket that looked like pepperoni pizza. I had shoes, pants, and my backpack was a pizza. All my friends and teachers at school called me 'Pizza Man.' That transferred over to the racing world."
Pizza Man. Golddigger. Master of Disaster. Brayton Laster goes by many names and races many types of cars — dirt late models, hornets (both on dirt and pavement), and figure 8s, to name a few.
While Laster may not frequent victory lane much (it took him seven years to get his first and only win), there's no questioning Laster's love for racing. And pizza. Pepperoni pizza. From Papa John's. We couldn't forget that.