Many know Shannon Norwood as the proprietor of Fullmoon Graphics. However, he has done far more in racing than own a business and letter race cars. Add to his résumé former race car driver, historian, ex-promoter, and car owner. Not too shabby for a man who has battled Charcot-Marie-Tooth disease since childhood. It causes muscle weakness and sometimes loss of sensation to the lower legs and feet, among other symptoms.
Early Impressions
Shannon Norwood's father, Wayne Norwood, loved racing. A machinist by trade, he helped several racers with their machining needs.
"By the time I was old enough to go to the races, [my father] was dragging me to [the now-defunct] Cleveland Speedway [in Tennessee], Smoky Mountain [Speedway in Maryville, Tennessee], and [the now-defunct] Atomic [Speedway in Lenoir City, Tennessee]," Norwood, 45, of Athens, Tennessee said. "I got hooked."
Norwood endured several surgeries from age two to 20. He didn't let his affliction affect his lifestyle.
"Some people are in wheelchairs by the time they're in their 20s," said Norwood. "I never accepted that. I never gave up and kept going."
At school, some of his classmates mocked Norwood and how the Charcot-Marie-Tooth disease affected him.
"Kids can be cruel," Norwood said. "Luckily, I had an F-U kind of attitude. If some kid ever said anything, [I thought,] 'Whatever — let him go play the Nintendo. I'm going to go to the races with the cool kids.'"
Racing provided the much-needed outlet for Norwood to focus his ambition on.
"One reason why I like auto racing is that it's a thinking man's sport," said Norwood. "Physically, you don't have to be the strongest or the fastest."
Behind the Wheel
Despite the effects of the Charcot-Marie-Tooth disease, Shannon Norwood steered race vehicles competitively.
"I raced karts for several years," Norwood said. "I was a teenager and, physically, I could take care of business."
Later on, in his late 20s to early 30s, Norwood jumped into stock cars — first in the classic class (basically street stock chassis with vintage 1930s to 1940s bodies) and then late models.
"The last few laps [of the feature], on hot nights especially, I would be exhausted," said Norwood. "With this disease, if you have a good day, where you do a lot, you pay for it the next few days."
A Sign of His Future
At the track, the lettering on race cars drew the young Norwood's attention.
"I was [at the races], taking pictures, walking around the pits … and really looking at [the lettering]," Norwood said. "I noticed Scott Freels' hand-lettering. It's wouldn't be your average block lettering. He made stuff torn, splattered, wild looking, and I thought this is what cars are supposed to look like."
At school, Shannon Norwood only had one thing on his mind.
"I'd sit there, daydream, and draw race car pictures all day," said Norwood. "I would draw [the cars] of Ronnie Johnson, Scott Bloomquist, and fictitious cars that I would race. I would daydream about winning races. I won a lot of races at that elementary school."
Eventually, Norwood applied his artistic talents to racing.
"By high school, I was wanting to try [lettering]," Norwood said. "I hand-lettered a few [race cars] with paint. I decided that was going to be too much time, so I bought a vinyl cutter. Then it morphed into [what it is today]."
A Door to the Past
Shannon Norwood has valued history since his younger days. Enter the shop at Fullmoon Graphics and you quickly find history surrounding you. One wall predominantly features the sides of many old race cars.
"As soon as I would letter some of these cars, I was snatching up the old doors," said Norwood. "I knew it was going to be important some day to somebody. If it wasn't, it would be important to me."
Norwood also holds photo albums from tracks such as Atomic and other historic memorabilia, such as vintage magazines.
"I tried to preserve [the photos], because if I don't, who will?" Norwood said. "My dad would talk about going to these old racetracks, but I didn't see any pictures from a lot of these places."
What Norwood doesn't keep physically in his shop, he maintains mentally in his mind's memory banks.
"I can tell you who won what race, what year, and how many championships so-and-so had," said Norwood. "But, [I couldn't] tell you what I ate for lunch yesterday."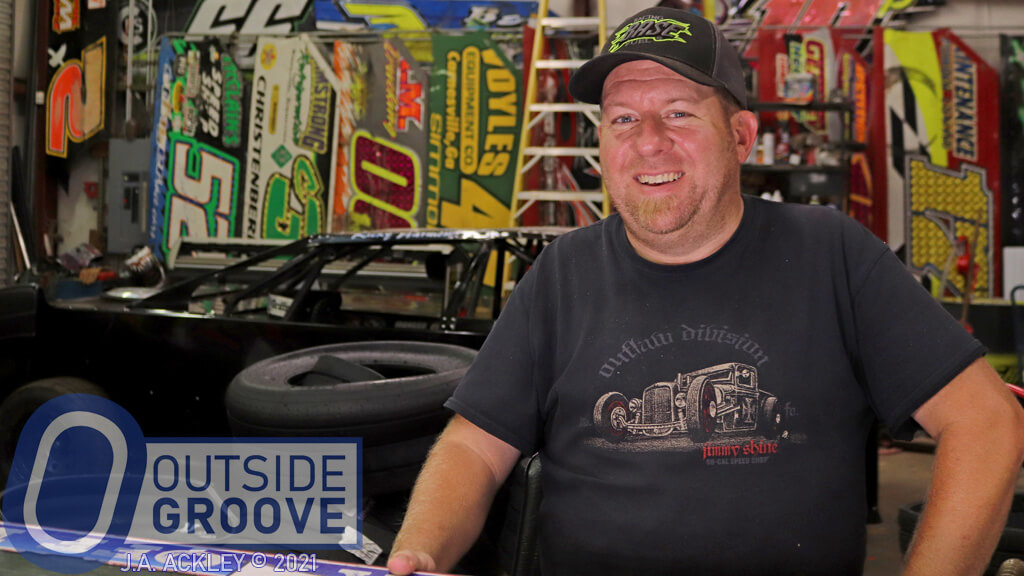 A Different Path
Norwood took part of Mountain View Raceway's rebirth as its promoter and race director last year. The roots behind that gig go back to when Mike Robinette looked to create the Topless Outlaw Dirt Racing Series.
"Three years ago or so, Mike Robinette called me about the race series idea he had," Norwood said. "[I told him,] 'I won't go to your series no more than anybody else's because there's no difference.' Within days I talked him into taking the tops off and giving those cars their own identity."
Norwood started thinking.
"You know what, I could work on the promoting side," said Norwood. "I helped [Robinette] behind the scenes, because I didn't want to deal with the headaches [of promoting] since I had my [graphics] shop. As I done that deal, the people who own Mountain View [Raceway] would stop by [my shop] and ask if I was going to help run it. I told them, 'I had too much going on.' Then, I finally said, 'Let's do it.' I thought I could do a good job since I've hit so many angles of the [racing] deal."
Mountain View Raceway, once considered one of the roughest racetracks in Eastern Tennessee, was turned into a gem last season.
"I'd work until late, doing whatever we had to, to succeed," Norwood said. "I don't take failure lightly. I don't want people to look back and say, 'We remember when he tried to run that racetrack.' We've all seen racetracks fail. I wanted no part of that."
Behind the Fence (and Checkbook)
This season, Norwood fields a B-sportsman for his 16-year-old son, Kelby Norwood. With his Fullmoon Graphics business growing and his son now racing, Norwood stepped away from his duties at Mountain View Raceway. He's found success as a car owner, with three wins so far. However, Norwood finds being car owner as one of his biggest challenges yet.
"It's frustrating — I can't see how anybody could be a car owner," said Norwood. "Sometimes I want [my driver] to go higher or lower [on the track]. If I was out there, I could. When he comes in, I have to accept what he did."
Norwood tries his best to take it easy on his son and driver.
"They say I'm too rough on him," Norwood said. "I wouldn't want to drive a race car for me, because it's not what I say, it's the look I give you. We've got to have fun, but we don't spend all week to lose, either."
The Future
Shannon Norwood plans to help his son until he's old enough to go on his own. After that, Norwood looks to start his next endeavor.
"I'm only 45 — let's see what I can do the next 45 years," said Norwood. "I love tractor pulling, so I would love to get myself a tractor."
Another idea goes back to his passion for history.
"I would like to see a motorsports hall of fame in Eastern Tennessee," Norwood said. "I don't want to see our racing history lost."
Regardless of what the future may hold for Norwood, he remains thankful for where he is today.
"If I accepted defeat, accepted I had this disease, I wouldn't have tried [all the things I have in racing]," said Norwood. "I would have been that kid playing video games and watching movies."
Norwood proves that people can find a place in the sport — and it doesn't necessarily have to be behind the wheel of a race car.
"How many people went to high school that took art classes that actually got to be an artist when they grew up?" Norwood said. "How many kids loved racing growing up and got to make a living at motorsports? I picked two of the hardest ways to make a living — a starving artist and broke-ass racer — and I morphed it into [what I do now]. I'm lucky — not many people get to do this."