A year ago, the only racing Jay Crabill did was on iRacing. However, thanks in part to the stimulus checks sent out in early 2020, Crabill went racing in real life.
Advertisement

"I had that stimulus check and I had just sold an old pickup truck," said Crabill (pronounced CRAY-bill). "So, I had a couple grand sitting in my pocket. I said, 'You know what? It's time.' I went on Facebook, found a [2002 Chevrolet Cavalier street car] and started stripping it. There's a couple Facebook groups [for front-wheel-drive race cars and] I asked questions and started to build the car."
Crabill grew up watching and helping his father, Jim Crabill, race modifieds in Oklahoma. At age 19, he enlisted in the U.S. Army, serving as a diesel mechanic for nearly seven years.
"Once I got back from the Army, I started iRacing, because I couldn't afford anything else," Crabill, who works as an access control technician for a security system firm, said.
Hungry to Race
At age 32, Crabill built a race car from scratch in about two months, with Advantage Chassis in Atkins, Iowa, installing the roll cage. Crabill intended to make his debut in June on the pavement oval at Hawkeye Downs Speedway in his hometown. However, his plans changed.
Advertisement

"My [scheduled] first race got rained out," said Crabill. "So I was like it, screw it, I'm going to try to go to this dirt track an hour south [at CJ Speedway in Columbus Junction, Iowa]. We went down there and they cancelled, too."
Determined to race, he ventured to Benton County Speedway in Vinton, Iowa, on Sunday.
"Before that, I said this car was never going to touch dirt," Crabill said. "But, I spent two months building this thing. I was like, 'We're racing!'"
Crabill finished eighth out of 11 cars in his debut on June 21, 2020. Since then, he's steadily built his racing operation.
"In my first two months of racing, I didn't have a truck or trailer," said Crabill. "I was renting U-Hauls, going back and forth to the track. I was racing at Hawkeye Downs on Fridays and at Benton County on Sundays. That was getting expensive [at] $150 a pop. But, I really wanted [to race]. I finally got a tow dolly, and progressed from there."
After the season championships ended, Jay Crabill upgraded his car, too. He built a 2004 Chevrolet Cavalier.
"My last car had a pushrod engine," Crabill said. "It had half the horsepower I have now."
Seeking More Opportunities for Track Time
He debuted the new car in October. With only two races on it, Crabill yearned for more racing.
"The car was just sitting there," said Crabill. "It was ready to race. I put a post on one of the front-wheel-drive [groups on Facebook, asking,] 'Who's racing in December or January?' [Someone suggested] The Hangover [at 411 Motor Speedway in Tennessee]. I found a buddy who had a trailer, because I only had a tow dolly and I wouldn't want to use a tow dolly all the way to Tennessee, and then we made it happen."
Crabill made a 11-and-a-half-hour, 750-plus-mile trek from Cedar Rapids, Iowa, to Seymour, Tennessee to race at 411 Motor Speedway. He time-trialed 19th out of 63 cars entered. Unfortunately, Crabill's right-front tire blew in his heat race, which prevented him from making the field. He intends to repair his car in time for the Bristol Dirt Nationals at Bristol Motor Speedway in March, racing in real life on a track he's frequented on iRacing, albeit not on dirt.
Ultimately, Jay Crabill is glad he made the decision to go racing in real life. He encourages others to take the plunge into the sport as he did.
"It's easier than you might think to get into [racing], especially in this class [front-wheel-drive cars]," Crabill said. "[The old adage says,] 'The easiest way to make a million dollars [in racing] is start with two.' It's not really the case. My first car probably cost me $3,500. My second car only cost me $2,500, since I knew what I was doing."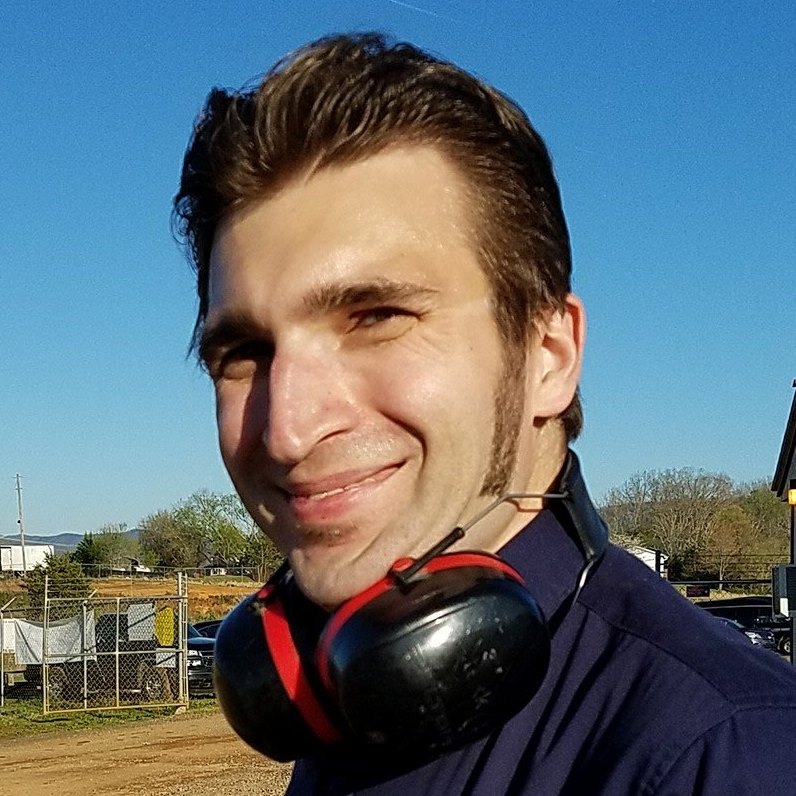 The Outside Groove Executive Editor has covered motorsports since 2000. His many awards include the 2019 Eastern Motorsport Press Association (EMPA) Jim Hunter Writer of the Year and the 2013 Russ Catlin Award for Excellence in Motorsports Journalism.