The pandemic has put unprecedented stress on relationships. Husbands and wives, brothers and sisters, parents and children, often work and go to school under one roof from home. Some, however, have done this for years. Husband and wife duo, Stewart Friesen (pictured in the No. 44) and Jessica Zemken Friesen (No. 1z), brought their lines of work together two years ago. The Friesens steer Northeastern-style modifieds together at New York's Fonda Speedway, the Short Track Super Series, and wherever else they can pick up a race.
The Friesens, from Sprakers, New York, have been married for six years and have a son, Parker. Stewart raced modifieds. Jessica raced sprint cars.
"We always did our own thing," said Jessica, 34. "We both owned race teams and raced separately. [With] starting a family, we had to change things a little bit."
As their family grew, Friesen offered to drive his wife's sprint car in 2014.
"Sprint car racing became something we did together for the first time … and it went well," Jessica said. "I did the work and he showed up to drive. We joined forces and had a ton of success."
Friesen won a World of Outlaws NOS Energy Sprint Cars feature and several winged 360 sprint car features. Success did not come without some friction, though.
"We are both competitive and opinionated," said Jessica. "From running our own teams, we are set in our own ways. We're both hardheaded."
When Jessica "got rid of" her sprint cars, it did not feel right to not be racing. Her husband slowly built a modified team for her to get back into racing. They now wheel modifieds together.
"I drive for the husband now," Jessica said with a laugh.
In addition to his dirt-track racing, Stewart also races full-time on the NASCAR Gander RV & Outdoors Truck Series circuit. After Stewart finishes a race in the Truck Series, he'll often take a flight to a track where he can race modifieds with his wife.
"Racing with your wife is like racing with any other teammate," said Stewart, 37. "We bounce ideas off of each other and learn from each other how to refine our setups."
"Do we have disagreements?" Stewart said. "Absolutely, we do — like at every race. Sometimes the crew guys have to walk away and leave us alone for 10 to 15 minutes. It's all good, though — like any heated discussion between teammates."
Crew chief Tommy Conroy's wife, Kayla, watches Parker when Jessica and Stewart hit the track or are busy in the pits.
"Of course we butt heads," said Jessica. "We argue mostly about setups. I always made my own adjustments. It was my call, and no one else's."
Friesen understands her frustration.
"As much as having your wife as a teammate is rewarding, it is tough," Stewart said. "If she's not happy with the car, it's on me. And, if it is not right, she doesn't hold back. I hear about it."
The Friesens prepare their modifieds nearly identically. They have the same spring and shock setups. However, the two differ in how they like their cars to handle.
"She likes her setup a little more free," said Stewart. "She weighs 75 lb. less than I do. Ballast weight has to be [different]."
At BAPS Motor Speedway in York Haven, Pennsylvania, the two raced side-by-side, lap after lap. Jessica finishes in the top-five for 70% of the races she enters.
"I don't worry about crashing with her," Stewart said. "I race her like I would race anyone else. She's a professional who has been racing as long as I have."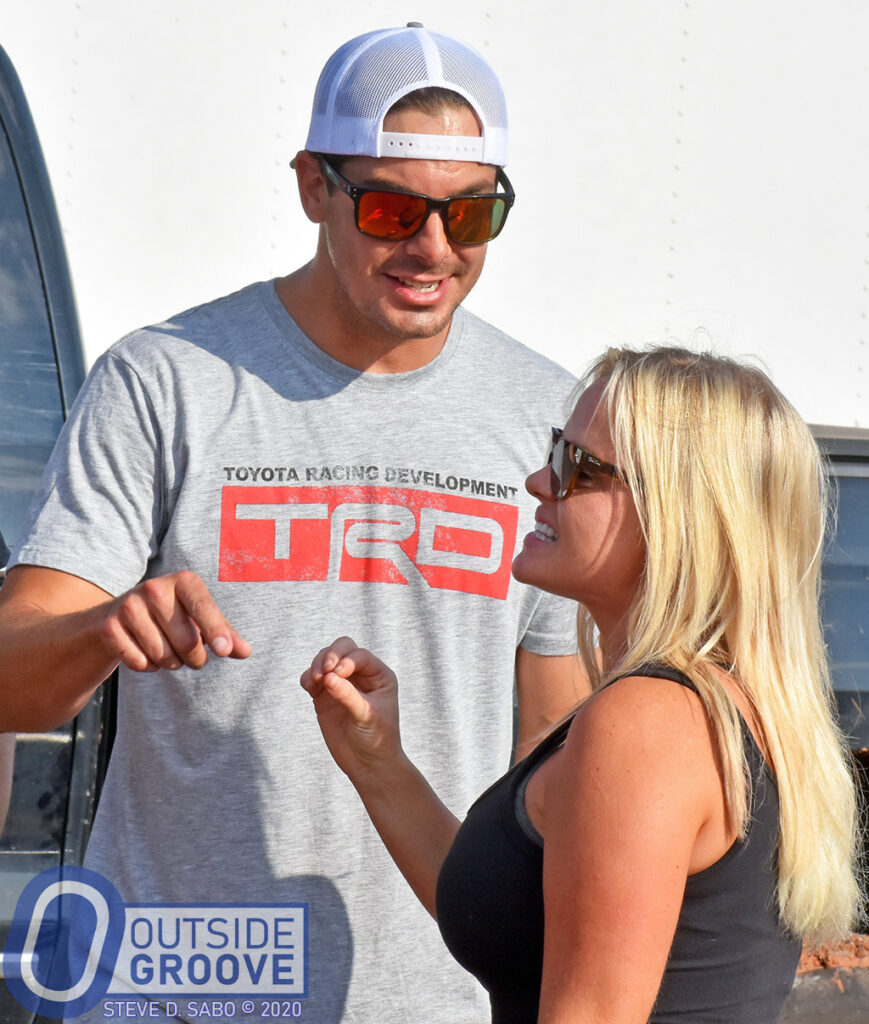 With their race shop next to their house, Stewart's and Jessica's lives revolve around racing 24/7. In addition to steering modifieds, Jessica runs a T-shirt shop, One Zee Tees, printing primarily racing T-shirts.
"It's our son first, then business and racing," said Jessica of how they prioritize life. "Racing is how Stewart makes his living."
Their lifestyle of the Friesens may seem foreign to some, but also inspirational to others.
"If there were a choice to go to the lake or go racing, we would go racing," Jessica said. "Neither one of us would choose relaxing, if there was an option to race. We love what we do."
Jessica added that in the off-season, there may be time for skiing or a cruise. She points out that away from the racetrack there is a different mindset in their relationship.
"When we get away from the racetrack and we come home, it's, 'What's for dinner?'" said Jessica. "At home, we are a family. Home is real life."
That family also includes their race crew and a long haired German Shepherd named Charlotte — all of whom need to eat.
"We're usually having a family-style dinner for about 10 people four times a week while trying to maintain safety and social distance," Jessica said. "Since Covid-19, I even make appointments for me to cut everyone's hair."
Through the pandemic, the Friesens have traveled together more, racing at new racetracks in the Carolinas and Louisiana earlier this season. Her business has been strong, with sales of T-shirts and a clothing line by Zemken helping raise funds for charitable organizations.
"Racing is the only life I've known," said Jessica. "It involves a lot of juggling, between people and businesses. You deal with a lot of different personalities as you perform so many different jobs and have so many responsibilities. It's all a part of racing."
Being with his wife has its appeal to Stewart.
"There's something about coming home from racing together, having the cars next to the home, hanging out and cooking," Stewart said. "It's a lifestyle that may not be for everyone, but suits us fine."