Legendary promoter Tom Curley saw something special in Rich Dubeau after he made his first start in the American-Canadian Tour (ACT) in 2013.
"Tom approached our team [after our first race] — we finished ninth — and said, 'We should be extremely proud of what we did,'" said Dubeau, 31, of Plainfield, New Hampshire. "He was impressed and thought we did a hell of a job."
Quite the compliment from the colorful promoter, whose accolades include the 2004 Racing Promotion Monthly (RPM) Promoter of the Year and an induction into the New England Antique Racers (NEAR) Hall of Fame in 2009. Curley, who passed away in 2017, liked to see winners and champions work their way through the ranks, have good on-track behavior, and handle themselves well off the track, too. He envisioned ACT picking up local standouts at its stops, and after enjoying a few races with the series, drivers would join the entire tour. Rich Dubeau fit just what Curley looked for in a driver and the path Curley expected them to take to join ACT.
Rich Dubeau's love for the sport started from watching his stepfather, Dave Hollinger, who raced on the dirt oval at the now-defunct Canaan Fair Speedway in New Hampshire. Dubeau progressed from go-karts (starting at age 14, in 2003), to 2/3-scale modifieds (2005), to super streets (2008), to late models (2012). In his first year of racing for a championship at New Hampshire's Claremont Motorsports Park, he won four races and the 2014 late model championship. After that, he thought ACT was the next logical step.
"We knew we wouldn't have immediate success, but we preferred to keep challenging ourselves to improve — even if that meant no longer winning as much," Dubeau said. "We qualified for all of the races, except the first one at Thunder Road [in Barre, Vermont], and got Rookie of the Year."
After failing to qualify for that one race, Dubeau has never missed another feature and he steadily improved his position in the points standings every year — from 10th (2015), to 7th (2016), to 5th (2017), to 4th (2018).
Despite four seasons under his belt, Dubeau never won a race in ACT — that is, until last season. He took two trips to victory lane in 2019, including one at Thunder Road — the track where he missed his first event racing full-time on the circuit.
"I struggled the most at Thunder Road," said Dubeau. "That track is tough and has the toughest competition. It felt really good to win at the only ACT track I had ever missed qualifying at."
In 10 points-paying races last season, Dubeau earned two wins, eight top-fives, and nine top-10s. His worst finish was a 12th.
"It was extremely humbling," Dubeau said of his championship season. "There were times where I felt like our success was just fortunate circumstances. At times it didn't even feel real. I kept trying to enjoy the moment because I wasn't sure how long it would last or if it would ever happen again."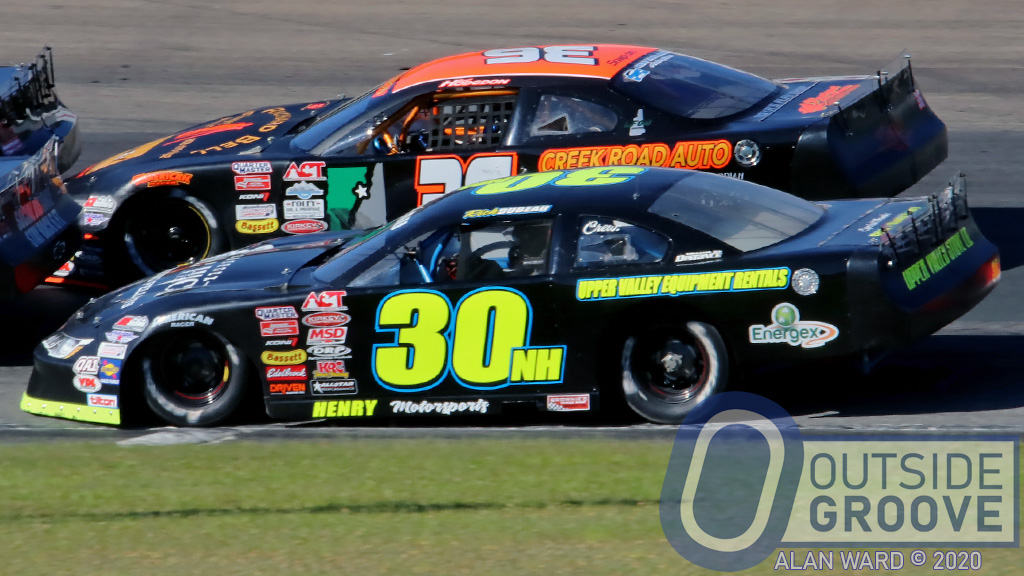 Dubeau said whispers of him being in the running for the championship started after the second or third race of the season — and grew louder as his success continued.
"I remember doing my very best to not listen to the noise of 'this championship could happen' — that only puts unnecessary pressure on the team," said Dubeau. "My goal going into every race is the exact same thing — get the best finish you can.
"I tried to ignore [the championship chatter] until we were going to Oxford [Plains Speedway in Maine], which was the third from final race of the season. We had the points lead and at that point I started thinking, 'If things go okay, we will at least have a shot to win this thing at Thompson [Speedway Motorsports Park, in Connecticut, the last race of the year]."
Several factors played a role in Dubeau's success last season.
"The main thing is my team, and how they operate and think" Dubeau said. "The trust they have in me helps tremendously and helps us move toward success quicker than if they were uncertain in some ways.
"Not being afraid to fail — making drastic changes on the car to see if we could gain more speed — was also very important. [Prior to joining ACT full-time,] if we had any amount of speed, we were afraid we could ruin it by making too big of a change."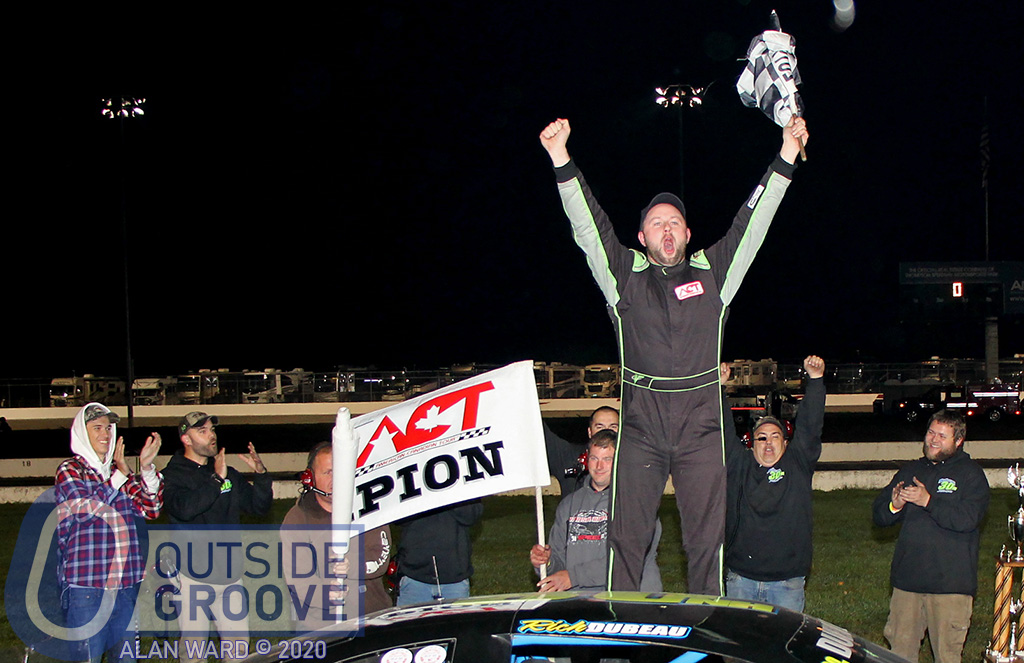 Dubeau's team remains relatively the same for this year.
"The biggest difference is we had two more guys join our team this year," said Dubeau. "That will help to take stress off of everyone because we will be able to spread the work out among more people."
Winning races and championships transforms some drivers — but Dubeau said don't expect that from him.
"When you have success, some people think there's a part of it that gets into your head," Dubeau said. "After our first win on the tour, and now a championship, I don't believe I have changed in the slightest way. If anything, I appreciate what I have even more now and try to be thankful for my racing accomplishments. I understand how much some people would like to be in my shoes. I consider myself lucky to be driving a competitive late model."
Like so many other things, the late Tom Curley was right about Rich Dubeau, too.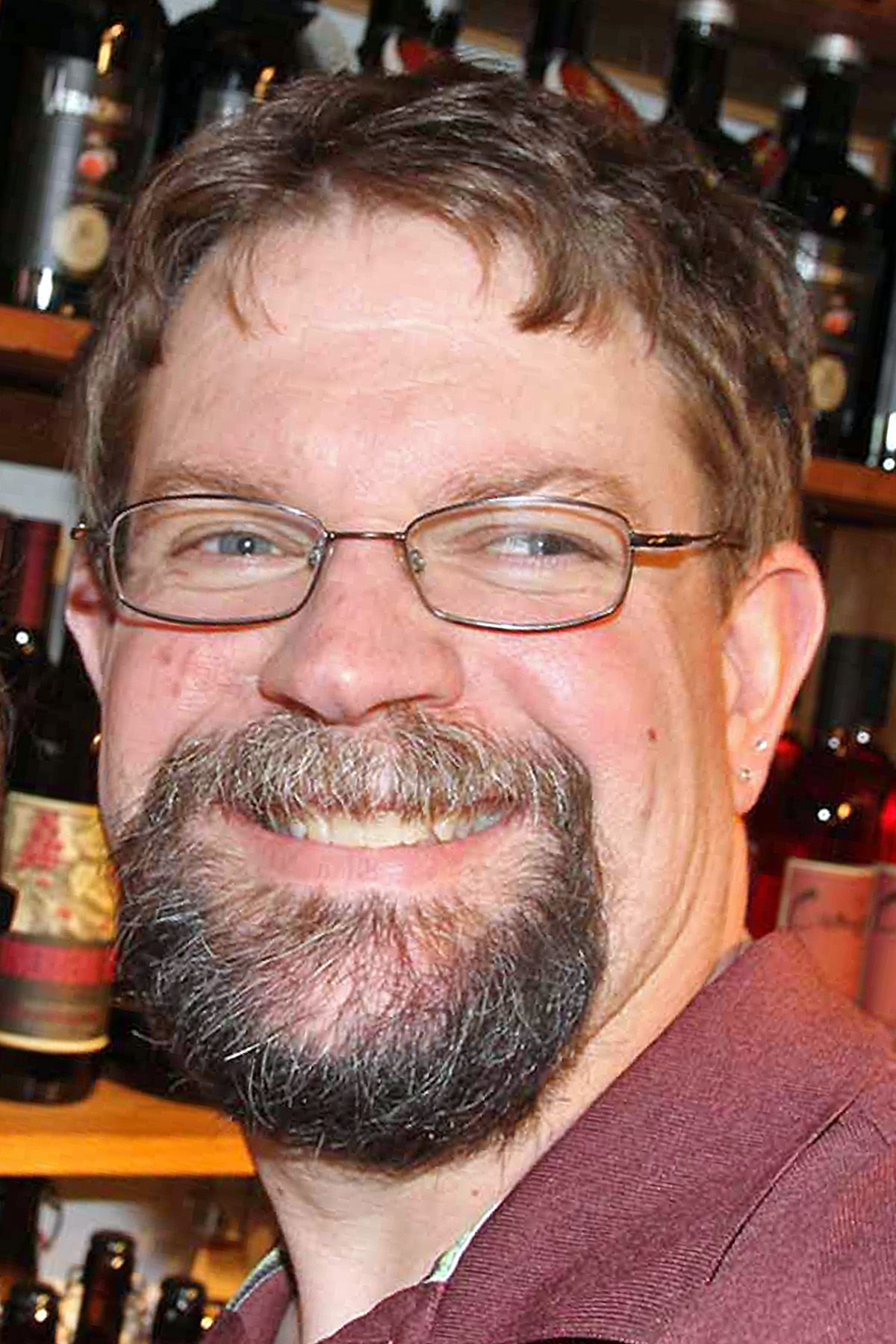 The Outside Groove contributor first started photographing auto racing in 1997, with some of his work appearing on the original Outside Groove. The award-winning writer and photographer from Vermont has covered the sport throughout New England, New York, and Canada.