Jake Knowles received a surprise during a recent Schaeffer's Oil Southern Nationals Series feature. A fire suppression bottle had broken loose off one of his competitor's cars. Then, it struck and penetrated the floorboard of his late model. Knowles didn't realize what had actually happened until he got out of his car at Volunteer Speedway in Bulls Gap, Tennessee.
"With about 15 laps to go … I saw a glimpse of something white out of the corner of my eye," said Knowles, 34, of Rome, Georgia. "You're running so fast there, you don't really have time to swerve. The next thing I know, it hit. I didn't really know what it was. Then I heard something dragging — I still didn't know what was going on."
After the race, he found what hit his car and hitched a ride.
"Unbelievable," Knowles said of the surprise of seeing a fire extinguisher bottle in his floorboard. "It's a serious deal. [The bottle is] way too heavy and way too big to be flying around on a racetrack."
Luckily, the bottle was only a 5-lb. one, instead of the 10-lb. bottle required by most dirt late model sanctioning bodies. Plus, it was empty. And, expired. Its date of manufacture was May 2013 — over seven years ago.
Mike Nuchols, of Warrior Race Cars, Seymour, Tennessee, said some racers use inappropriate clamps to bolt the fire suppression system bottle to the roll bar near the driveshaft (where many dirt late model teams mount theirs). Nuchols recommended beefier clamps from either Earnhardt Technologies Group (ETG) or Wehrs Machine & Racing Products (see an example here via Allison Racing).
"Bottle manufacturers often send a wire-type of clamp — those open up," said Nuchols. "[The clamps from ETG and Wehrs] put a good clamp on the bottle. We check our bolts weekly [for the clamps on the fire suppression system bottle]. We never seen our bottle move in the clamps."
As with ballast, a bottle dropping off your car may not hurt you. But, at seven to 15 lb., it certainly can hurt one of your fellow competitors or a bystander. Take a moment to revisit how you secure your fire extinguisher bottle — and you're ballast, while you're at it.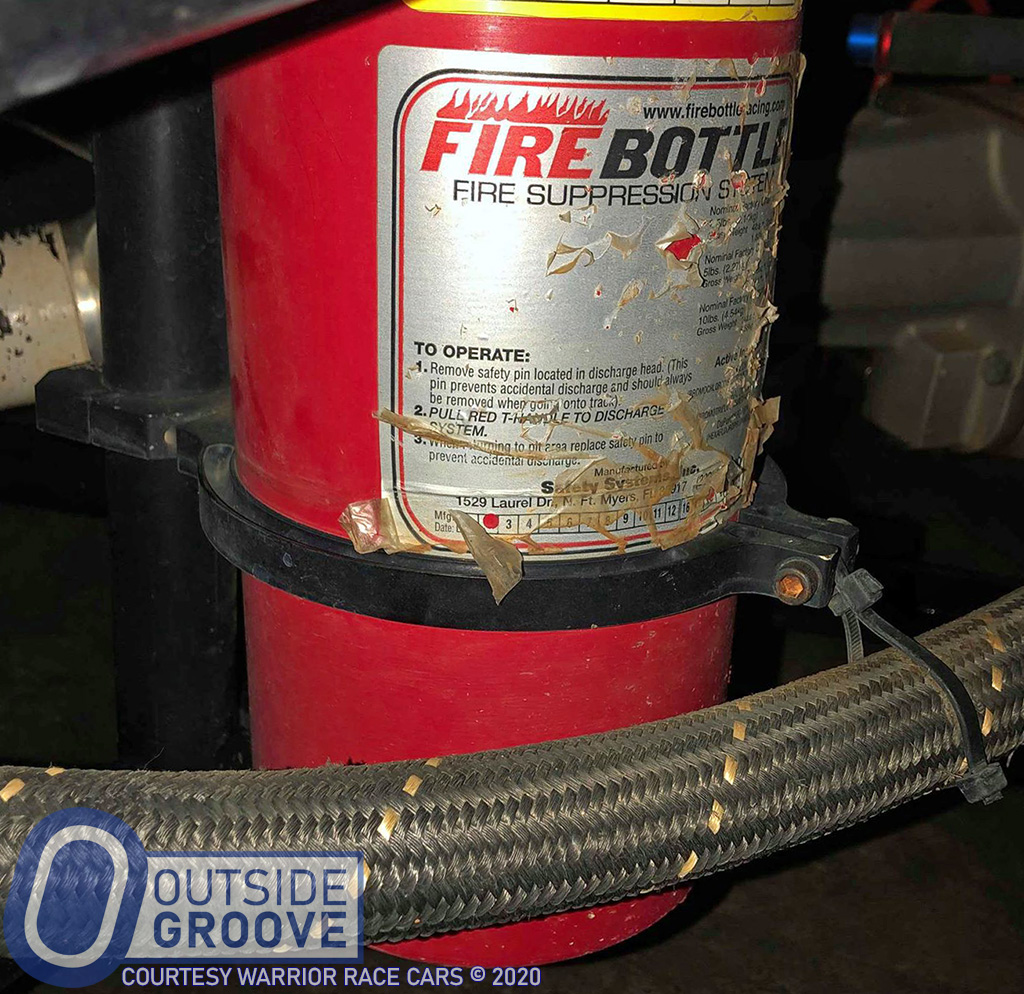 Outside Groove Note of Transparency: Allison Racing advertisements appear on Outside Groove.