When Ashton Torgerson flew out of his midget during a crash that occurred Wednesday night at the Chili Bowl Nationals, the photo went viral across social media. People began to ask questions. Obviously, Torgerson's restraints failed to restrain him, but how? Social media lit up with theories.
Did he forget to buckle himself in?
Did the buckle of his safety harness fail?
Did they not install the restraints properly?
The story behind the incident begins four days before the Chili Bowl, with a trip to Topgolf Glendale in Arizona.
Safety Gear Goes Missing
"Ashton's gear bag was stolen from our truck while he played Topgolf," Ashton's father, Danny, of Glendale, Arizona, said. "He had two custom Rowdy Energy fire suits, complete with arm restraints; [fire-retardant] underwear; and Alpinestars gloves and shoes."
With short notice, Ashton managed to gather up new gear for the Chili Bowl. He had a brand-new Axcel Sports fire suit, with metal D-rings on each arm for arm restraints.
"Ashton was not wearing arm restraints, so the D-rings were just dangling from inside the elbows of his suit," said Danny. "We don't believe the Velcro cover that goes over the latch and link [buckle] was secured on the night of the accident.
"Our theory is that the Velcro was not fastened and the D-Ring caught the latch when Ashton started flipping."
Is It Possible?
To test the theory, Ashton and Danny returned to Meyer-Rossi Racing in Phoenix. They attempted to recreate the angles of the flip to see if the D-ring could unlatch the Simpson latch-and-link buckle.
"We were able to make the ring unlatch the buckle is all I can say," Danny said. "We do not know 100% that is what happened during the crash."
Going forward the Torgersons will take extra precautions when D-rings are not attached to restraints.
"We'll tape down the D-rings [going forward], because our thought process is that is what caused the latch to unbuckle," said Danny.
John Sharp, who sold Axcel Sports fire suits to Danny for both of his sons, and later made Torgerson a dealer, was shocked over the incident.
"Never in the many years I have been in the motorsport business have I ever heard or saw that an arm restraint ring unlatched a five-point harness," John said. "Danny's solution is one I agree with. If you are not going to use the D-rings to connect arm restraints, absolutely tape them down with a durable tape."
Holley and Simpson declined comment.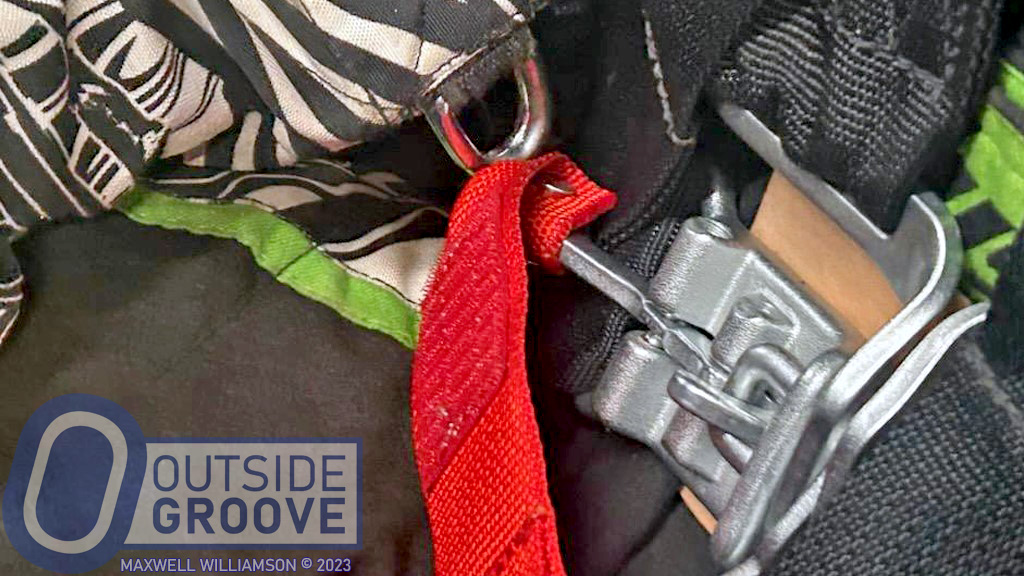 The Aftermath
Ashton Torgerson remembers little of the accident itself. He came out of the wreck with relatively minor injuries for someone who flew out of a race car at speed.
"I sat there waiting for hours, waiting for the bad news," said Danny of him in the hospital. "When the doctors came out to talk with me, they said there was literally no way he should be in the condition he was in. All the tests they did — head, neck, vertebrae, hands, feet — checked out okay. He was conscious, but not coherent. He was obviously sore, and had some headaches, which could mean he had a concussion, they told me."
After doctors looked Ashton over, they released him from the hospital on Friday, two days after the wreck occurred.
"It was a miracle," Danny said. "The first thing he told me was that he wanted to go back to the Chili Bowl on Saturday. His biggest concern was being able to speak to everyone.
"The outpouring of concern for him had both of us in awe of the racing community. We felt obligated to let everyone know he was as okay as he could be, and we wanted an opportunity to thank everyone."
Going Forward for Ashton Torgerson
Ashton Torgerson, a five-time national karting champion and three-time 600 sprint track champion, awaits clearance to race again. He had an appointment with a neurologist on Tuesday at Banner Children's in Glendale, Arizona. After undergoing testing, the doctor referred him to a neurosurgeon for an MRI next week.
"I feel fine; I feel like I'm ready to go again," Ashton said on Tuesday night. "I may be ready to race, but the doctor said different. It wasn't what we wanted to hear."
A junior in high school, the 16-year-old will miss classes until given the okay by doctors to return to normal life. Ashton added that he doesn't miss the classes as much as he does the racing.
"I'm not afraid to race," said Ashton. "What happened is no one's fault. Before the accident, I always double-checked everything, cinching the belts, when I was rolling. I will definitely continue to do that, and I will wear arm restraints, so the D-rings are not an issue."
Once he receives medical clearance, he plans to race alongside his brother, Austin, in 360 sprint car, midget, and 600 sprint competition. After that, he has higher aspirations.
"My goal is to race the rest of my life," Ashton said. "I've been racing just about every weekend since I was four years old. I will look for ways to get better at what I do and improve my driving skills. My main goal is to race with NASCAR. If I don't get into NASCAR, there will be other opportunities to keep on racing."