Sunday's 410 sprint car feature at Port Royal Speedway started off with this wreck. Zach Newlin took to the skies at the Port Royal, Pennsylvania, dirt oval.
"The car in front of me spun and I had nowhere to go," Newlin, 34, of Millerstown, Pennsylvania, said. "I hit him, my car dug in, and it began to flip. I flipped a few times, and then another car finished me off."
Newlin became trapped in the car.
"I freaked out," said Newlin. "I had experienced a fire at another racetrack, so when I was upside-down, I pulled my harness latch and released myself. That made it harder for the crew to get me out."
The track safety crew extricated Newlin from the wreckage. He made it to the ambulance under his own power.
"They checked me out," Newlin said. "Since I remembered everything and my vitals were good, I was able to sign myself out."
Newlin wore an Arai helmet paired with a Simpson Hybrid head-and-neck restraint. He sat in a full-containment seat, with a Crow Safety Gear five-point harness.
"I had wrecks before, but this was my first violent wreck," Newlin said. "My Triple X chassis broke where it was supposed to in order to absorb energy. The cage was intact and kept me safe. The frame is a write-off. We'll salvage from it what we can."
Newlin hopes to save the engine and sent it to HP Engines in Thompsontown, Pennsylvania for them to check it out.
"It was the best performing engine we ever had," said Newlin. "Hopefully, it is okay."
Zach Newlin looks to return to action at Port Royal Speedway soon.
"I'll take a few weeks off to make sure I am 100% before driving my other car," Newlin said. "I don't want to do anything stupid. You have to be in top form to drive a 410."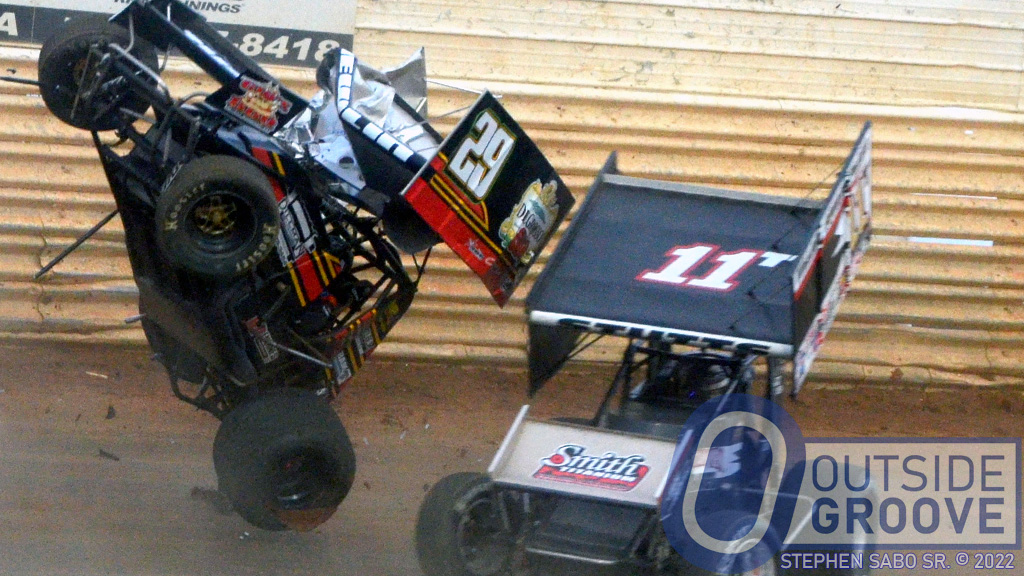 Outside Groove Note of Transparency: Corrected the city in which Port Royal Speedway is in (2022-03-25).